Combs are now made with metal in which has some very distinct advantages. Metal combs are a great way to have a comb for life. A steel comb is practically indestructible. Plus they are not as static prone like hard plastic. For for a man or a women metal combs make a great alternative to hard plastic.
"Metal Combs" are not bad for your hair. High-quality "Metal Combs" go through a process that carefully polishes and finishes the edges. Each tooth on "Metal Comb" is smoothed, rounded, and is gentle on the scalp. "Metal Combs" is just a comfortable as any other comb on the market.
In House Experts Weigh In On Metal Combs
According to Stacey our in-house hair research analyst, "For fine hair, choose a brush or comb with teeth or bristles closer together. For thick hair, choose a comb or brush with bristles that are wider or medium space. A detangling comb would be the perfect choice for natural hair due to it's wide teeth. A wide-toothed comb is also an excellent option, regardless of whether your hair is straight or curly." When you brush your hair for the first time, make sure you inspect your comb or brush to ensure all surfaces are nice and smooth. This is a good tip not only for a metal comb but for any comb. The comb or brush mustn't catch or damage the hair cuticle as you brush your hair. Look for a smooth finish on each of the comb's teeth.
According to Salon Success Academy, "essential tools that you'll need are combs and brushes. A good barber's comb is typically 12 inches in length with longer, courser teeth on one end and shorter, finer teeth on the other."
What You Should Know
The hair of each person is characterized by density, diameter, curl pattern, and porosity. You should match your hair type to your brush or comb to achieve the best results. If you are interested in purchasing a brush you should read my article on the best brushes for men. So if a metal brush comb snags or gets stuck in the middle of a brush stroke, your hair is most likely a thicker hair type. The hair diameter is characterized as follows: Fine, Medium, Thick and Natural.
It's best to start at the ends and work your way up the hair shaft when combing and detangling.
Fine hair is likely to have no problems when using a standard plastic comb. By standard I am referring to a regular comb that you can purchase anywhere, nothing special. Medium to thick hair, when using a plastic comb, will experience a static build up and snagging in the middle of a brush or comb stroke if the tooth spacing is not wide enough. So if you ignore your hair type and pick any steel comb or brush you could be sabotaging your hair!
Why Buy Combs Made From Stainless Steel?
Combs made from stainless steel are highly durable, extremely strong, and have superior weight and feel characteristics and come ins different shapes. For the stainless steel combs, they usually about like a candy bar in you pocket. I like them because they feel much more substantial in hand than a plastic comb.
I would recommend looking for a high-grade American stainless steel comb. Another good comb to look for is a Titanium comb. These are very strong and very light.
Some plastic combs look cheap, can break plus they all look alike. Most do not have much style or design to them. They are straight and that's it. It reminds me of the throw-away-commodity culture. It's cheap, does not last long and when it breaks or you are tired of it, just pitch it and get something else. Steel combs are the exact opposite. It's long lasting, has a cool design, it means something to the user and they look forward to using it.
Is A Plastic Or Metal Comb Better?
Because stainless steel is up to 40 times stronger than plastic I like a metal comb better. It really going to come down to preference and price. However, under static conditions a wood comb is better since both wood and hair have a negative charge. Because of this your hair will tend to lay down much better with a wooden comb. Wooden combs can't conduct electricity, so they keep your hair free from static damage. The softness of the wood is soothing to the scalp, promoting healthy oil(scalp's natural oils) production and increased blood flow. The best ones are made of neem and bamboo. They keep hair healthy, stop hair loss, and make hair grow faster.
Metal Comb Analysis:
Metal Combs
Analysis
1. Fendrihan Sturdy Metal Fine Tooth Barber Pocket Grooming Comb
1. The comb has nice shaped round teeth. The comb feels very good on your scalp and is made of aluminum.
2. Each tooth is polished and rounded. When combing hair, there are no snags or pulls. Works beautifully.
3. The comb is approximately 4.6 inches long and 1 inch in width.
4. It's not a regular-sized comb, so get out your measuring tape before you make a purchase.
2. Airisland Folding Beard Comb Stainless Steel EDC Wallet Comb
1. The Airisland comb can be carried where every you go because with no problems because of the folding capability.
2. It's a small size until you unfold it, and now you have a delicate handle to grip while combing.
3. The comb is approximately 3 inches and when opened about 6.5 inches long. The comb part is not very long, only 3 inches.
4. The only con is I would not get it wet as the folding connection can rust.
3. ZEUS Stainless Steel Beard Comb Thunderbolt
1. The comb comes in 2 colors stainless steel and black which is nice.
2. The comb is hand finished and has rounded teeth that are nice and smooth and feels great to the touch.
3. The comb is 6 inches long and comes with a very nice thunderbolt cut into the top part of the comb.
4. Being 6 inches long, it's not a pocket comb. If you use it as a pocket comb, the top of the comb would stick out. A blue jean back pocket is typically about 5 to 5.5 inches in depth.
4. Chicago Comb Model 2 Standard
1. The comb is 4 inches long, which is tiny. I do like the finger hole at the end. This allows you to have a better grip on the comb and as a result more of the comb is there for your hair.
2. Half the comb is not taken up by having to grip it while combing. Very nice design plus it; looks outstandingly cool.
3. Made from a sheet of stainless steel.
4. My second choice!!!
5. Chicago Comb Model 1 Standard
1. The comb is 5.5 inches long which is not very long but I do like the finger hole at the end. This allows you to have a better grip on the comb and as a result more of the comb is there for your hair.
2. Half the comb is not taken up by having to grip it while combing.
3. Very nice design plus it; looks outstandingly cool.
4. Made from a sheet of stainless steel.
5. My first choice!!!
Metal Fine Hair Comb

A good fine hair comb I recommend is the Model 1 from Chicago Comb Co. From the moment it was introduced, the Chicago Comb Model 1 quickly became one of the world's most iconic combs. The world's only comb made of pure American titanium. The ultimate comb of hair, built to last a lifetime. 5.5 inches (14 centimeters) long, with medium-sized teeth (tines). Works well with virtually all types of hair. The patented design adds extra functionality to hold or hang the comb after use. Designed for everyday use, making a great pocket or travel comb. Can also be used as a beard comb by gentlemen. Model 1 Titanium is precisely laser-cut from a solid sheet of pure American titanium and then carefully finished by hand and machine in a long, multi-step process.
Metal Thick Hair Comb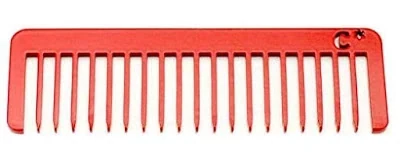 For thick hair I recommend the Chicago Model 5 in the awesome Red color. Chicago Comb is proud to introduce the new Vibrant Model 5 wide dental combs. Made of unbreakable stainless steel with a smooth velvety luxury finish for the most comfortable comb experience ever. Cardinal Red has a fresh, bright finish that will surely put a smile on your face every morning. Made in USA, with the iconic star logo of Chicago Comb engraved in the upper right corner and built to last a lifetime. The Short Model 5 is the perfect travel and pocket comb at 4 inches (10 cm) and is also great for styling thicker beards.
The Model 5 Chicago Comb is far superior to the cheap, "coated" base metal combs sold by many competitors. These frequently made of zinc or cheap steel that can easily rust or corrode, developing unattractive bubbles in the surface when the coating is chipped or wears away. By contrast, Chicago Comb Model 5 has both a high durability finish and an American-made stainless steel core that will never rust or corrode. You can buy with confidence, as Chicago Comb has been acclaimed as the maker of some of the finest combs in the world. Chicago Comb was featured and honored in Allure, Martha Stewart American Made (2015 Stye Finalist), Men's Journal, GQ, Monocle, and many other top publications.
Chicago Comb Co
Chicago Comb Co. is the culmination of years of thinking about art, manufacturing, and sustainable production, started by two longtime friends. Their mission is to create a grooming accessory company that redefines elegance with timeless products.
Steeltooth Combs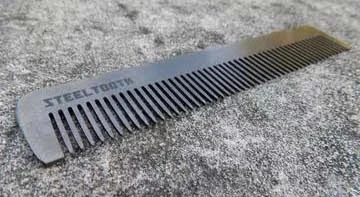 Another product I recommend is combs by Nick Baker's Steeltooth combs. His story goes as follows according to his website: His hair would get snagged and it would take him forever to get ready for work in the morning. As with many folks he could not get a smooth stroke unless his hair was saturated with water, and that is not good to brush or comb wet hair due to hair is at it's weakest when wet. Plus you don't really want to go outside with a wet head on a cold day. He was forced to keep my hair short because of this issue. I thought that if he had a comb that had teeth that were hard and smooth, it should solve the issue. So that's how he came up with his own design and Steeltooth was created.
Early Influence Of Metal Comb Designs
The manufacturing of metal combs have been around for a long time. So, metal combs are not something new. A matter of fact, in 1898, Joseph Koenig, on making metal comes, says, "My invention has for its object to simplify and cheapen the production of combs from aluminum or other ductile metal; and it consists in the various operations upon a comb blank hereinafter particularly set forth with reference to the accompanying drawings and subsequently claimed." in his metal comb patent US633721A.
For thousands of years, combs were made of all kinds of materials from wood, shells and even silver and aluminum. Some of the combs which survive from that period have intricate designs and were made with great attention to detail. Particularly notable are early 20th Century designs by Georg Jensen in Denmark.
Born in 1866, Jensen was the son of a knife grinder in the town of Raadvad just north of Copenhagen. Jensen began his goldsmith training at the age of 14 in Copenhagen. His apprenticeship with Guldsmed Andersen ended in 1884, freeing young Georg to follow his artistic interests.
From childhood, Jensen had longed to be a sculptor, and now he pursued this course of study at the Royal Academy of Fine Arts. He graduated in 1892 and began to exhibit his work. Although his clay sculpture was well received, it proved difficult to make a living as a fine artist and he turned his hand to the applied arts. First as a model at the porcelain factory Bing & Grøndahl and, starting in 1898, he founded a small pottery workshop in partnership with Christian Petersen. Again, the work was well received, but sales were not strong enough to support Jensen, a widower at this point, and his two little sons.
He abandoned ceramics in 1901 and began again with the master, Mogens Ballin, as a silversmith and designer. This led Jensen to make a landmark decision when he risked what small capital he had in 1904 and opened his own little silversmithy at 36 Bredgade in Copenhagen.
Jensen made his first piece of jewelry in 1899, a buckle of silver and silver "Adam and Eve"
Common Brush Questions
What different hair brushes are used for?
What kind of brush is best for thin hair?
What type of brush is best for frizzy hair?
Best brush for curly black hair?
Is Hot Air Brush Bad For Hair?
Definitions
Hair Fall – Also known as hair loss, or alopecia, commonly known as baldness, is the loss of hair from any area of the body. The average injury involves at least the head. There is a wide range of hair loss severity, from a localized thinning to a complete baldness. Inflammation and scarring are uncommon. Some people experience severe psychological pain whenever they have hair loss.
High-tension Styling Brush – This is usually a boar bristle brush preferred by hair stylists. Boar bristles have the ability to grab hair thus creating tension for heat styling. A round boar brush is the perfect brush for styling and creates a natural shine and smooth finish.
Hair Transplants – Hair transplantation is a surgical procedure that transfers hair follicles from one part of the body, known as the 'donor site,' to another part of the body, known as the 'recipient site,' which is bald or balding. The technique is primarily used to treat male pattern baldness.
Wet-hair Paddle Brush – One of my favorite! Because a wet brush is designed to be used in both wet and dry hair, it is an excellent and especially gentle bristles that does not cause unnecessary wear and tear(less damage and unnecessary breakage) to hair while brushing. A wet brush has soft, elastic bristles that detangle hair gently without causing split ends or breaking them. Great for long or short hair.
Rat Tail Comb – A rat tail comb is a hair styling tool that has a comb on one end and a sectioning tool on the other. The sectioning tool resembles a straightened rat's tail, hence the name. It is primarily used for sectioning, parting, and styling the hair.
American Academy of Dermatology Association – The American Academy of Dermatology is the largest, most influential, and representative dermatology group in the United States. Find resources on membership, AAD meetings, education, practice management, publications, and clinical care.
Nylon Brush – A nylon brush(some call it a nylon quill or stiff thermal quill but it the same as nylon bristles) is one with nylon polymer filaments that are exceptionally tough, strong, flexible, and elastomeric. The various types of nylon filaments, which are durable and abrasion resistant, are the most commonly used fiber for the manufacture of brushes.
Vented Brushes – A Vent Brush is used in conjunction with a hairdryer to assist in drying your hair. A Vent Brush is also an excellent styling tool. Because the bristle count is low in comparison to other brushes, it's ideal for drying hair. Because the bristle count is lower, air from your hairdryer can reach more of your hair. As a result, your hair will dry faster.
---
References
https://www.pexels.com/photo/red-hair-comb-on-brown-wooden-table-3992878/