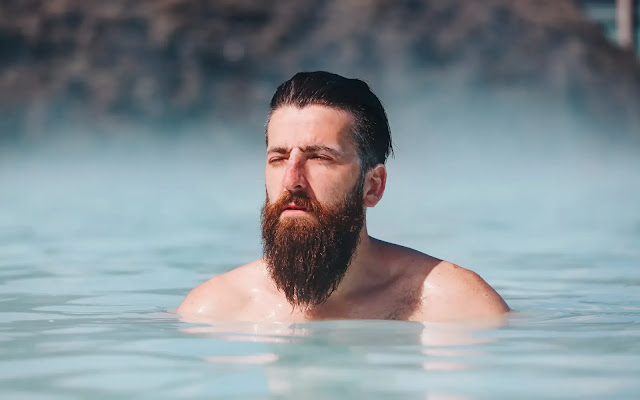 A good way to know you have split ends is that your beard will look like it's unkempt. And no matter how fabulous your beard looks, it needs to be maintained.
The tips of the beard follicles become too coarse and brittle, they fray and cause split ends. Each beard strand has sebaceous glands at the root of each beard follicle. These sebaceous glands are limited in their ability to produce a certain amount of sebum oil per day.
Beard Split Ends And How To Get Rid Of Them | My 15 Secret Tips For Split Ends
1. Daily shampooing
This is a fantastic way to go to if you're curious how to moisturize natural hair.
If you have a naturally curly beard, you know how important moisture is.
So skip a shampoo day or two to enable your beard to replenish its natural oils.
Another great way to bring moisture back into your beard is to begin your washing routine with an oil treatment before shampooing.
Begin by massaging a botanical oil blend into your beard to nourish and detangle it. Pre-Shampoo Treatment Oil by Leonor Greyl Paris is a hydrating and protective pre-shampoo treatment oil that nourishes dry or over-processed hair. It also doe not make your beard greasy or weighted down, which I believe is critical in a treatment oil.
This product is marketed for females but I have found it works very well.
You will be shocked at how good your beard will look. Folks will be begging you to find out more.
2. Weather can ruin your hair
Extreme weather conditions, such as excessive sun or wind, should be avoided if you have a dry beard because it will make your beard even more drier and brittle.
If you're wondering how to moisturize (and keep) your beard moisturized, add some UV protection (Aveda Sun Care Protective Hair Veil). Yes, you can add sun screen to your beard.
Most men don't and do not even think about it. But look at it this way, hair is hair, right?
3. Going for a swim?
Protect your beard before going for a swim in the pool. simply apply a thick conditioner cream.
Do you want to swim in the pool or ocean but the chlorine or saltwater makes your beard dry and brittle?
Apply some of my Creme of Nature with argan oil to your hair before going swimming to avoid dehydrating it.
Be sure to keep it moisturized after swimming.
4. Avoid using chemicals
When it comes to taming a frizzy beard, stay away from chemicals.
Chemical agents are your enemy when it comes to moisturizing dry, natural hair. To quickly avoid frizz, apply a beard oil to damp or dry hair. Love Beauty and Planet 3-in-1 Oil, which is specially formulated to nourish and fix hair for smooth, healthy-looking beard hair, is my recommendation.
5. Use a daily moisturizer
Use a moisturizer on a regular basis and deep condition your beard. Applying a leave-in conditioner or hydrating hair oil, is one of the easiest ways to moisturize a dry beard.
You'll have hydrated, healthy-looking beard. To keep your beard moisturized, use a leave-in conditioner. Leave-in conditioners are a fantastic way to incorporate and keep moisture in your beard.
Simply spritz with leave-in conditioner after shampooing. I like Shea because it contains Omegas and Jamaican Black Castor Oil, both of which help nourish dry and damaged hair.
This product does not cause hair to become greasy. Shea Moisture Strengthen & Restore is one of my favorite products.
6. Hair cuts
Trim your beard on a regular basis, just don't brush it too much. Frequent brushing of your hair can cause frizz and even hair harm. To help combat this, reduce the amount of time you brush your hair and get trims.
Cutting your beard hair ends helps your hair to grow thicker and healthier because you are removing hair that would otherwise break.
Use a beard brush or comb that will not cause hair breakage. One of my favorites is The Wet Brush, which is ideal for thin to medium hair. Excellent for detangling beards. Even works well on damp hair. I recommend it for people with thin to medium length beards.
7. Excess hair color
Remove any excess beard air color. If you color your hair, use a formula that is specifically designed to soften mature and dry hair.
8. Avoid the roots
When moisturizing fine hair, avoid the roots. Because no two heads of hair are the same, tips on how to moisturize hair may differ.
For example, fine hair is usually the driest at the ends, so concentrate your conditioner application on those areas. My favorite that works very well is Redken Extreme Mega Mask For Damaged, Brittle Hair.
9. Use products correctly
Correctly layer the products. If you're wondering how to moisturize your hair and keep it moisturized, consider incorporating a leave-in conditioner into your weekly routine.
It is, however, important to layer your hair products correctly. Apply a leave-in conditioner (my preference is Redken One United All-In-One) to damp (not wet) hair before adding other items, such as styling aids.
This not only allows the conditioner to penetrate deeper into your hair, but it also acts as a base layer for items such as styling mousse.
10. Use the right shampoo
Using a shampoo specially made for dry hair is an ideal way to hydrate it. R+Co Atlantis Moisturizing Shampoo, which helps preserve moisture and leaves hair silky smooth, is my recommendation.
11. Diet
Believe it or not, one of the most significant factors in preserving the health of your beard is your diet. I suggest that you consume water-based foods such as fruits and vegetables on a regular basis.
12. Skip blow drying your beard
Blowing dry your hair dry off the entire shaft of your follicle. Split ends are a sign of a dry beard. That is something you may not like.
Furthermore, blow-drying your beard raises the likelihood of your beard follicles breaking down.
My go-to product to get your beard under control fast is GIBS Grooming Black Kodiak Beard Balm. It tames the unruly beard by using a touch of natural beeswax and oils from Coconut, Almond and Grape Seeds to smooth out hair cuticles. Leaves you beard nice and smooth.
13. Avoid cheap plastic combs
Are you using a cheap plastic comb that was stamped out of the plastic mold? Did you know combs like these have tiny mold lines with sharp edges?
The micro edges can tear and rip your entire beard with regular use. With each stroke, each hair shaft can get cut and ripped, causing split ends. Instead, use a saw-cut comb that is polished to ensure all the plastic teeth are very smooth.
Or better yet use a USA-made steel comb like this one: Chicago Comb. By the way, this is one of my favorite steel combs made in the USA.
14. Bluebeards Original wonder Beard Intensive repair
My # 1 Choice. Honestly you can't go wrong here. Once you try it you will be back for more. Smells great and uses amino acids and Meadowfoam Seed oil to lock in moisture. Adds a little shine and goes a long way to protect your beard.
15. GIBS Grooming Alpha Male Beard, Hair & Tattoo Oil
I like because it's a multi-use product. Conditions, moisturize and soften your beard, hair and skin with this amazing oil.
I love anything that has Argan oil and GIBS has Argan oil and Sunflower oils to help protect and strengthen your beard.
The lack of sufficient nourishment from sebum oil will cause your beard follicles, particularly the tips, to dry out because not enough sebum oil is reaching the tip of the hair.
According to Paschal D'Souza, Department of Dermatology, ESIC PGIMSR, New Delhi, India, "Hair shampoo is a hair care product comprising among other things of synthetic detergents designed to remove sebum and environmental dirt."
According to Amy J McMichael, Department of Dermatology, Wake Forest University School of Medicine, Winston-Salem, North Carolina 27157, USA. amcmicha@wfubmc.edu, "hair fragility leading to breakage can occur due to genetic predisposition, weathering from various hair care practices."
It differs from guy to guy when your beard grows so long that the sebaceous glands can't produce enough sebum oils to keep the root and entire shaft of the beard follicle well nourished.
"When your beard becomes too long, it will eventually become more fragile of course, making split ends even more possible", says Ed.
When it comes to beard split ends, it's too late to mend what's already damaged. That doesn't mean you can't do anything to change the look of your hair. Today's split-end repair products boost the appearance of split ends. And every competent stylist will agree with me. Once the strand has broken and separated at the end, there is nothing that can permanently reattach it.
Treatment sprays, leave-in conditioners, and serums all aid in the concealment of split ends and the appearance of sleeker, healthier hair. Split ends must be cut off to be removed. And there is nothing that will magically reattach the broken hair parts. However, some excellent solutions will make it seem as though you do not have split ends. When you don't want to have your beard cut, use treatment products.
When our scalp does not contain enough natural oils to moisturize our hair, we get dry hair. For several, this may be genetic, but it may also be influenced by environmental factors such as noise, hair styling, and aging. Look no further for information on how to hydrate hair, especially how to moisturize dry hair! I did all the homework and assembled a list of my favorite tips and tricks for perfectly hydrated beard hair for you. More information is available at Gavazzoni Dias MR. Hair cosmetics: An overview.
According to Diane S. Berson, MD a Board Certified Dermatologist, an Associate Professor of Dermatology at Weill Medical College of Cornell University, she recommends the following to her patients who want to keep their hair healthy:
"Wash your hair gently: don't be too rough. Remember that it's your scalp that needs to be washed, not so much your hair — your scalp is where the oils are. So when you're shampooing, just gently massage.
Washing hair every other day is fine; washing too much could dry out the hair.
Don't comb hair when it's wet — or be very gentle when you do. Use conditioner and a wide-toothed comb."
Note: many of the product mentioned above have a dual purpose. You can not only use them on your beard but also on your hair. Why not purchase a product that can be used on your head as well as your beard, right?
According to the AAD, "we often do things that damage our hair. Damaged hair is fragile, so it tends to break. Hair breakage can leave us with frizzy, unhealthy-looking hair. If we continue to damage our hair, we may eventually see thinning hair or even bald spots." But as bad as that may seem by changing our bad habits we can prevent damage to our hair.
---
References

https://unsplash.com/photos/CfDTqtoCrmM
Van Meter, M., Mao, Z., Gorbunova, V., & Seluanov, A. (2011). Repairing split ends: SIRT6, mono-ADP ribosylation and DNA repair. Aging (Albany NY), 3(9), 829. https://www.ncbi.nlm.nih.gov/pmc/articles/PMC3227448/