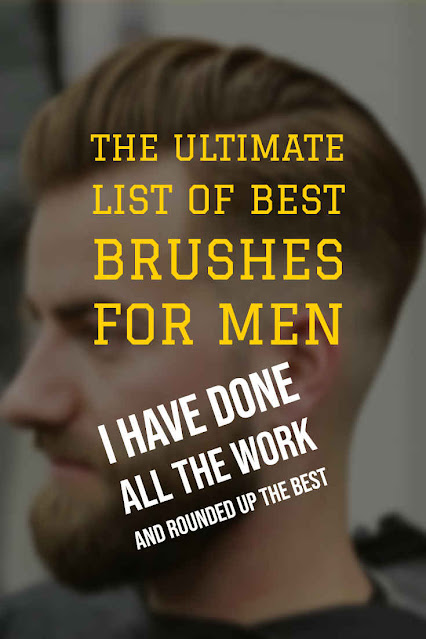 If you are a man or a women then you maybe asking is a boar brush good for my type of hair?
If you have hair that is naturally wavy, curly, or frizzy, a brush with boar bristle bristles is the best option. It tames unruly curls and lends a hand in subtly lengthening the ones you already have. When it comes to making polished strands, brushes made of boar bristle are really the gold standard. They effectively remove dirt, grit, and debris from the scalp while also dispersing the natural oils from the scalp's roots to its tips.
List Of Brushes For Men And Women For All Hair Types
Starting out with the most expensive and going down the list to the least costly. These are some boar brushes good for most all hair types.
1. Kent OS11 Dual Timber Rectangular Club Hair Brush
What I like about it is that it is a dual timber grooming brush with a beautiful satin wood back and a beech wood base. Gloss paint is sprayed to accentuate natural grains on the handle. It is filled with pure white ultra soft boar bristle, ideal for men with fine or thinning hair.
Makes a great gift for all men regardless of age and comes with a beautiful presentation box.
Completely manufactured in England and hand polished that is why it is more expensive. You basically paying for 200 years of expertise. The workmanship is superb and it could almost be a work of art.
The brush comes in a nice presentation box and underneath the box liner is a cleaning and maintenance manual. By following the instructions you will insure your brush will last a lifetime.
Kent was founded in 1777 by William Kent in the reign of George III. Kent holds a pre-eminent place in the history of brush making, with an unbroken record of excellence in the quality of its production recognized by the granting of royal warrants for nine reigns. The Kent family continued to run the company for six generations until the last of the three Kent brothers passed away in 1932.
A new chapter was then opened in the long history of Kent, and since that time the company has been under the direction of the family. Today, with his wife, son and one of his three daughters working for the business, mar Alan hall cozy, grandson to Eric cozy is the managing director and chairman. The company headquarters moved from London to their existing factory in Aspley, Hertfordshire on February 6, 1984, and remains there to this day. The company continues to retain the craftsmanship and unprecedented quality that is the reputation of Kent.
| Right For Your Hair? | Tips |
| --- | --- |
| Top notch quality | Price. It's not a budget hairbrush |
| Beautiful wooden handle | Made of wood so not made to be wet for long periods of time |
| Come in a nice presentation box, unlike budget brushes | Some bristles may come out, which is natural and expected |
| Manufactured in England | Some folks may want stiffer bristles |
| Produced by a family owned business for six generations | |
2. Detangling Boar Bristle Hair Brush Set by Belula
It's hard to get through thick or long hair with a soft boar bristle brush. So some manufactures like this one will add nylon pins to the brush for better penetration and so you can easily detangle your hair. This one brush may be able to replace your curly hair brush, or hairbrush for thick hair since it is so versatile.
The handle is made from premium bamboo wood.
What I really like about this product is the boar bristles are harvested by simply shearing the bristles from the boar. The animal does not get hurt in any way during the process. And that's a good thing. It's cruelty free.
Great for almost all types of hair and all lengths.
3. Kent KFM3 9-Row Narrow Half Radial
This brush is great for curly hair and is manufactured in England. This maybe one of the best brushes you will own.
Bristles are wide and well spaced.
I do not recommend this brush for folks who have thin hair or tender scalps. Now that's not to say you can;t use it, but you are going to have to use very little pressure as not to hurt your scalp. There are better options out there for thin haired tender scalp folks.
I do not recommend this product for styling while using a blow dryer. There are better brushes out there for high heat styling. This one has "gel bristles", which are not going to be able to withstand much heat. You might be able to get away with a little heat but you really have to be careful. I personally would not take the chance on using any heat.
Brush has volcanic and osite quartz crystals, which emit negative ions and when added to resin, and then it is formed into brushes or bristles. When used in brushing, it produces quills that have a safe natural energy. The capillary vessels are stimulated and the cuticular layer is tightened which seals in natural oils and leaves the hair soft and vitalized. Now that being said I am not sure there is any scientific proof this really does anything. But for being almost twice the price of a Denman 9 row it better have something cool about it. So there you go. I would recommend it because I like the way it looks over a Denman or for that matter most other gel brushes.
| Right For Your Hair? | Tips |
| --- | --- |
| Top notch quality | Very firm bristles, takes time to get use to and learn how to use |
| Manufactured in England | Rubber backing and bristles can come apart |
| Produced by a family owned business for six generations | Not as good as a Denman 9 row – Denman has a much better design |
| Half radial styler works very well | Does not come apart and not able to remove a row like the Denman |
| No ball tips on bristles to fall off | |
4. YS Park Pro Straight Air Styler Brush
This is one of my favorites. I love the way it looks. The blue color is awesome. Come in black also.
Excellent for styling and drying.
The bristles is not ball tipped but that's OK because that means they won't come off and then scratch your scalp.
Build quality is very good.
Made in Japan.
| Right For Your Hair? | Tips |
| --- | --- |
| The hairbrush looks amazing! | Price |
| Very high quality | Bristles as not meant for blow drying – as they can't take a lot of heat |
| Great for styling and distributing leave-in conditioners | Very firm bristles, takes time to get use to and learn how to use |
| Can take a lot of water – all plastic | Not as good as a Denman 9 row – Denman has a much better design |
| No ball tip bristles – no tips to come off | Does not come apart and not able to remove a row like the Denman |
5. Bass Brushes 100% Wild Boar Bristle Classic Men's Club Style Hair Brush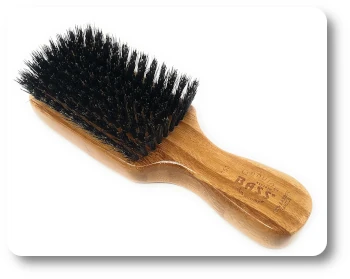 This is reasonably priced and good bang for the buck brush. The brush is made in China and is 100% boar bristles that are on the firm side. This is not a soft brush.
It features a natural wooden classic men's club style handle which is comfortable.
6. Boar Bristle Hair Brush Men by Sonvera
It's a handmade 100% brush boar bristle brush with a nice wooden handle.
I recommend this brush for thin or fine hair types as the bristles are on the softer side.
Good for tender heads.
| Brush Types | Right For Your Hair? | Brush Types Tips |
| --- | --- | --- |
| Vent Brush | Drying hair | Styling |
| Round Brush | Styling, waves and curls | Need the right size |
| Paddle Brush | Brushing lots of hair fast. | Not for short hair |
| Teasing Brush | Creating volume | Teasing only |
| Detangling Brush | Detangling | Not for styling |
| Oval Brush | Brushing and light styling | Not for really short hair |
| Straightening Brush | Styling, straightening, curls & waves | Hard to use on short hair |
| Bamboo Brush | Head massage and static control | Not for damp moist conditions |
| Rat Tail Comb | Sectioning | Not for short hair |
| Wide Tooth Comb | Applying treatments | Not really for short hair |
| Boar Brush | Styling and shine | Detangling & static |
7. Denman Cushion Brush Nylon Bristles, 9-Row
Another one of my all time favorites. This brush is perfect for: Controlled styling. Detangling dry and wet hair to some extent depending on your hair type. Not good for thin or thinning hair. Good for sculpting, styling and smoothing hair. Has good grip, tension and control.
The brush works by the sculpted rounded nylon pins penetrate and separate thick hair and defining curls. There are nine rows of pins and larger head accommodate larger or longer hair with increased tension and grip. The half-round brush 's styling edges create tension when shaping the hair during drying. I like it because the unique pin pattern gives extra grip and tension while styling.
| Right For Your Hair? | Tips |
| --- | --- |
| I owned one for more than 15 years till I lost it!!! | Very firm bristles, takes time to get use to and learn how to use |
| No ball tip bristles – no tips to come off | Does not have a pleasant smell when new but soon dissipates |
| Can take a lot of water – all plastic and rubber | I found some bristles with mold lines that were sharp and as a result had to use a fingernail file on them – quality check could be a little better. |
| Suburb for styling and distributing leave-in conditioners | |
| Too many pros to list all of them! | |
8. Uppercut Deluxe Quiff Roller
Is your hair letting you down? Do you need to add more height to your pompadour hairstyle? Or do you need a lot more lift in your pump? Well if you need any of those styling features this is the brush for you.
The Uppercut deluxe quiff roller brush is perfect for using a hairdryer to set your style in place before adding your favorite styling product to finish it off.
| Right For Your Hair? | Tips |
| --- | --- |
| Perfect for bangs or short hair! | Ball tips can come off |
| Fantastic sure grip handle | Not great at distributing leave-in conditioners |
| Ball tipped bristles feel very good on the scalp | Brush has bristles all around so highly susceptible to get stuck in your hair |
| Can take a lot of water – all plastic and rubber | Two piece plastic handle can break if too much tension is used |
| Looks cool! | |
9. Baasha Hair Brush, Vent Brush For Men
Has a good vented base that is excellent for use with a hair dryer. It has a good solid one piece plastic handle. The Baasha is great at creating volume. I do not recommend his brush for thin or very thin hair.
It's a large 11- row tunnel vented brush that will excel at fast blow drying. Has ball-tipped bristles for comfort and come in a nice manly back color.
| Right For Your Hair? | Tips |
| --- | --- |
| Price | Ball tips can come off – typical with any ball tipped bristle brush |
| Ball tipped bristles feel very good on the scalp | Bristles can melt under intense heat from a blow dryer |
| Can take a lot of water – all plastic | |
| Great for styling and distributing leave-in conditioners | |
| Great all-around vent brush for the price | |
10. MayaBeauty Double-Sided Men's Club Brush
The brush quality is good. One side is a soft to medium density, and the other side is stiff enough to get through thick curly hair.
I am not a big fan of double sided club brushes but this one is an exception because of the 100% natural boar bristles and very nice looking varnished dark wood handle.
11. Wet Brush Original Detangler Hair Brush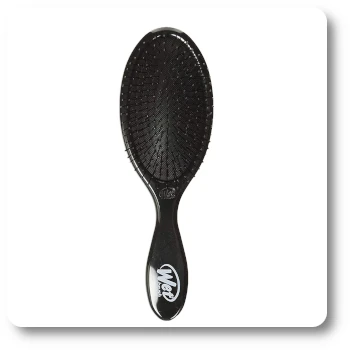 Yes typically is marketed for women but get the black color and no one will every know. This is a paraben-free and chemical-free brush of premium quality. This is my go-to-brush for tangles and general use because of the flexible bristles.
Honestly one you use it you will not care. It detangles your hair with ease. Will detangle wet or dry hair. It eliminates stubborn knots and tangles without any hair loss and breakage. It can be used on all types of hair, curly, thick, thin, straight, and wavy.
The brush has soft bristles, which are very thin and flexible, but strong to detangle your hair plus comfortable to use on sensitive scalps. The bristles easily bounce back to their original shape after every stroke. This action allows you to attack tangles from any angle.
If you told me I could one have only one hairbrush it would be between this and the Denman, that is how good I think this hair brush is.
| Right For Your Hair? | Tips |
| --- | --- |
| Price | Takes multiple passes of the brush trough hair to remove tangles and knots |
| Soft intelliflex bristles glide through tangles and knots with ease | Painted on Logo wears off |
| Perfect for long or short, curly or straight, thick or fine hair | Ball tips can come off |
| Designed to minimize pain and protects hair against split ends and hair breakage | |
| Too many pros to list all of them! | |
12. Conair Velvet Touch Paddle Brush
The balls of the bristles produce massaging affect and are pleasant to your scalp.
When you get down into this price range I start to get worried about quality. This one could very well be an exception. After you make a purchase be sure to check that the pad is glued in good and does not come out.
This brush has a two piece plastic handle so when using be careful not to put too much tension on the handle it could snap.
This is a good brush for almost any hair, especially good for thick long hair. The paddle style covers more hair with every brush.
| Right For Your Hair? | Tips |
| --- | --- |
| Price is very good | Two piece plastic handle can break if too much tension is used |
| Paddle style to cover more hair with every brush stroke | Ball tips can come off |
| Ball tips feel good on your scalp | Bristle pad can come apart |
| Comfortable handle | Smells weird at first – strong plasticity like smell |
| Flexible rubber cushion for added comfort | May not hold up over a long period of heavy use |
Why Brushes Have Boar Bristles?
Brushing with a boar bristle brush is similar to a conditioning treatment. Thanks to the unique structure boar bristles carry the sebum from the scalp, to the tip of your hair strands, adding a lustrous shine. Did you know that regular brushing will improve the texture of your hair. It will add volume and shine to straight hair, or it will condition and slightly loosen the curl for curly hair.
For many folks there's no need to shop for an anti-frizz serum. You already have the best, and your scalp produces it, free of charge. By brushing using a boar bristle brush you lubricate each hair strand with sebum, you will notice a significant reduction in frizz. For some folks with regular brushing, you'll have healthier, softer, and conditioned hair. That means you don't have to use leave-in conditioners or hair serums anymore. Each person is different so everyone may not have the same results.
I would recommend boar for those men who are concerned about the health of their hair, and are seeking to reduce the amount of chemicals that touch their hair.

https://hairbrushy.com/damaged-hair-men/
Why Brushes Have Wood Handles?
One piece wood handles are going to last much longer with proper care. What I have found is that most plastic handles, especially two piece plastic handles snap over time. When you start to apply tension to the brush while styling the two piece handles just can't handle it and it snaps.
"Now the down side is that you do not want to get wood wet."

Ed Shears
That is a recipe for disaster. Always follow manufactures cleaning instructions in which most cases tell you not to let the wood stay in contact with water for long periods of time.
Environmental Friendly Wood Handles
Now that being said just because the handle is made of wood does not mean the brush is environmental friendly and made without chemicals. Bamboo often uses formaldehyde bases glues and VOC finishes all of which release fumes into the air. Unlike wood products that are simply cut from a chunk of wood, bamboo shoots need to be glued together to create a finished product.
I am not sure how some of the above mentioned Bamboo brush handles are made, so unless the manufacture specifically states how it made it's going to be hard to tell.
How Are High Quality Wood Handles Made?
Wood is usually delivered in large quantities in either blocks or stacks. For example many high quality brush handles are made from pear wood and comes from a well know source like from the Black Forest of Germany for example.
The wood then goes through a selection process where only the best is selected for handle material based on their grain and quality. The wood then gets cut down into a more manageable size and prepared for the next stage in processing. Handles are then cut into their final shape and sanded to remove any rough edges. Usually this some sort of tumbling process. After tumbling it's sanded and inspected to make sure there are no rough edges.
Now here is where things are a little different between manufactures. Some will apply a light coat of natural oil to the wood handle to bring out the beautiful wood grains and others will apply a beautiful coat of paint.
Bristles usually are already bundled, labeled and have gone through a cleaning process at the point of origin. The next step is to plug the bristles into the wooden handle.
The last step is to apply engraving or printing and then package for shipping. Even in the most high quality brushes it's normal for a brush to loose some bristles but to retain the plug. If an entire plug falls out that is not normal and you should return the brush.
Why Brushes Don't Smell Like Plastic And Rubber
A bit about the rubber, plastic and boar smells in brushes. Often in brushes from China when you open the package you get hit with a heavy smell of either plastic, rubber or in the case of natural boar bristles, boar.
Most of these materials their unfinished state is not suitable for consumers, so manufacturers add other chemicals and or coatings to improve the material's stability and usability. This includes things like anti-oxidants, plasticisers to make things softer, processing aids that help improve durability in the manufacturing process and plastic sunblock. In the case of boar bristles they boil them in hot water and go through a cleaning or bleaching process. As a result of the use of various chemicals can bring out the distinctive smell of rubbery and other plastic like smells. Combine this with packaging and shipping when you open the bag you get hit with all these smells.
"Maybe the rubber backing in your brush is made of recycled rubber."

Ed Shears
Did you know new manufacturing innovations from China have enabled manufacturers to use a variety of recycled materials to make their goods? Did you know that America is shipping much of its plastic and other recycling to China. One such innovation in manufacturing is the use of recycled tires. This form of rubberized plastic uses benzene and other hydrocarbons such as ethylbenzene, xylene and toluene. This is very well what you may be smelling when you open your package.
"My advice is simple, if a product has any bad smells, it's best not to buy it."

Ed Shears
For example, a heavy bad smell indicates that the plastic is offgassing. Offgasing in the case of plastic means the product is releasing part of the plasticizer or stabilizer into the surrounding air and could go into your lungs and eyes. It can also be released to come in contact with your skin and perhaps absorbed into your body.
Types Of Hairbrushes
| HairBrushy Article | Description |
| --- | --- |
| Vent Brush | Vent Brushes are brushes with teeth that are more widely spaced. A vented brush, or vent brush, contains apertures that air can travel through and is designed to expedite blowdrying, add volume and produce texture. It's utilized to generate root lift, boost volume, and give some direction and movement like flicking out the ends of your hair. It is a terrific brush for working out tangles on medium to thick hair, or to offer a little extra height and lift to a style.Vent brushes are gentle on the hair, pulling it only when necessary. Vent brushes make the work of drying and detangling your hair much easier. If you want to learn more about the best vent brushes, I recommend that you continue reading this article… |
| Round Brush | The information in this article will equip you with the skills necessary to wield a round brush like a pro, depending on your current skill level. A round hair brush is one of the most effective tools you can use to achieve a salon-like appearance at home. To add volume, straighten or curl your hair, blow dry it with a professional round hair brush that has been specially designed for this purpose. Round hair brushes are the most versatile of the hair brush types. If you have long hair and want to add more volume to it, choose a brush barrel with a wider diameter. If you want tighter waves and curls, choose a round brush barrel with a smaller diameter… |
| Paddle Brush | Paddle brushes are typically used for styling hair that needs to be done quickly and with a lot of hair. Because of its wider head, it has the capacity to hold more bristles, allowing it to cover more hair with each brush stroke, resulting in increased efficiency. A paddle brush is necessary if you have a lot of hair… |
| Teasing Brush | When it comes to fine hair, the teasing comb you choose is really crucial. Women use a fine tooth teasing comb as their primary hair styling tool far too frequently. However, many people are unaware that if a fine toothed teasing comb is not used properly, it can do greater damage to delicate hair. If you have fine hair, a teasing brush is your best option. A teasing brush is made of serrated boar bristles that allow you to tease your hair without breaking or damaging your fine hair… |
References

Image courtesy of pin.it/23nqun6cbrnhcl
http://www.mdpi.com/2079-9284/3/4/34/html

https://www.aad.org/public/skin-hair-nails/hair-care/coloring-and-perming-tips

http://doi.org/10.4103/0974-7753.66909

https://www.aad.org/public/skin-hair-nails/hair-care/hair-styling-without-damage

https://www.aad.org/public/skin-hair-nails/hair-care/how-to-stop-hair-damage