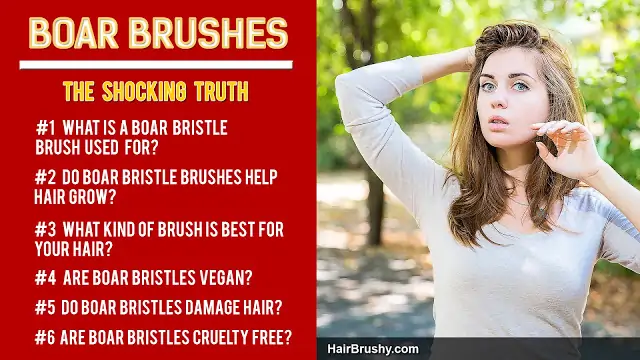 Are Boar Hair Brushes Good?
Boar bristle brushes are remarkable because they are keratin, the key structural material making up hair and nails. Because boar bristles and human hair are both made of keratin, this allows the bristles to glide through your hair, leading to less hair breakage during styling. Boar-bristle brushes are also great for massaging your scalp, promoting blood flow, which is important for healthy hair.
What Is A Boar Bristle Brush Used For?
Boar brushes are used primarily to help distribute sebum, the natural oil from your scalp. If you need help find the right size round brush then you should read: Round brush size chart. This article explores various size round brushes and length of hair for each. This article is jam packed with great information even if you already are in the know.
Are Boar Bristles Good For Fine Hair?
Damaged thin hair can benefit from an extra soft bristles that helps stimulate the scalp, which boosts circulation to follicles. A combination of boar and nylon are great for blow drying, and flexible plastic is perfect for untangling wet hair without breaking.
Do Boar Bristle Brushes Help Hair Grow?
It's promotes healthy growth of hair. It gently massages the scalp, increasing blood flow and unblocking follicles every time you use it. Your hair can not grow without blood flow. This can often result in loss and slow growth.
What Kind Of Brush Is Best for Your Hair?
1. Boar Bristle Brushes For Men Made In Germany
Boar bristle brushes for men made in Germany German wooden boar hair brush made by master craftsmen is designed to make you feel and look great. They are unique products that make a great gift and a lasting impression. When you think of Germany, the first thought most likely comes to mind is high quality, exquisite craftsmanship and the finest boar brushes. And of course, in exchange for quality and craftsmanship, most people would be willing to pay a little more. After all, these are products that should last a lifetime if taken care of…
Most are made of nylon and plastic. These are definitely vegan. But what about the ones that are derived from hogs, are they vegan? The problem is when upgrading from a synthetic to a natural one the main material used for natural bristles comes from pigs which are not vegan. This is very unpleasant and totally unacceptable to many vegans. So the main reason to upgrade to a boar bush is that many stylists claim that it helps to collect and distribute the natural oils evenly. And combine that with natural bristles your scalp is encouraged to produce a healthy production of sebum that smooths down the shaft thus increasing brightness and health. So if you are a vegan…
Do boar bristles damage hair? There are several different types of hair and depending on your type you should choose the tools that is best for you. You can easily cause damage by forcefully taking it and ripping through your tufts, or combing when your hair is wet or even trying to detangle. These are instances where you should not be using it. There are other tools better suited for the job that is not going to…
Are boar bristle brushes made from boars? Combing will clean the dust and conditioning products from your tresses. As they come in contact with your mane are cleaning out the dead cells from you scalp, cleaning…
They have been around for a long time. They have always been known for creating shiny, healthy tresses without the use of styling products. It works to move oil down each follicle very time to comb. It's this oil that coats each strand and help repair damaged areas and adds a protective shine. The process does not change the texture of your follicles. So if you have curly tufts for example, it's not going to change that. You will still have curly hair. But the natural oil can make your it more bouncy for example. By combing your…
Are you interest in finding out more about cruelty free piggy bristles? Say bye-bye to fly-away. Dual boar and nylon is one of the best combinations when combing your tufts for reducing static. It smooths and combs your hair beautifully without any pulling or tugging. The oval cushion is very well balanced with a combination of natural boar bristles with a soft finished edge and nylon. It glides through your tresses smoothly while boosting brightness and adding volume. The smooth, satin finish handles feel great in your hand while…
Boar bristle brushes have been around for a long time. They have always been noted for creating shiny, healthy hair without the use of styling products. As you well may know there are many well known famous actress that have used a boar bristle brush to obtain…

Boar bristles are not designed to untangle hair.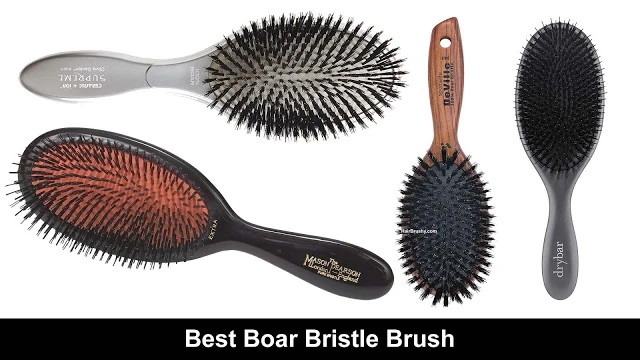 If you choose to detangle using a boar brush you are going to have a frustrating experience. Instead try a detangling comb or a wet brush. These tools are going to be a much better option and detangle your tufts much quicker and easier.
One of the best features is that is helps clean your locks by regular combing. These tools have a long history and go way back in time before hair care products became popular. Back in the old days to clean most folks simply used a boar bristle brush. It also distributes the natural oils from your scalp. Each bristle massages and helps seal your cuticles for a glossy and shinny appearance.
When looking to purchase high quality tools look for bristles that are first cut.
These are cut from the bulb end of the bristles. The reason why you want first cut is because it has a rounded tip. As you read many reviews you will often read where the purchaser comments about how it scratches their scalp or how rough the it feels. This is usually a strong indication that it's not first cut.
The length of the boar bristles are critical in getting the full benefits. 
In order to spread the natural oils from your scalp to the ends the bristles must be able to reach your scalp. They must be able to penetrate to your scalp. If it does not then you are not getting the all the benefits. Chose a length that you know works for your particulars. The best possible solution is for you to be able to actually test it. But in most cases this is not going to be possible. So the next best thing is to rely on an old one that you know the bristle length works for you.
Avoid a mixture of nylon and boar bristles if you have fine or thin hair. 
If your locks are fine or thin then make sure you avoid nylon. Some have a mixture of nylon. This is not good for thin or fine hair because it's going to penetrate too much. This type is excellent for folks who have thick curly hair where more penetration is needed to reach the scalp. For thin or fine types, you should look for a tool with soft bristles. Mason Pearson makes an excellent sensitive bush that is soft to the touch. Folks with thick curly hair should look for a boar and nylon mix. The nylon will add the necessary stiffness to penetrate thicker hair massaging the scalp.
When selecting a tool look for one that matches your hair type. For example, if you want to add a lot of volume and extra body to your hair then look for one that your hair is going to wrap around at least one time other wise it's is going to be too big. Now, that's not to say that you can't use it but it's not ideal.
If you are looking to smooth out your locks and you have long hair then look for a paddle style. It has a bigger head and will cover more strands with each use thus cutting your time by 25% or so as compare to using a smaller head.
If you have thin or fine hair then consider using a tool which has wider spaced bristles. These tools will pull less on your tufts thus avoiding damage and ripping out your locks.
One Of The Best Boar Brushes
The Cadillac in this market is of course Mason Pearson. When you think of Mason Perason what comes to mind is handcrafted, finely curated parts and nothing on the cheap. The benefits are rich in heritage, soft, manageable, silky and luxurious. Elegantly cradled in opulence quickly comes to mind.
And then on the other end of the spectrum is Sonia Kashuk. Who? Sonia, what? For $16.00, where can I get one?
Do they both do the job equally as well? At first look it appears so. Both are similar and seem to work equally well in all situations. So which one will you choose? Is spending $100 really necessary?
Well, one certainly has all the charm of a luxury brand and the other has all the charm of a dollar store wonder.
Luxury goods are a great example of how irrational we can be. Is that really a true statement? A decent and good product can be purchased for much less yet folks are willing to spend much more to buy a luxury brand name. It's been this way since the beginning of time and consumers' desire to own the finer things will never change. It has not changed yet and why should it?
One big reason is the way folks tend to look at only the positive side of a product and at the same time ignoring all it's disadvantages. In addition, some; perceive cheaper products as being not as good or down right inferior. And often they are also quick to point out all the negatives. But does authenticity really matter? Here is a great article on HairBrushy called: Does the Split Ender pro really work? If you have split ends you are going to want to read this article. Why do some people pass up bargains and pay more for the real thing?
So the reason people buy luxury items is because we all have strong emotions that we attach to expensive material products. It's basically an emotional thing, right? Whether we are financially able or not sometimes does not matter as much. In addition, we will often purchase luxury items to reward ourselves for an accomplishment. You worked hard, right? So you deserve it.
Types Of Brushes
The major factor in determining brush type is the density of bristles. Bristle density also helps in determining it's purpose. Based on bristle density and shape (round or concave) you have the following types of brushes:
---
References

https://pixabay.com/

https://unsplash.com/photos/_PYj9cbIpIw?utm_source=unsplash&utm_medium=referral&utm_content=creditCopyText

https://www.masonpearson.com/our-hairbrush