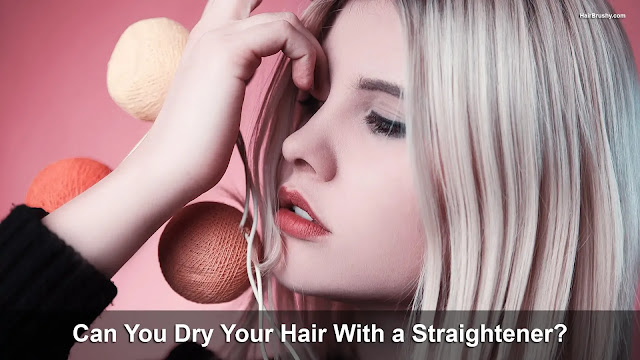 Can you dry your hair with a straightener brush is a great question. Drying your hair with a straightener brush assumes you will save a lot of time. Basically, you are styling and drying, thus cutting down on your time in front of the mirror. Having to completely dry your hair before you style eats up a lot of your time, so by drying your hair with a straightening brush, you can dry and straighten at the same time. But is this really a good idea? What are the pros and cons of using a straightener brush to dry your hair?
Drying your hair with a straightener brush is possible. Wet to dry straightener brushes are much safer to use on damp hair vs flat irons. Wet hair is at its weakest state and very susceptible to damage. Using a flat iron to dry and straighten hair is going to increase the chance of causing damage to your hair. They sandwich your hair between two hot plates, and your hair will sizzle as the plates pass over. But when using a wet to dry straightener, it blows hot air over your hair, drying at a much slower pace and lower temperature. Wet to dry straightener brushes are safe to use on damp hair.
Are Wet To Dry Straighteners Bad For Hair?
Wet to dry straightener brushes are not bad for your hair. It uses the same principle to dry your hair as a blow dryer does. Wet to dry straightener brushes have many features and are rather ingenious tools for styling damp hair. There are tons of manufactures making wet to dry straighteners, and they all will cut your time in half or more. What they do is blow hot air over your hair while at the same time, you use the comb end or brush head to comb through your hair. The combination of the hot hair and the bristles or teeth straighten your hair with each pass of the brush. During this action, your hair is not pressed between two hot plates, but rather hot hair passes over-drying and straightening your hair at the same time. This action is much gentler on your hair than using a hot iron.
What Happens If You Straighten Damp Hair?
Straightening damp hair is safe using a wet to dry straightener. Most of these tools work best on damp hair and not really wet hair. And the reason why is they do not have the airflow of a professional blow dryer. However, many have ion generators in which release ions to help dry your hair faster and safer than with heat only.
How To Straighten Damp Hair (Step by Step)
Step 1). Detangle Hair Before Straightening
It's a good idea to first detangle your hair before you style it. It will make your job much easier. For this, my favorite tools are The Wet Brush Original Detangler for thin to normal hair and for thick curly hair the Denman Classic Styling Brush 9 Row brush.
Step 2). Section Hair Before Straightening
Section off your hair no longer than the barrel length of your straightening brush. Your hair section should not be any longer than the brush or barrel head because you will end up tangling your hair.
Step 3). Add Heat Protectant Before Straightening
Once your hair is sectioned off and strands clipped and out of the way, you should apply a spritz of heat protectant. I like L'Oreal Sleek It Iron Heatspray because it aids in straightening or HSI PROFESSIONAL Argan Oil Heat Protector.
Step 4). Time to Straighten
Place the brush head under your first section and start moving, slowly down the length of your hair as the hot hair drys and straightens. If your wet to dry straightener has a rotating head to can start the rotation to polish and add shine to your hair.
Step 5). Repeat the Straightening Process
Repeat the process going over the rest of your hair. Place the brush head under a section of hair and start moving, slowly down the length of your hair as the hot hair drys and straightens. If your wet to dry straightener has a rotating head to can start the rotation to polish and add shine to your hair. Apply heat protectant as needed as you go.
Step 6). Last Step Apply Serum After Straightening
Optional, you can apply a hair serum to help with flyaways and keep your style lasting longer. I like L'Oreal Paris EverSleek Sulfate-Free Frizz Finish Oil-In-Serum. It is lightweight and contains argan oil.
Best Wet To Dry Hair Brush Straighteners
Many of the wet to dry straighteners have two brush heads that allow you to not only straighten but to create full-body curls or smaller curls. Having different brush diameters allows you to create different sizes of curls and waves. most all have at least two heating settings. One setting is usually a cool shot which is used to lock-in your style. The wet to dry straightening brushes I like the best are lightweight and have a small handle, one you can grasp easily.
| Hair Straightening Brushes | Hair Straightening Brush Recommendations |
| --- | --- |
| 1. Ricank Professional STRAIGHTENING BRUSH | Although this is a budget model, it does not handle black 4c hair very well, the price is really reasonable. |
| 2. MiroPure 2-in-1 Ionic Hair STRAIGHTENING BRUSH | Straightener brush that is excellent for all-around use. There are no negatives from my perspective on this one. Excellent for people with dark hair! Another hair straightener that comes close to being a superb budget model. There are numerous benefits for the price. |
| 3. Rifny Hair STRAIGHTENING COMB | For the price, this is an excellent brush; nevertheless, it is not suggested for short black hair. It has three heat settings and is not excessively expensive. |
| 4. Glamfields STRAIGHTENING BRUSH 2.0 | Straightening brush that is most likely the best value for money. The back of the brush head does become hot, as it does with the majority of cheap models. This is without a doubt a fantastic top pick. It includes all of the main functions, as well as a few extras, and it is offered at an affordable price. |
| 5. Revlon One-Step Hair Dryer & Styler Brush | Budgeting model that works well. The price is reasonable. I'm not a fan of the huge handle or the fact that there is no temperature display, but for the price, I can't really complain. |
| 6. Infinitipro By Conair Wet/Dry Hot Air Brush Styler | The tourmaline ceramic (ceramic coating) technology is appealing to me, however it is not ideal for people with thick black hair. |
| 7. InStyler Straight Up Ceramic STRAIGHTENING BRUSH | Very well done. What I enjoy about it is how quickly it heats up (30 seconds). There are seven heat settings, which is satisfactory. The Straight Up brush is a new addition to the line-up for this year. InStyler is a well-known brand in the area of hair straightening, and this particular model has many of the features you would expect from a brush of this kind. Excellent bargain from a well-known and respected premier brush company. |
| 8. Tymo iONIC Hair STRAIGHTENING BRUSH | Extremely well-designed, with numerous controllable parameters and functions for a hot brush in this price range. Will leave you with silky, natural-looking lustrous locks. |
| 9. Drybar The Baby Brush Crush | Straightening black hair with this product is a breeze. It is equipped with ion and titanium technology. This is a good deal. When traveling, I prefer the small but powerful size. |
| 10. CHI Tourmaline Ceramic Heated Paddle Brush | When straightening hair, tourmaline ceramic bristles provide a firmer grip, which is critical for straightening hair. My favorite features are the LED digital temperature control and automatic locking temperature setting, which prevents you from mistakenly increasing the temperature while straightening black hair and burning yourself or your hair. This is a great deal! |
| 11. Lena Hair Dryer Brush And Volumizer | Because of the powerful negative ion care and far infrared technology, I really like it. Straightening, volumizing, smoothing, and flipping are all possible with this product. |
| 12. Sultra The Bombshell VoluStyle Heated Brush | I appreciate the use of infrared and ionic technology, as well as the high level of quality. It also features an auto-shutdown feature, which is really convenient. It has a temperature setting with an LED display that has three settings: 300 degrees Fahrenheit for fine hair, 360 degrees Fahrenheit for average hair, and 430 degrees Fahrenheit for thick hair. Things become really straightforward as a result of this configuration. |
| 13. Drybar The Brush Crush | This brush is one of my favorites since the rear of the head does not get too heated like the backs of other, less expensive brushes. Excellent quality with a plethora of useful functions. Because of the great quality and precision temperature control provided by the digital display, this is my top choice. Also my top pick for frizzy hair. |
| 14. ghd Glide Hot Brush, Professional Hot Brush | I like it since it is the most straightforward hot hush to use ever! This product is excellent for taming and smoothing dry hair for quick and uncomplicated styling. |
| 15. Remington Pro 2-in-1 Heated Straightening Brush | I love the very affordable price and it actually works very well to eliminate frizz. However, I hate the Purple color. Lucky it also comes in other colors like black. My biggest complaint is due to the brush head design it's not going to work very well for folks who have short hair. Other than that it's actually a great buy. |
| 16. Dyson Airwrap | Excellence. I love everything but the price. However, I highly recommend. Very high quality, with excellence fit and finish. Great performance. Like all excellent hot hair brushes it need no gloves. Read my article on how to use the Dyson Airwrap. |
Hair straightening brush recommendations table. This table shows the most significant characteristics of each hair straightening bush.
References
What is The Best ghd Hair Straightener Brush
https://pixabay.com/photos/girl-model-pink-fashion-portrait-2189247/