Can You Use Hot Air Brush on Dry Hair
Be sure to read my article called Best Hair Straightening Brush after reading this one! I analyzed and reviewed the top brands and documented my findings. I'm sure you will want read before making your purchase.
It's a hot air brush, a hair dryer and a round brush all in one device. This is the latest and greatest style perfecting gadget at the time of this writing. It is one of the most versatile products that blows hot air through a vented barrel thus drying your hair.
A hot air brush can be used on dry hair. Dry hair is perfect! A hot air brush is considered a styling tool. It is not a replacement for your hairdryer. A hot air brush does not have enough airflow to dry wet hair. It's most effective when used on 80% dry hair.
According to Meesh, Hair Product Analyst, "The primary purpose of this product is to smooth and add a smooth curl to your hair especially if you have straight hair. Hot air Brushes can dry but that's not it's main purpose and use." This product will not make curly hair straight. Or at least that's not its intended purpose. For some people there is a learning curve for using this product but after a few times and more practice you usually get that stunning blowout look. I have also found that hot air brush styling tools are great for touch-ups in between hair washing. When you need just a little extra bit of styling to get you to the next day.
Top 25 Hot Air Brushes
Hot Brush
Recommendation
1.Conair 3-in-1 Tourmaline Ceramic Hot Air Brush Combo Kit
Good budget hot brush, price is really good at less than $30,00. No temp display at this price. Will give you more volume but it's harder to get close to your scalp on top due to the handle is large and it's not that easy to maneuver over your head with one hand.
2.Kingdomcares Hair Straightening Brush
Budget model, not sure how well it can handle 4c hair? But the price is very good.
3.Ricank Professional Hair Straightener
Budget model, does not handle 4c hair very well, but the price is very good.
4.Etereauty Ionic Hair Straightening Brush
Budget model, does not do much for frizz.
5.MiroPure 2-in-1 Ionic Hair Straightener Brush
Great Budget Brush. Great all-around straightener brush. No Cons from me on this one. Very good!
6.Rifny Hair Straightening Comb
Great brush for the price, not recommended for short hair. Has 3 heat setting and is not overly priced.
7.John Frieda Hot Air Brush
I like it because it's easy to use, but it can malfunction. I question it's reliability. But I would purchase due to the low cost and ease of use and would return if mine broke during the limited 3 year warranty. The brush is actually made by Conair Corp.
8.Revlon One-Step Hair Dryer & Styler
Great Budget Brush. Air flow is not even and has no temp display, otherwise a solid budget hot air brush. You can get closer to your scalp due to the oval design.
9.Infinitipro By Conair Wet/Dry Hot Air Brush Styler
I like the tourmaline ceramic technology, but not suitable for thick hair.
10.Calista Perfecter Fusion Hair Styler Hot Air Brush
Creates voluminous hair and shine as you dry for smooth, silky hair. Removes frizz for a smooth lush texture.
11.TYMO iONIC Hair Straightener Brush
Very good, has a lot of controls and features for a hot brush in this price range. Will give you a silky & natural lustrous hair.
12.Drybar The Baby Brush Crush
Same as the larger Drybar The Brush Crush but in a travel friendly size. Top quality.
13.FHI Heat Stylus Successor Dual Heating Thermal Styling Brush
I recommend for medium to long length hair styles and full curl and wave patterns.
14.Lena Hair Dryer Brush And Volumizer
I love because of the powerful negative ion care & far infrared technology. Very good for straightening, volumzing, smoothing and flipping.
15.Infinitipro By Conair Hot Air Spin Brush
2-inch spin air brush creates voluminous curls but not for thick hair types.
16.BaBylissPRO Nano Titanium Rotating Hot Air Brush
I like the rotating barrel is bi-directional, moving crisply either forward or backward. However hair can get caught between the barrel and the end cap.
17.Calista Tristyl3R Styling Tool, 3-in-1
I like because you can use the Tristyl3r as a wand to create bouncy curls and waves, then slide the clip attachment on to use a curling iron and achieve classic curls, or slide the heated round brush on to add beachy waves, volume, or sleek smoothness. Very versatile.
18.Calista Tools Pro Grip Digital Temp Control Ionic Round Hot Brush
Very good for lifts, directs, smooths, curls, and Volumizer all hair types. You should choose the 1″ barrel if you have short hair and the 1-1/2″ barrel if you have medium to long hair.
19.Calista Styledryer Custom Airbrush
I love the 4 different attachments to volumize, smooth and curl hair. Perfect to combine the use of attachments to customize your hair to the perfect style.
20.Drybar The Brush Crush
Second Choice. love this brush because the back of the head does not get really hot like other cheaper brushes do. Top quality with many great features. Great for really thick hair.
21.Sultra Thermalite Dryer Brush
I like because it's one of the few hot brushes with far Infrared technology heals hair & scalp. Also has an Ion Emitter for hydrated frizz free hair. Very lightweight & ergonomic
22.Drybar The Double Shot Blow-Dryer Brush
Perfect for blowouts. I like it because it creates a smooth, shiny blowout with tons of volume in one quick, simple step.
23.ghd Glide Hot Brush, Professional Hot Brush
First Choice. I love because this is the simplest hot hush to use period! The best for dry hair. According to Stacey, Hair Research Analyst, "Fantastic to tame and smooth dry hair for quick and effortless styling for THIN HAIR."
24.ghd Rise Hot Hair Brush
Fantastic for volumizing and flawless body and lift for you hair. I recommend to use with heat protect spray.
25.Dyson Airwrap
Third Choice. Excellence at a price. I love everything but the price. However, I highly recommend. Very high quality, with excellence fit and finish. Great performance. Like all excellent hot hair brushes it need no gloves.
Hot Air Brush On Dry Hair Benefits
Hair Will Have More Volume: In contrast to a flat iron, a hot air brush dryer gives a more volume. An iron usually leaves your hair too flat. You can get closer to the roots, which gives your hair more life and body.
You Can Have Less Frizz: In humid weather it works well to tame the frizz and gives a nice shiny finish to your hair.
Finished Ends: With this tool, your ends can be beautifully rolled under.
Touch-ups: Great for when you just need a touch up like before a special event or just to make it to the next day without having to go through a major styling.
Easy To Control: They are lightweight and easy to maneuver. Most weigh mush less than 2 pounds. You can use with one hand while the other hand aids with sectioning and styling.
Better For Thin Hair: It isn't as hot as a flat iron. This is important when you are concerned that the high heat from styling a flat iron may damage your hair. Especially if you have thinner hair or hair that has already been damaged.
Take With You: Makes a great travel companion. Instead of carrying several styling tools this one can take the place of most all of them, with some limitations of course.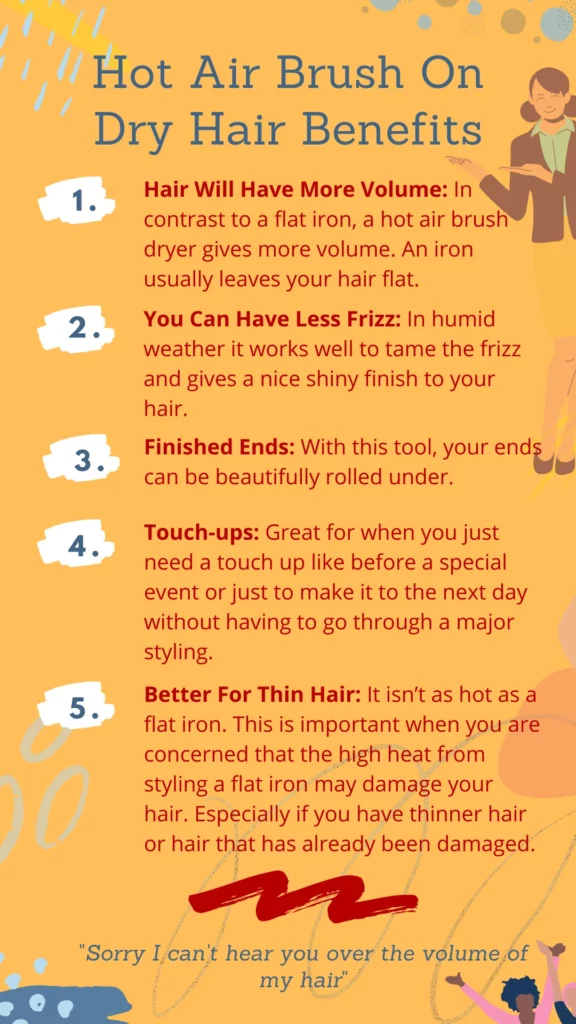 Hot air brush and hair types
Hot Air Brushes And Hair Types
Fine Hair: For people with fine, limp hair, hot air brushes are great. They can get close to the scalp to lift the roots and fluff your hair. Look for soft to medium bristles if you have super fine hair. Choose a brush with a ceramic heater and use a lower temperature setting if your hair is over processed or damaged. If your hair is frizzy, select an ion generator hot air styler brush.
Straight Hair: For straight hair a hot air hair brush can be used to give straight hair a gentle curve and add more body and brightness. For a longer volume, a volumizing mousse or hair spray must be applied. The brush won't give you much curl if you have straight hair, but it can give you a little casual wave or a touch of curl at the bottom of your hair.
Short To Medium Hair: For people with short and medium hair, a hot air brush is a perfect tool. For a short bob, it is particularly great because it lifts short, fine hair and gives it a body. Be aware, though, that you need a small barrel for short hair. Getting very short hair around the barrel can be tricky, especially if it's completely straight. Choose a barrel not larger than 1 inch in diameter for really short hair.
Thin Hair: A hot air brush styler works well for thin hair because it adds thin hair to the body, tames frizz and boosts brightness. If you have thinning hair, before using this tool, apply some volumizing mousse.
Long Hair: Section off your hair and always work in smaller sections for a big bouncy look. If you want loose waves, twist and turn the brush a couple of times over each piece. Do small portions simultaneously. If you take too much hair, it can be caught in the brush so be careful. Look for a "tangle-free" brush for very long hair. Look for a release button feature to untangle hair in sections. On shoulder-length hair, a hot air stylist works exceptionally well.
Curly Hair: A hot air styling brush doesn't give you straight hair like a flat iron; it smooths the hair and turns it slightly underneath. If you want to straighten your curly hair, you still have to use a flat iron. If you want your ends straighter, you will also need to use your flat iron, because the round brush tends to curl your ends.
Coarse Thick Hair: If you have coarse and thick hair, make sure that your hair is about 80% dry, then use this tool to finish your style. A hot styling brush is generally not going to be strong enough to dry thick, ans style fast, thick coarse hair. However if you keep trying, the tool does get quite warm, which can eventually get the job done and make your hair softer and shiny. The best results are going to be when you select a higher heat setting for your coarse hair.
When bad hair days are your everyday reality, it really zaps the fun out of your morning routine. Thankfully, all you need to do to make your hair perfect is know your hair type and how to operate with it!
In the 90s, Andre Walker, one of the most talented hairstylists who worked with Oprah Winfrey and Halle Berry, came up with his own hair typing system. It was originally created for his hair care line but quickly became widely popular. Basically, Andre Walker classifies not one or two but 9 different types of hair! And it's time to find out which one of them is yours.
Hair Type Summary:
In the Andre Walker hair typing system, everything comes down to how curly your hair is naturally.
1A hair is usually not thick at all and extremely soft and fine. Its biggest advantage is that it naturally looks really shiny.
1B hair, on the other hand, is kinda thick and has great volume near the roots, so it looks way more full than 1A hair type.
1C hair is really thick and has impressive volume. However, it's almost impossible to curl! This type is pretty common among Asian women.
2A hair is right in between wavy and straight. Without any styling, it tends to form weak S-shaped strands, curling a bit at the ends.
2B hair has way more visible and prominent S-shaped curls. It can be slightly frizzy as well, adhering to the shape of your head.
2C hair combines wavy and curly hair. It's very frizzy, quickly curls up in humid environments, and has tons of volume and generally thicker waves.
3A hair is shiny and great at taking any form you want it to. This type has a very definite S-shape which makes it appear full and healthy.
3B type has a smaller curl pattern than 3A, ranging from spiral-like curls to tight corkscrews. It also has a combination texture.
3C hair is actually thinner than 3A and 3B but its curls are smaller which makes it appear thicker. Plus, it's very tight, almost to the point of being kinky.
4A hair has an S-shaped pattern if you stretch it, but usually it's just tight coils. It tends to be thin, brittle, and fragile.
4B hair bends with really sharp angles and often has a Z-shape and zigzag-like curls. Just like 4A, this type is pretty fragile as well.
And 4C type is the hardest to style and take care of. It doesn't have a definite curl pattern which makes it look awesome but extremely hard to comb.
Straight and soft hair like yours gets dirty and oily pretty quickly, so try to pick the shampoos that have curative clay as one of the components. It will make your hair stay clean longer.
If you fall into the second hair group, your hair care should be completely different. Your main task is to make your hair look thick without it looking crazy and messy. Try to look for shampoos and conditioners with a moisturizing effect.
Curly-haired guys and girls from hair group number 3 have pretty much the same end goal as people with type 2 hair – keeping their curls hydrated.
And, finally, type 4, it's your turn! Your hair doesn't get oily that easily, so unlike hair type number one, you don't have to wash it that often. The softer your shampoo and conditioner are, the better.
Top 12 hot air brush tips to maximize your style
Here are some important tips you are going to want to know about before using a hot air brush. First of all there is more to it than just plugging it in and brushing your hair. If you want to get the most effective use out of your hot air brush then keep reading. These are tips you can use to maximize a hot air brush and how to get the best styling when drying.
Hot Brush Temperature: Before you use it in your hair, let your brush heat up to the appropriate temperature. Avoid the temptation of using your brush as soon as you plug it in, as this either causes you to look uneven or takes much longer, as you need to go over some sections more than once. Waiting until your brush reaches the right temperature saves you time in the long run and gives you the beautiful look you want quickly.
Sectioning Hair: Section your hair before using your hot air brush, instead of just running it randomly through parts of your hair. Sectioning will make sure you don't brush your hair with thin strands. The application of heat to thin strands can cause damage such as breakage; when you cut your hair, it is in thicker bunches that protect it to a large extent from heat. You should begin to make sections on the back of your head and work your way to the sides and then to the top of your head. Make sure the sections are relatively equal in size to ensure a well-balanced end result.
Root to Tip: Brush from the root of each section to the tip for best results. Gently brush your hair. This adds volume to your hair, but before brushing, you can apply a volumizing spray or foam to your hair if you want. This adds even more volume. When you start using your hot air brush, your hair should also be mostly dry about 80 percent dry is the recommendation. You should slowly brush from root to tip when using a curling brush and then roll your hair back to the root.
Hair Cooling Step: After wrapping your hair around the brush for about 5 seconds, let it cool for another 10 seconds before pulling the brush out. Most hot air brushes will have a "cool" setting or button to facilitate this step. All you have to do is press a button and the brush will automatically cool down. This cooling step helps set and define the curls for your hair. Once the section is cool, you can move to the next section and repeat the process.
Dry Your Hair: A hot air brush is not to be used directly coming out of the shower for drying your hair. It will simply take forever if you take this approach. For best results allow your hair to dry or pre-dry with a regular hair dryer to about 80% dry. Use the hot air styler to finish drying and create the style you want. Section off your hair using clips, work in sections and wrap a small portion of hair around the brush and slide down. To get used to the rotating brush is will take some practice.
Hot Air brush Barrel Size: Place the brush near the roots for maximum body, wrap your hair around the brush and hold the brush for a couple of seconds. Take your hair off your head gently, then move the brush down the section. If you want more body and less curls, be sure to select a large barrel.
Hot Brush Waves: Hot air brush styler isn't hot enough to curl your hair. If you want tighter curls, it's not a good choice. Curls does not last long as a curling iron is used. Depending on the hair length and brash diameter, some curls or slight natural waves can be obtained.
Big Soft Waves: Wrap a portion of your hair around the brush and hold the brush near your head for about 10 seconds before unrolling hair from the brush to obtain a curlier style. Only work one small section at a time. Use a barrel not larger than 1 "for tighter curls. If you want more relaxed curls, use 1.5′′ barrel or larger. Slide the brush vertically to get big soft waves.
Tangles: If your hair gets tangled, press the button to untangle the hair, which allows the barrel to swing. If you use a double rotating brush, you have to change directions to leave your hair out of the brush. Use the cool setting to set the style and add more brightness to your hair once you've finished the hot settings.
Long Hair: Choose a larger brush diameter for longer hair. If you have long hair, the 2-inch barrel will probably work perfectly. Choose the 1′′ barrel if you have short hair. Larger barrels don't work on short hair, because hair can't be wrapped around the brush. If you have medium hair, select 1-1/2′′ barrel. The1-inch tighter curls will give you. The barrel of 1.5 inches gives you more relaxed curls. The 2-inch barrel offers a straighter style with plenty of volume and short-lasting curls can also be lost.
Metal and Ceramic Barrels: Ceramic or titanium barrels are going to tame frizz and smooth hair much better than plastic barrels.
Hot Brush Bristles: Most stylers with hot air have nylon bristles. Plastic bristles transfer heat well. They pick up the hair easily and don't tend to wrap-up the hair. Nylon bristles are ideal for coarse hair styling. Brush bristles that are soft works well for fine hair.
By following these tips your friends will think that every time you use your hot air brush, you've gone to the hair salon.
Types of hot air brushes you can use
Typically, brushes range from 250 to 1200 watts. 250 watts may be enough for fine baby hair, but you need much more power for thick and coarse hair.
Stationary hot air dryers have a fixed position on the brush, so you have to roll it manually to style your hair. Some people prefer stationary rather than rotating brushes because the hair is not tangled.
Rotating hot air brushes have a rotating brush head, which increases the volume of your hair and facilitates your styling. The rotating feature is optional, so the brush can be used without rotation.
Hot air brushes with the spinning feature tend to catch more hair than stationary brushes, and it also takes more time to master a rotating hair brush dryer than a manually rotating hair brush.
Dual-rotation brushes have two directional buttons, so that they can spin either forward or backward, making them equally convenient for people that are either right handed or left handed.
Hot air brush dryers have one dryer unit and two or more brush attachments to fit different hair lengths and create different styles.
Tangle free drying hair brushes have a release button that allows the barrel to rotate and release a tangled hair section.
Some hot air brushes (such as John Frieda Hot Air Brush) use advanced ionic technology to dry your hair faster while static and frizz are eliminated.
Hot air brush ionic technology
Electronic ionizers produce negative ions that neutralize atmospheric positive ions. This process flats and seals the hair cuticle, reduces frizziness and flyaway, eliminates static electricity and contributes to brightness and management.
Hot Brush and Hair Straightener Articles
Article
Description
Hair Straightener Review Hot Brushes That Won't Damage Your Hair
There's no denying the way women style their hair has revolutionized the hair straightener. Easy-to-use tools have helped ladies tame their tresses. While poker-straight locks such as flat iron may not leave you, straightener tools are perfect for smoothing out kinks and curls quickly and banishing…
Glamfields Hot Hair Straightening Brush
Straightening 2.0, GLAMFIELDS Hair Straightener Iron with Double Negative ions Anti-scald Faster Heating MCH Ceramic Technology 110-240V Travel Size Auto Shut Off Temperature Lock Function. The latest fad among girls with all hair types is hair straightening…
Miropure Hair Straightening Review
In this review I'll take a closer look at the pros and cons of the MicroPure straightening hair care tool. MicroPure works with natural really curly hair. It does a wonderful job straightening it. If you are one of those persons who always dreamed of silky straight hair or value your time in front of the…
InStyler Hot Air Heat Settings
Have you heard about the hottest hair styling tools on the market today? Hot air care tools are great to style your hair and give you the style to fit your occasion. Your style is a vital part of your image, just like makeup. You always want to look your best and any hot hair styling tool that makes the job easier and…
Negative Ion Straightener Hot Air Brush
The negative ion straightener has been in vogue since about 2008. Sounds too good to be true but the big question is does it really work? So, if you have not had a chemistry class in a while, like me, you may also wonder what it all means and whether it's worth the money. Well keep reading to be enlightened. That's when the ion technology really started to hit the market big time. They claim ion to be…
Instyler Glossie Ceramic Hot Air Styling Tool
The InStyler GLOSSIE Ceramic Straightening and Styling Tool has positive reviews. We like the InStyler and can confidently recommend its purchase. Most people say they loved using the Glossie. And those who came from a regular straightener most likely won't go back to using a regular straighter again. The longer your hair…
Asavea Hot Air Hair Straightening Brush
Best hair straightening tool. In our previous post where we covered the 10 best hot air hair straightening care tools that won't damage your hair we said, "AsaVea is already on its third generation of hot air hair straightening tools, and they keep improving. It is no surprise, therefore, that its current version is a best…
InStyler 2-Way Rotating Tourmaline Ceramic Straightener
The rotating barrel helps to detangle and gives nice curls. Our favorite as of now and I don't recommend using daily but it is great for quick touch ups. The patented MAX PRIME Blowout Revolving Styler offers the added advantage of 2-way barrel rotation and 4 heat settings up to 425 ° F. MAX PRIME uses a round barrel and blow dryer's styling power to produce…
How to Use An InStyler
This step-by-step instructional guide helps anyone get stylish and sassy curls as if they were made by a salon professional. The Instyler is a hair brush ALL-IN-ONE, hot iron, hair curler that delivers amazing results from the comfort of your own home. The Instyler is a new hair styling tool for straightening, polishing and styling hair. The secret of this…
Does the InStyler Burn Your Hair
The Instyler is a very popular hair styling tool. And the Max 2-way is the most advanced brush the company sells. There are thousands sold online and in stores and the majority of them have good reviews. But with every product there are…
Can you use the InStyler on wet hair
The InStyler Rotating Iron was carefully designed for efficiency and safety. When using any product, basic safety precautions should always be taken. One of the first safety precautions should be to read the manual and…
What does the InStyler do to your hair
We love the InStyler. It's one of the the most versatile hair styling product that has hit the market. It could very well be the only tool you need for your hair to look fabulous every day of the year. Whether you're looking for a sleek, straightened style, a glamorous curled look or anything in between the Instyler…
Asavea Hair Straightening Brush 4
AsaVea Hair Straightening Brush 4 with premium anion generator is advertised to be lighter and smaller. Recommend for use at home or on the go. this brush is also know as the Luna Hair Straightener Brush but many people know it best by the…
Is Hot Air Brush Bad For Hair?
This question is a common question regarding hot air brushes because it uses heat to either dry your hair, straighten or curl you hair. It's automatically assumed that heat will damage your hair and that the use of these types of tools is not good. However hot air brushes are sold every day. Almost every manufacture today has some sort of hot air product…
Can You Use Hot Air Brush on Dry Hair?
A hot air brush, a hair dryer and a round brush all in one device. This is the latest and greatest style perfecting gadget at the time of this writing. It is one of the most versatile products that blows hot air through a vented barrel thus…
Hair Straightener Brush Disadvantages
There are many different brands of hair straightener brushes on the market today At the time of this writing one of the most popular types is the hot air bush. It's one device that does it all. It's a hot air brush, a hair dryer and a round brush all combined into one hair styling tool. This is the latest and greatest style perfecting…
Hair Straightener Features
When trying to find out what the best hair straightener is for you, look at hair straightener features and the different types of hot air brushes. You should also match your hair to brush features making sure you are going to get maximum…
What is The Best ghd Hair Straightener Brush
Hair straightener brushes nowadays are in high demand. The best ghd hair straightener brush straightens hair quickly and easily. The ghd innovative hair straightener brush is the solution, and it's easy to see why because it sold out within two weeks of launch. It's one of the best hair straightener brushes on the market today…
Best straightening brush for black hair
What are the best straightening brushes for black hair? If you have African American hair you know you are faced with challenges when trying to straighten your hair. Tight curls pose a difficult problem for most…
Best hair straightening brush
Are you interesting in knowing the best hair straightening brushes? I'll show you so you can choose the best of the best. Trends are important especially when it come to consumer satisfaction. If one brand or manufacture consistently comes out on top year after year you would want to…
References:
John Frieda Home Page
Image by Анастасия Гепп from Pixabay