Coconut Oil
Frizzy hair can be a sign of hair damage. If your hair cuticles are not smooth they could be damaged from too much heat, coloring or perms. Click to see my 18 solutions on
how to tame frizzy hair
forever.
Does coconut oil help static hair? Yes, coconut oil will work great. Just be careful not to use too much or you run the risk of having oily hair. What you want to do is to add moisture back into your hair. And a great way to do this is by using products like coconut oil to hydrated and soften your hair. Just use a small amount to get rid of any static. Plus the extra benefit is it also makes your hair appear to be healthier looking by adding shine.
For example, a great product to fight static in your hair is "OGX Coconut Milk Weightless Hydrating Oil Mist" – $5.22. It comes in a 4 fluid ounce which is great size to travel with. According to Stacey, Hair Research Analyst, "It's small enough to carry almost anywhere and can tame the worst of fly-a-ways due to static."
It's one of the besting selling and very popular products products on the market today to tame static induced frizz.
It's a lightweight formula blend infused with coconut oil and bamboo extract, the OGX oil mist helps damaged hair and nourishes it, while coconut oil helps lock in moisture and helps control and eliminate static and tame frizz. Apply to dried hair and style as usual.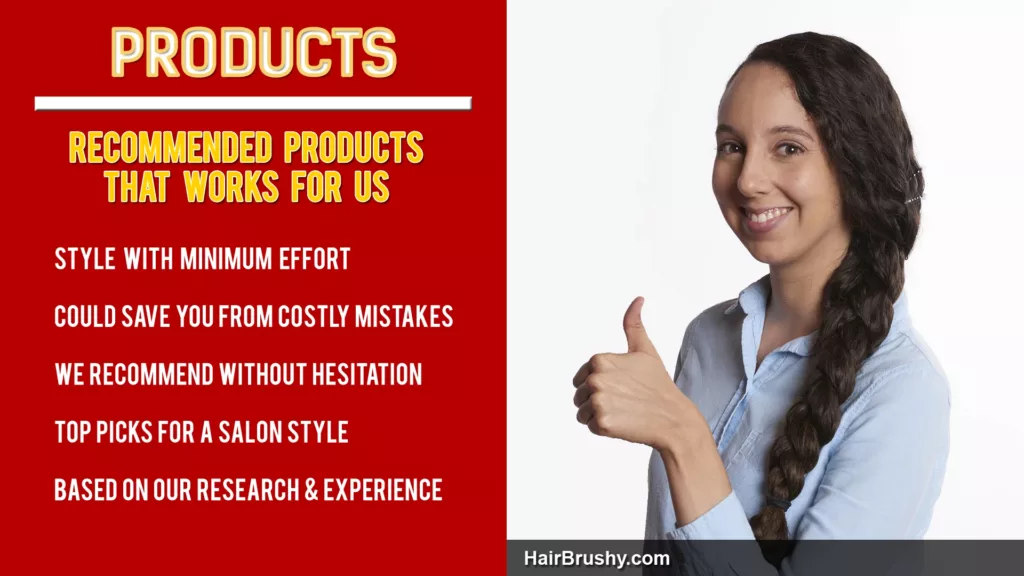 However before using this product you should read my warning. It's smells amazing. You are going to think it's Summer all year! The coconut smell is so good. Plus you also get the extra benefit of being able to comb through some really tough tangles while giving your hair some extra shine. It smells so good people also use it on their skin. A little goes a long way. It does not weight down your hair and is not greasy. It's a great product, makes you look good and smell good at the same time.
About OGX Coconut Milk Weightless Hydrating Oil Mist:
An exotic and enticing lightweight blend infused with coconut oil & bamboo extract, it helps to create hydrated hair that looks soft, touchy and healthier with each use; mist with moisture and hydration for healthier looking hair.
Treat your senses with an ultra-rich repairing blend of coconut oil to an organic-inspired island escape. This nourishing formula helps to calm frizz & tame fly-a-ways, leaving hair with a silky soft bounce & shine; helps to improve elasticity.
The products of OGX hair care are inspired by nature. The goal is to make the hair look fuller, smoother, straighter, curlier, or bouncier & smell irresistible while doing it.
OGX hair care products are designed to deliver the best, no matter what type or texture you have. You've covered whether you need quenching moisture for curly hair, colored hair protection, blowout cream, or matte pomade.
Ingredients:
Cyclotetrasiloxane, Cyclopentasiloxane, C12-15 Alkyl Benzoate, Cocos Nucifera (Coconut) Oil, Phenyl Trimethicone, Bambusa Vulgaris (Bamboo) Extract, Fragrance (Parfum).
If you like the smell of coconut oil this product is also frequently purchased: "OGX Extra Strength Damage Remedy + Coconut Miracle Penetrating Oil" – $6.29.
About OGX Extra Strength Damage Remedy + Coconut Miracle Penetrating Oil
It's an exotic and enticing ultra rich blend with coconut oil and vanilla extract, it helps create hydrated hair that looks soft, touchy and healthier. It does make your hair feel oily, after all it's an oil. So only use a little. A very small amount goes a long way. This is also a great leave in treatment for your hair frizz.
About both static frizz products
Both products contains Cyclotetrasiloxane which is, also called "octamethylcyclotetrasiloxane," this ingredient is one of many "siloxanes" made up of silicon, oxygen and alkane. In other words, it is a silicone-based ingredient used in cosmetics, deodorants, defoamers, lubricants, and soaps to soften, smooth, and moisturize.
Silicone is almost like plastic and/or rubber. It is used against water and even air as a sealant. It's not a natural ingredient, and its side effects may be bad for hair. It gives the hair the illusion of shine, but it's a fake plastic shine. 
So if you are offended by the use of silicone then these products are not for you. And you should choose a product that is made of natural ingredients like the top selling "PURA D'OR Organic Moroccan Argan Oil 100% Pure Cold Pressed, USDA Certified Organic, All Natural Moisturizer Treatment for Hair" – $12.99.
Sorry but this is not available in coconut. It's an argan oil. And since it's made of natural ingredients the product expires after 12 months. It's a 100% pure organic argan oil and cold pressed, unrefined with no chemicals added. This product is made in Morocco and is color safe.So this is a very good alternative in my opinion if you want to use natural ingredients.
Here is my list of the 9 best selling and hottest Argan oils on the market today:
PURA D'OR Organic Moroccan Argan Oil
Viva Naturals Organic Moroccan Argan Oil
Foxbrim 100% Pure Organic Argan Oil
ArtNaturals Pure Morrocan Argan Oil
InstaNatural Organic Argan Oil
Majestic Pure Moroccan Argan Oil
One N' Only Argan Oil Treatment
All prices and ingredients listed are as of this writing and are subject to change. To get the most recent list of ingredients and pricing please consult the manufactures information.
Please comment below on what you use to tame static and your thoughts on the use of silicone. Also check out my article called: USA made hairbrushes. In this article I round up the best of the best hairbrushes made in the USA!
References
Image courtesy of pin.it/g6wcfu5evtaaga
Dias, M. F. R. G. (2015). Hair cosmetics: an overview. International journal of trichology, 7(1), 2.