Brushing curly hair in the shower is hard. And it's especially hard not to end up looking like a frizzed Lion when you are done brushing. But on the other hand not brushing is really not an option because eventually you will get a real knotted mess. The correct way to brush curly hair is to section off your hair in smaller sections for better control and use a high quality detangling brush or wide toothed comb.
#1 Wide Tooth Comb To Use In The Shower
Check the price on the Wet Brush Pro Detangler now
Why I love the Wet Brush Pro Comb Detangler improved version? It's because the Wet brush wide tooth comb will easily slide through any hair type, combing away tangles. The Wet Brush comb is designed specifically for wet hair and will untangle your knots with ease. They improved the plastic handle so it's more durable over the older version with the hole in the handle. I love the rubber grip, works well in the shower. I highly suggest you also use a good leave in conditioner while combing thru tangles in the shower. One of my favorites is Garnier Fructis Sleek & Shine Intensely Smooth Leave-In Conditioning Cream. It works great and is priced right. If you do not already have a favorite you can check out Garnier Fructis.
Check the price now on Garnier Fructis Sleek & Shine Intensely Smooth Leave-In Conditioning Cream
Another one of my favorite brushes for combing hair in the shower is the Denman D4 9 row large brush.
Denman 9 row D4 brush for the shower and curly hair
This was one of my favorite brushes for many years and still is.
Should I Brush My Curly Hair While Showering?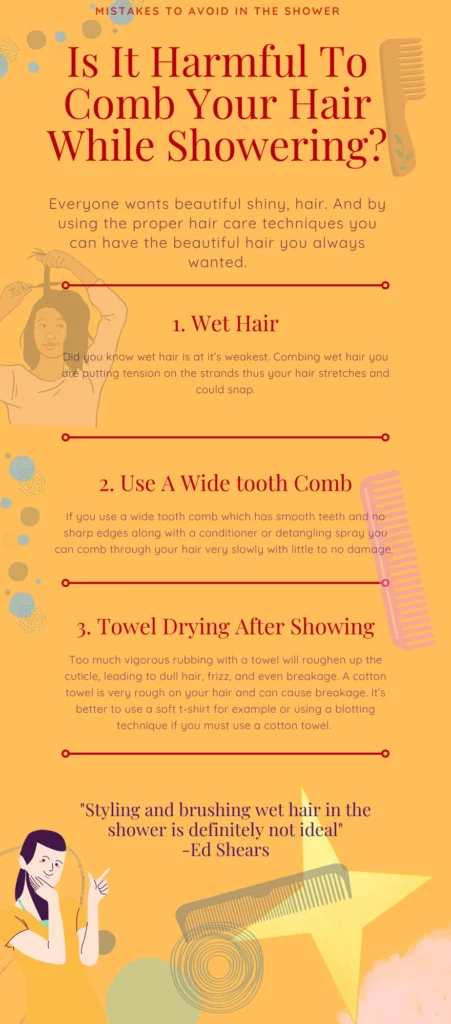 By combing wet curly hair you put tension on the strands that extends your hair and could cause your hair to snap or break under tension. But if you use the right technique and the right comb like a wide tooth comb with no sharp edges together with a conditioner or detangler then you can gently comb with reduced risk of breakage. Start by combing your hair at the ends. Section off as needed and work slowly to your roots or hairline and apply a detangler or leave in conditioner as needed.
Recommended: Did you know that the best way to moisturize curly hair is from within? Read my article called Best Hair Products For Curly Hair Read how to encourage definition and a uniform curl now.
According to Meesh, Hair Product Analyst, "It's best to brush curly hair while it's moist or wet because it helps prevents frizz and flyaway. You avoid that frizzed Lion hair look."
There are other articles on this site you are going to want to read and I am sure you will find interesting. Click the link to start reading, "What are the benefits of combing shampoo and conditioner while in the shower?",in this article I provide 3 of my favorite shower combs to assist you work through these impossible snarls and huge hair clumps. Did you know a handy brush can make your hair washing much easier? You should read this: "Are shampoo brushes bad for your hair?" And finally read this, "Is it bad to comb your hair in the shower?" to learn even more.
According to Stacey, Hair Research Analyst, "Just like everything else shampoos, conditioners and some styling products, brushes are intended for certain hair types and different purposes." You wouldn't tease your hair with a wide tooth comb, right? Well the same applies here, but I am sure you knew that. So, depending on your hair type some combs and brushes are going to work better than others. The combs and brushes in this category are really inexpensive so feel free to try several till you find the one that works best for you.
---
Read my article called:
Wet Brush For Curly Hair
. In this article give you my top brushes for curly hair and their respective pros and cons. So click on the link and start learning more!
---
Shower Combs
If you like coconut oil you should try Extra Strength Damage Remedy + Coconut Miracle Oil Conditioner, 13 Ounce by OGX – $6.69
Envelop your senses with this ultra-rich mixture of coconut oil in an island escape. This ultra-nourishing and rejuvenating mix soothes frizz and tames flyaways, leaving hair with a smooth and silky bounce. Just use about a dime size for your hair while you are in the shower. It does not leave you hair feeling oily. Plus you can also use as a leave in treatment. Help condition even the most damaged strands and has a nice pleasant smell for your senses. The smell is Coconut Oil, Vanilla Bean Oil and Essence of Tiarre.
Ingredients:
Water (Aqua), Behentrimonium Chloride, Cetearyl Alcohol, Glycerin, Glyceryl Stearate, Cocos Nucifera (Coconut) Oil, Gardenia Tahitensis (Tiare) Flower Extract, Vanilla Planifolia Fruit Extract, Aloe Barbadensis Leaf Juice, Panthenol, Polyquaternium-37, Propylene Glycol Dicaprylate/Dicaprate, Polyquaternium-10, PPG-1 Trideceth-6, Diazolidinyl Urea, Iodopropynyl Butylcarbamate, Fragrance (Parfum).
Prices and ingredients are as of the time of this writing therefore may have changed so please see the manufactures website for the latest information.
Conclusion
What are you using to comb your hair in the shower? So you have any techniques your would like to share? Please feel free to comment below your advise could help others.
References
Background courtesy of pin.it/bi2o54j2t36fxp