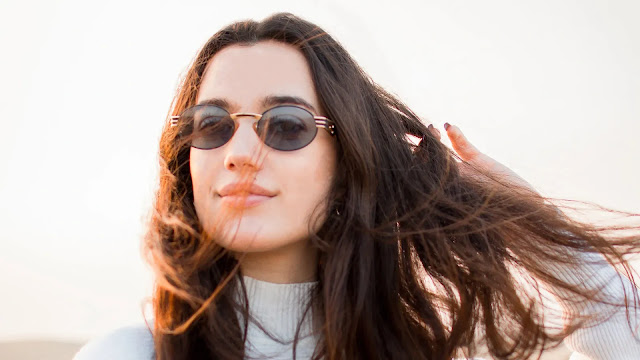 For split hair, it is too late to repair what has already broken. However, that doesn't mean you can't help improve the appearance of your hair. Products for split-end repair on the market today improve the appearance of split ends. And every professional stylist would concur with my statement. There is nothing that can permanently reattach the strand once it has split and separated at the end.And the real solution is a split end trimmer or get a trim.
Treatment sprays, leave-in conditioners, and serums all help to hide or conceal split ends and give the hair a sleeker, healthier appearance. Split ends can only be removed by cutting them off. Because there is nothing that can magically fuse the pieces of split hair back together. However, some great products can make it look like you have not split ends. Treatment products are to be used when you do not want to get a trim.
2/14/2023 According to cbsnews, "A group of approximately 30 people is suing Olaplex for allegedly causing bald spots and other injuries after using their products. The lawsuit claims that the products left the users' hair dry, brittle, and frizzy instead of restoring them. Olaplex denied the allegations and defended the safety of their products, citing that there are various reasons for hair breakage or hair loss. The plaintiffs are seeking more than $75,000 in damages. The lawsuit alleges that Olaplex's products contain ingredients that can lead to conditions causing hair loss and scalp injuries, including ingredients banned from hair and beauty products in Europe."
Treatment For Split Ends
1. Olaplex Hair Perfector No 3 Repairing Treatment
On my list for covering up split end damage. Yes, it works, repair damaged hair and broken bonds.
2. Oribe Gold Lust Repair & Restore Shampoo
I like it because it works at restoring dry, damaged hair by helping to seal in monitor, and protect future damage.
3. Oribe Gold Lust Repair & Restore Conditioner
A great conditioner to go along with the Oribe Gold Lust repair shampoo. Gives a nice clean glossy look to your hair without overdoing it.
4. Briogeo Don't Despair, Repair Deep Conditioning Mask
After your shampooing, evenly apply the conditioning mask and leave it on for five minutes before rinsing. Use about once a week. According to Stacey, Hair Research Analyst, "But before you jump in, test on a small patch of your hair first!!!"
5. Hairgenics Pronexa
Hairgenics repairs bonds from within and strengthens your hair bonds. It's also Paraben-free, sulfate-free and phthalate-free (plasticizers, i.e., substance added to plastics to increase their flexibility).
6. Redken One United All-In-One Leave-In Conditioner
Redken makes great products and this is no exception! It a multiple benefit hair product. My #1 Heat Protectant choice. Marketed as a heat protectant but it much more than that. It is a leave in conditioner and heat protectant detangles, hydrates, fights frizz, prevents breakage and adds shine. You can leave in or rinse out. Easy to use. Great product!!!
Here are my eight simple and effective hair care solutions for damaged hair treatment
Identify the damage: According to Stacey, our in-house hair care analysts, she says, "The first and most important solution is to identify the damage as soon as possible. Once damage has been done and it is severe, such as split ends, the only real solution is to trim off the damaged ends." You could try getting your hair cut in layers instead of a full cut. You might be able to get rid of just the damaged part this way. Get your hair cut with razor-sharp scissors for a nice, clean cut. Your hair has a better chance of growing back healthy now.
Avoid using too much heat or styling tools: Heat is bad for your hair and can easily damage the cuticle. However, if you must use heat, make sure to use a good heat protectant spray.
Dry hair naturally: Allow your hair to dry naturally and avoid vigorously rubbing with a cotton towel. Cotton microfibers can catch in your hair and pull it out or snap it. If you must use heat, use the lowest heat setting possible to set your style.
Try not to color your hair: According to Meesh, our in-house product analyst, "Chemicals are bad for your hair because they cause it to do things it was not designed to do. Strong chemicals cause your hair to swell, allowing the dye to pass through your outer layer or cuticle and reach the inner core. As a result, your hair will never fully recover." So it's best not to do it, but if you must, use an ammonia-free product and condition your hair before and after. Make use of a good deep conditioner. A deep conditioner contains more concentrated ingredients that do not wash off as easily as a regular daily conditioner. As a result, it remains on your hair for a longer period of time.
Avoid shampoos that contain sulfates and other harsh chemicals: Seek out natural products. If you read the ingredients and notice a lot of long, difficult-to-pronounce words, look for a different product. Most chemically harsh shampoos strip away all of your hair's natural oils, leaving it dry. Over-shampooing is another way to remove all the moisture. As a result, only shampoo when necessary.
Make use of natural ingredients such as coconut oil: Coconut oil contains a high concentration of fatty acids, which aid in the formation of a protective layer or barrier around the cuticle. Castor oil, for example, is high in protein and can help fill in the damaged areas.
Hair protection: Protect your hair while engaging in routine activities such as swimming. Before swimming, wear a swim cap and condition your hair. Conditioning your hair with coconut oil, for example, forms a protective layer around the cuticle, which helps protect your hair from pool chemicals.
Diet: Last but not least, and perhaps most importantly, lead a healthy lifestyle. Eat a well-balanced diet and try to keep your stress level as low as possible. Exercise on a regular basis and ensure that you are getting all of the vitamins and minerals your body requires. If in doubt, seek medical attention.
How to treat split hair
The first step in repairing broken hair is to stop doing whatever is causing the breakage. For example, if you haven't already, I would discontinue the use of a flat iron. If you absolutely must have straight hair, I would recommend investing in a high-quality ion hair dryer or straightening brush. I'd be cautious not to overuse these styling tools. You can achieve straight hair without causing additional damage to your hair by using these tools.
Treatment for severe hair breakage
For really severe damage the treatment when nothing else works is to simply get a haircut. Depending on how badly damaged your hair is, which could be severely broken and damaged, you may have to switch to a different style until your hair grows back out.
---
References
https://www.pexels.com/photo/woman-in-white-long-sleeve-sweater-wearing-black-sunglasses-3824270/
Van Meter, M., Mao, Z., Gorbunova, V., & Seluanov, A. (2011). Repairing split ends: SIRT6, mono-ADP ribosylation and DNA repair. Aging (Albany NY), 3(9), 829.