In this article I'll talk about shampoo combs. What is a shampoo comb and the benefits of combing shampoo and conditioner while in the shower. Some combs are better than others depending on your purpose and your hair type. So you will want to choose the right comb for your specific needs. If you are looking for the perfect shower comb then you should also read my other article before you buy a comb you will be so glad you did, here s the link: "shower comb". Later in this article I'll provide 3 of my favorite shower combs to help you work through those impossible snarls and massive hair clumps.
What Is The Purpose Of A Shampoo Comb?
It's a regular sized, wide toothed comb used for easy effortless detangling hair of all types. It's usually used in the shower and also can be referred to as a shower comb. It is designed with rounded, smooth tips so that when shampoo and or conditioner is applied it spreads it evenly through out the hair. The smooth round teeth prevent hair damage and is gentle on the scalp.
Shampoo Comb Features
Has smooth, rounded tips.

It prevents hair damage by the wide teeth design.

Massages the scalp during use.

Evenly spreads shampoo through out hair.

Can also be used for detangling.

Waterproof.
According to Stacey, Hair Research Analyst, "Some combs are better for your hair than others, just like brushes. The best combs are "saw-cut", whereby each tooth is cut into the comb, making it smoother." The process is to take a solid piece of plastic and cut the comb instead of using a molding process where hot melted plastic is poured into a mold forming a comb.
Choosing A Shampoo Comb
The "saw-cut" process is usually made of vulcanite (a type of hard rubber). Good plastic saw-cut combs are also available, but vulcanite rubber is preferable due to its anti-static properties and easy cleaning. In addition another material that has good anti-static properties and is not easy to break is Acetal. Acetal is a plastic material that is widely used in the automotive and electronic industries. It's a very common material in gear wheels, eyeglasses and ball bearings. It is an extremely durable material that is perfect for combs. The combs made from this material can withstand drops without any problem on a hard tile floor. The beauty of this item is you can drop it on any surface and it's not going to break. It's the (item number – DPC6GRN) Denman (great brand) Lime Green Precision Rake Comb. This comb is good if your have fine hair not really thick hair. For thick hair see my recommendations later in this post. If you are interested you can use the link below to order.
Metal combs are the worst for your hair if not polished thoroughly because their edges can lacerate individual strands. Also, cheaper plastic combs made in a mold should be avoided as they have joined lines down the center of each tooth that can cut your hair shaft, remove hair cells and eventually weaken your hair if they are not thoroughly sanded and polished.
What Is A Wide Tooth Comb?
A wide tooth comb specifically refers to the large spacing between a comb's teeth. You need the space between the teeth to be wide so that it glides through your hair easily not pulling or snagging. This makes sure you do not damage your hair in the combing process. In particular, some people mistake the term for the comb's teeth being wide, but that's not the case, although many wide tooth combs also have teeth that are larger in size. Remember wet hair is at it's weakest point therefore extreme car must be used when combing through wet hair. Always use a high quality tool and take it slow.
How To Use A Shampoo Comb
According to Meesh, Hair Product Analyst, "Start out by applying the shampoo or conditioner to the ends of your hair. You always want to start at the ends and work your way up to your hair line. This way you can work through tangles much easier. After you are able to comb all the way through from your hair line to the ends with little or no resistance you can optionally apply additional hair product as needed."
Wash your hair as normal and then repeat the process using a conditioner product of your choice. When you are finished remove as much water from your hair as possible using your fingers. Let you hair air dry or if you must dry off then choose a soft smooth towel and pat dry, do not rub vigorously. Another hair care option is to use a T-shirt, most are smooth cotton. The cotton fibers will not catch your hair like a bulky cotton towel. Apply a detangler or leave in conditioner using the same technique and then when your hair is about 80% dry style as normal.
Because of the wide spaces between the teeth, it is easier to detach your hair, so there is no hair breakage. When using a wide tooth comb, there is less friction compared to a medium or fine tooth comb. This makes it gentle on your hair strands and thus preventing breakage and split ends.
Below Are A Few Of My Favorite Shower Shampoo Combs
All have handles because it's important for you to be able to control the tension you put on your hair. Combs with a handle allow you precise control over how much tension you put on your hair and allows you to slowly comb through your hair. One question that comes up frequently in which I answer in this article called "Is it bad to comb your hair in the shower?". I this article I mention two other great shower combs that are infused with oil. One with coconut oil and the other with Keratin protein and a special blend of Argan oil. Argan oil is good for your skin too. These are good at reducing frizz without leaving any residue on your hand.
Revlon Essentials 2 Piece Tangle Free Comb Set
In my perspective, this is an excellent bargain for two combs, especially when taking into consideration the prime eligibility and 2-day shipping. There are two shower combs included in this package. One of the combs is equipped with a hook, which is ideal for use in the shower. They are simple to maintain. These combs are excellent for detangling hair.
Cons: The one thing that I don't like about this set is that neither of the combs has a handle. Which is essentially just a matter of personal preference rather than a disadvantage. It's convenient to have a handle to hang on to when your hands are particularly soapy in the shower. Also before you use check the teeth you may need to take a finger nail file to any sharp edges.
Features I like:
Great for wet or dry hair
Great for applying conditioner to hair
Gentle on hair and all areas of your scalp
Wide teeth for less tug & pull
Hook for hanging in the shower where you need it – super convenient
Price is right plus you get 2 combs – one in the shower and one out
Great for naturally curly hair
Easy to clean
Two matching colors
Cricket Ultra Smooth Hair Pick Comb
It's a great pick but don't expect any miracles. remember the price you are paying, right? The biggest con I have is the made in China molded into on of the combs teeth had to be filed down using a finger nail file. It stuck out too much and snagged hair on every pass through. The Argan oil infused is really on the weak side. Maybe when it was first manufactured but I am guessing most of the oil evaporated. I can't really tell that much a difference if any. I got curious and did some research (filter reviews) to see what others where saying about the Argan oil and various online sites and came to the conclusion most folks came to the same conclusion as me. The Argan oil is really weak and mostly non existent.
Features you will love:
The Pick Comb (2.75 inches by 6.75 inches high) – includes handle
Lifts and adds volume
Good for thick hair
Especially efficient on medium to lengthy hair curly or thick
Reduces frizz, readily glides through hair, ergonomically constructed
Can be sanitized – can wash this comb with antibacterial soap in hot water
Does not leave residing on hands
Package will secure oil and keratin for 3 years; after opening, keratin and oils evaporate very slowly over time
Cricket also has a Coconut oil pick that glides smoothly through your hair if Argan Oil, Olive Oil and Keratin are not your thing
Wetbrush Detangling Comb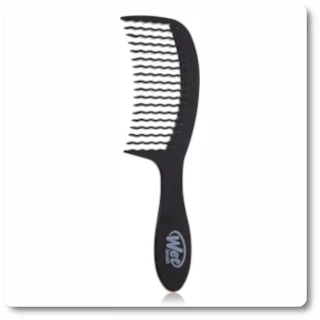 Important features:
The Waved Teeth distribute hair uniformly across the tooth shaft to make it simple to comb for all hair lengths
Price is good
3.2 x 0.2 x 8.7 inches
Gentle on hair and does not pull on hair
Easy to use to spread coconut oil through hair
Works on wet hair, thick, hair and also curly hair
What I don't like:
Two piece constructed handle – newer model picture above is made much better than the old model.
You are also going to want to read my other articles on this site called, "Does the wet brush work on dry hair", and "Is the wet brush good for your hair".
Conclusion
Wide-tooth combs helps prevent and reduce frayed ends especially if you have curly or wavy hair. If you suffer from a lot of split ends, maybe it's time you started using a wide tooth comb?
The biggest problem with most plastic wide-tooth combs is that they break. In this article I go over several of the best combs for women's hair. Many of these combs are also great for men's scalp care too.The main feature about the combs mentioned in my article is they have a little wider spaced teeth. They're not just a detangle comb, although some say they're in their name. They are great every day combs as well. some folks will claim they help hair growth by giving you a scalp massage but I believe that is stretching it a bit. It's not a massager. All the shower combs mentioned above are priced very good, so meeting minimums for free shipping is not going to be possible unless you are an Amazon Prime member.
---
References