These are the hottest, most popular and best detangling combs as of this writing. I personally rounded up the best and most popular combs out there for getting the tangles and knots out of your hair while causing as little damage as possible to your hair while untangling knotted hair.
Which Comb Removes Tangles From Hair: Detangling combs removes knots and tangles in a quick pain-free manner. Top detangling combs and brushes are ideal for adults and children with knotted hair.
An ordinary brush can pull too much on the hair while pulling out knots as it goes. Detangling combs separate the hair and unravel tangles with each brushstroke. The best detangling combs will cause less hair loss, less stress, and a faster detangling of knotted bed head hair in the mornings. And as an added benefit, you can enjoy a great scalp massage by using some best detangling combs.
Combs That Remove Tangles From Your Hair
| Combs | Recommendations |
| --- | --- |
| Revlon Essentials 2 Piece Tangle Free Comb Set | Great price and good solid combs but missing a handle. One of the combs has a handle, sort of, it's a very narrow shower hook and allows you to kind of hold on to it. But the end result is really not a handle. If one of the combs had a handle this set would be a 10 out of 10. |
| Denman Lime Green Precision Rake Comb DPC6GRN | Has a nice handle and made of a special plastic material that will not break easily. How many times have you dropped your plastic comb on the hard shower floor and it shattered? Well you can drop this one all day and you'll have a tough time breaking it. Comes in Lime Green and Black colors. |
| Ultra Smooth Detangler Comb by Cricket | The Detangler Comb (2.75 inches tall x 9.75 inches long) is great for wet or dry hair. Particularly efficient on lengthy, and dense hair. An innovative comb produced with a special blend of Argan and Olive oils and Keratin protein infused with enhanced manageability in the proprietary resin for healthier looking hair. Helps control frizz with a silky finish and a wonderful finish behind it. Lease no oily residue on your hands. Perfect for the shower. |
| Ultra Smooth Coconut Detangler Comb by Cricket | Each comb was infused with hydrating Coconut Oil and Keratin Protein to assist with enhanced handling and shine in promoting healthier looking hair. |
| Ultra Smooth Conditioning Comb by Cricket | No handle but smooth and polished. Great for wet hair in the shower. Works very well if you use it to apply conditioner while in the shower. Created with a special blend of Argan and Olive Oils and Keratin Protein infused in proprietary resin with enhanced handling for healthier looking hair. Helps manage frizz with a silky finish and a wonderful finish. |
| Ultra Smooth Coconut Conditioning Comb by Cricket | No handle but like the comb above it's smooth and polished. Plus this one is infused with coconut oil. A special blend of plastic infused with coconut oil and keratin protein enables the comb glide through your hair smoothly. |
| Giorgio G49 5 1/2″ Hand Made Tortoise Detangling Comb Wide Teeth | Wish it was a little longer then it would make it better for the shower, but on a positive note this size is easier to carry. For durability and flexibility, it's made of cellulose acetate. Hand polished for the ultimate glide and without effort. Prevents breakage and pulling of hair. Tips are rounded for sensitive skin. |
| Giorgio G55 8″ Hand Made Tortoise Detangling Comb | Features a handle, well made and hand polished. Saw-cut by special circular saws and hand polished for an smooth glide through your hair. Eliminate knots and tangles effortlessly from normal, thick, wavy and curly hair. |
| Wet Brush Detangling Comb | The Wet Brush may be used on wet or dry hair, and it is suitable for use with extensions and wigs as well. Wet Brush is a detangling tool designed particularly for detangling knots in wet hair. It is effective on virtually all hair types. |
| Denman 9 Row D4 Brush | It's a brush not a comb but works fantastic. This was, and continues to be, one of my favorite brushes for a long time. The Denman 9 row is one of my favorite hair tools since it's a fantastic tool for applying hair products to the hair and scalp. It's quite simple to clean and performs an excellent job of evenly dispersing hair care products throughout our hair. |
If your hair gets so matted and tangled that all you want to do is scream out then you came to the right place. With these combs you should be able to tame the impossible. According to Stacey, our in-house Hair Care Analyst, "The goal is to avoid the massive hair clumps in your comb and all the ripping and pulling. Investing in the proper tools as well as going slowly and taking your time to carefully undo the knots are the most effective way to avoid ripping out and damaging your hair."
The Wet Brush classic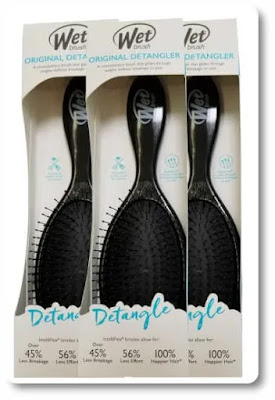 Wet Brush Pro Paddle Hair Brush Detanlger Comb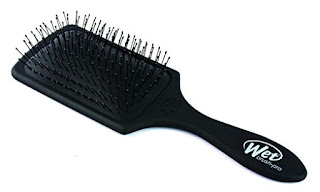 This is a great brush for thick very curly hair. This is a great no pain detangler brush and very gentle on your hair. It can be used on wet or dry hair. Make sure you get the original and not a fake you will be glad you did. The fake ones are not as good. The brush has a good handle and can brush through a lot of hair due to its large rectangular head. The brush is almost 9 inches tall. New professional design glides through tangles without breakage or pain. Vented cushion makes hair treatment easy to clean up.
Wet Brush 2 Piece Original Detangler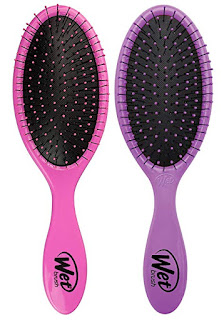 It's a revolutionary brush that glides without breakage or pain through the tangles. Exclusive, highly soft bristles from IntelliFlex glide easily through tangles.
According to Meesh, our in-house Product Analyst, "The key to strong, healthy hair and the single most overlooked step in hair care is the way you brush your hair."
If your hair is wet, it's at its weakest point and your brush can pull it and it snap like a rubber band.
That's why you should brush that doesn't pull, grab or break hair. Once you start using a genuine wet brush you will most likely purchase another one. Wet brushes are a number one seller and there is a reason. They are great at detangling thick curly hair or if you have long fine hair they are great at not danagling your hair.
This particular comes in many sizes, patterns and colors. There is even a baby Wet Brush! Just make sure you purchase an original and not a knock-off. My favorite is the "Happy Hair" model. The smiling pineapples are awesome!
Crave Naturals Glide Thru Detangling Brush
Did you know that ordinary bristle brushes generally work against your hair? They basically rip through and pull your knotted hair instead of gently separating it. But the unique cone shaped plastic bristles of the Crave Naturals brush works to separate your hair sideways instead of down, gently unraveling even the toughest of tangles are no match.
This brush is very child friendly. The "Glide Thru" brush does not dig into the scalp or rip hair like other brushes. It takes out tangles without hurting or yanking thus eliminates your child going through fits when it's time for hair brushing.
Wet Brush Classic

Bristles are super-thin, strong and flexible. These bristles will glide through any type of hair that combines tangles effortlessly. Soft tips on the top of the bristles massage the scalp. The Wet Brush changed the hairbrush game and transformed what used to be a painful and time-consuming task into an effortless, fun and colorful part of your day.
Revlon Detangle & Smooth Black Cushion Hair Brush

The Essentials Soft Feel cushion brush will help you untangle your hair and smooth out curls. With rubberized finish to give you a firm grip when styling. The Revlon Detangle & Cushion Hair Brush dimensions are about 1.5 x 2.4 x 9.8 inches. There is nothing really to say bad about the brush due to it's just a plain good brush at a very reasonable price. You really can't go wrong purchasing this one.
Conair Anti-static Detangling Comb

Conair's anti-static comb provides you with a fully controlled, static-free styling. Style your dry hair and smooth it easier without any frisky fly-a-ways. The widely spaced teeth evenly spread the conditioner across the hair without pulling or splitting ends. The comb can also be used during styling to create volume. It is for use with all hair types. Good for either wet or dry styling.
The comb is made of molded plastic, but it is flexible so it can bend somewhat and should not break. The comb is almost 10 inches in total length, including the handle, very large. The teeth are spaced about a quarter of an inch apart. They're widely spaced. They're spaced so you won't damage your hair.
For more information see "Best Wide Tooth Comb Detangling". In this article I wrote about the best wide tooth combs for un-tangling your hair. The article did not include brushes like this article.
Conair Pro Hair Brush with Nylon Bristle

Perfectly sized for traveling, the mid-size brush is an all purpose multitasking brush. It's also great for adding volume and lift to any hair style. Or you can just use it as an everyday brush. The ball – tipped bristles will not snag or pull hair. It can be used for everyday brushing of all types of hair. Ball-tipped bristles won't snag or pull hair. Use to add volume and lift to hairstyles. Perfect for traveling, compact size.
If you are willing to spend a little more money like $12.00, then I would highly recommend the Denman Flexible Hyflex Vent Brush with soft bristles.

Just so you will know this brush sells like crazy, not sure why but is extremely popular. Just keep in mind this is a $3.00 brush, at the time of this writing. So with that being said, not only for this brush but any other brush you only pay $3.00 for, it's not going to be perfect.
Conair Velvet Touch Paddle Brush

Conair's velvet touch paddle brush in black and silver salon has a soft touch handle for a more comfortable hold. The flexible cushion base massages your scalp and acts as a mini shock absorber for stress-free brushing. The ball-tipped bristles won't snag or pull hair while you detangle and style you hair. This wide headed brush is designed to gently comb through wet or dry hair. It's a good brush for $6.00. At least that is the price at the time of this writing.
If you have long hair and tend to put a lot of tension on your hair while brushing or have very thick curly hair there are better options out there than a plastic handle. Plastic handles, especially two piece designs tend to break. I recommend wood, but they usually cost more and they have their own set of problems. Wooden handles usually are much stronger and breaking is not a common problem.
Bsisme Hair Brush Natural Boar Bristle
Bsisme boar bristle hair brush is a unique combination of natural boar bristles and nylon pins that both deflect stubborn knots and spread nourishing scalp oils throughout the length of your hair. Read more about boar brushes and how they help protect your hair.
Natural bristle brush from the boar is a natural conditioner. The structure of boar bristles is the most similar to human hair. The bushy boar hair surrounded by the longer nylon pins helps absorb the natural oils produced by the scalp and gently distributes them down the hair shaft, healing dry and frivolous hair while removing excess oil. Long-term use will improve hair texture and vibration.
The longer nylon pins and detangler balls glide through any type of hair combining tangles effortlessly without pulling, you can give your kids ' hair the care they need without tears or drama. And massage and safely stimulate your scalp, giving your scalp a great "SPA" to relax muscles, stimulate blood circulation, and foster hair growth.
Nice good quality brush at a low price. You get a wooden handle, boar and nylon bristles. The biggest con of this brush is going to be it comes with a cleaning tool so you are going to have to clean it if you want it to last.
Boar Brush Cleaning Instructions
Be sure to regularly clean it, especially if your scalp is oily. If you do not clean your brush then toxins, grease, and dirt will cause scalp problems.
Remove excess hair by hand or with a wide-toothed comb or after each use with our complimentary brush cleaner tool.
Gently clean the hair brush in lukewarm water with some shampoo. Brush with the cleaner tool up, down, left and right.
Rinse the foam with clean water off the brushes.
Squeeze out any water left in the airbag to avoid moldy wooden handles.
Finally, with a towel, wipe the dry water droplets and lay your brush with the bristles facing down to dry.
Tangle Teezer The Original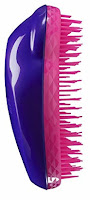 What would a best detangling comb review be without mentioning the Tangle Teezer? This sensational hairbrush removes knots and tangles as soon as you start brushing, no need for painful pulling and unnecessary hair breakage. The genius of Tangle Teezer designed teeth flex just the right amount to de-stress,de-tangle and smooth the cuticle of the hair. Tangle Teezer is also friendly hair extension and weaving, unlike ordinary brushes and combs that catch, tug and snag. Tangle Teezer mixes effortlessly with existing hair creating a seamless and flawless finish.
The best part about this brush is you can use it on wet or dry hair and it does not pull or snag your hair. But the biggest con is there is no handle. It's does a great job but it's not the easiest tool to hold on to.
Wet Brush Pro Flex Dry, Ombre

This is an extremely popular brush and I really can't explain why. The design, in my opinion could have been much better. The brush is prone to break. Due to it's made of plastic and the design makes the brush inherently week at critical areas. I think there are much better models from Wet Brush, but for some reason this sells well.
The only reason I can think of is that people who buy this brush and are happy with it do not have long or thick curly hair therefore, not much tension is put on the plastic handle. I say this brush is going to do well if you have thin or shorter hair and do not put much tension on the handle while brushing your hair.
Boar Bristle Curved and Vented Detangling Hair Brush
This brush is perfect for any type of hair and can be used by men and women regardless of hair style. Fine hair can take advantage of boar bristles stimulating natural scalp oils for healthier hair, while thicker hair will enjoy the detachment features of this hair brush. Long, short, curly or tangled hair, anyone can benefit from this set of high quality crafted hair brushes.
Here is what's to like about this brush. It's got a nice grip-able handle and it has a mixture of boar and nylon bristles all for less than $20 at the time of this writing. It has an oversized head so it's going to be more efficient and cut your brushing time down. And the head is vented for faster blow drying.
Now, here is what's not to like about the brush. It's plastic. It has a two piece handle. It's made by Repsol Care, who is that? But I will say this, it's an extremely popular brush and there are tons of people out there that are very happy with this choice.

Easily brush your wet hair with the Epic Professional Quick Dry Brush from Wet Brush anywhere. The Wet Brush set out on a mission to conquer the horrible hair-detangling issue without the tears or damage. They created a unique brush with IntelliFlex bristles that run smoothly through hair and drain wet or dry hair without pulling or tugging.
What can I say? Another Wet Brush. Five out of the thirteen top best sellers and most popular detanlging combs/brushes are Wet Brushes.
This brush has a good design in that the head of the brush is wide to cover more hair when you brush thus it's going to be faster and the head is vented to allow hot air to pass through which allows for faster drying times and has a nice ergonomically designed handle for a comfort grip. Just make sure you get an original Wet Brush and you will be happy. At the time of this writing they cost about $7.00.
Which of the 13 Top Best Selling Detangling Combs is for you?
You really can't go wrong with any of these combs/brushes with the exception of one brush. And that's the Wet Brush Pro Flex Ombre. I think there are much better options available out there. I do not like the design. Just looking at it makes me think it's ready to break any moment.
They are all very affordable and some are really cheap. And of course most are made of plastic, but that's what is expected in this price range. Some plastics are better than others and some designs are better. Now with that being said these combs are all very popular so they are doing it right and getting the job done. So pick one and start styling.
---
References
Photo by Andre Moura from Pexels
A hairbrush is a handle brush with rigid or soft spokes used in hair care for smoothing, styling, and detangling human hair, or for grooming an animal's fur. It can also be used for styling in combination with a curling iron or hair dryer. A flat brush is normally used for detangling hair, for example after sleep or showering. Wikipedia