What is the best wide-tooth comb hair hack for men? You came to this article because you wanted to look your best and learn more about how you can go from a "flat head" to a "volume hero" with just a few simple "mens wide tooth comb" hair hacks.
For most men it's difficult to go from a flat head, (having hair that is flat on the top of your head) to having hair that has lots of volume and separation. So by reading this article you will save countless hours of experimenting and trying different techniques using a wide tooth comb for me's hair, right?. And the glorious thing about all the hair hacks is that you do not need to be born with fabulous hair to have a fabulous hairstyle and look. To have that great-looking hairstyle with the volume, you need three things. Volume, separation, and texture.
Wide Tooth Comb – Recommended Products for Men's Hair
| Products | Description |
| --- | --- |
| Men's Kent 21T 8 Comb | 1st Choice in Combs – No molds lines with nice smooth teeth as not to snag your hair or cause split ends. My only complaint is I wish it was just a little bigger. More on Kent brushes. |
| Denman 9 Row Brush | 2nd Choice in Combs – Does it all. Use it like a comb or like a styling brush, does both. Absolutely fantastic, I owned one for more than 15 years. Perfect for smoothing , shaping and creating volume. |
| Black Wide Tooth Comb | 3rd Choice in Combs – Just a basic budget wide tooth comb with a handle. Does the job good value. |
| BOLDIFY Hair Thickening Spray | 1st Choice for texturing spray – Great for limp and thin hair. No stiffness or greasy feel. Nice clean and smooth with lots of volume. |
| Sun Bum Sea Texturing and Voluminous Spray | 2nd Choice for texturing spray – I like because it protects your hair from the elements while giving it extra body, waves, and texture. I do not recommend for men who have really dry hair. |
| Olivia Garden Ceramic + Ion Round Thermal Hair Brush | 1st Choice in round brushes – Simply outstanding value in a round hairbrush. Comes in many sizes. Great handle with a ceramic coated barrel. Be careful as this brush combined with the hairdryer below gets hot fast and gives you a professional edge. |
| Sam Villa Blow Dryer | 1st Choice in hairdryers – Has the capability to turn off ions (negative ion hairdryers) when you don't want them. Removable filter and under one pound. FYI, you will have to hide from your wife or partner. Drys hair fast. |
Volume and separation hack using a wide tooth comb
Let's talk about how to get amazing volume and separation. You want to use a texture product and a good wide tooth comb for men's hair. The product will say on the bottle that it's a texture spray, or texture clay, for example. And I recommend a mens wide comb that has a good comfortable handle.
First, start with slightly damp hair and apply a textured spray. Or apply a texturing clay. Most texturing sprays and clays work best on damp hair. Use your fingers to work a little product into your hair. Now, to get that separation, while your hair is still damp, take a mens wide styling tooth comb and start at the base of your forehead and lift your hair while applying a spray texture. Then remove the wide tooth comb slowly and light style any loose ends.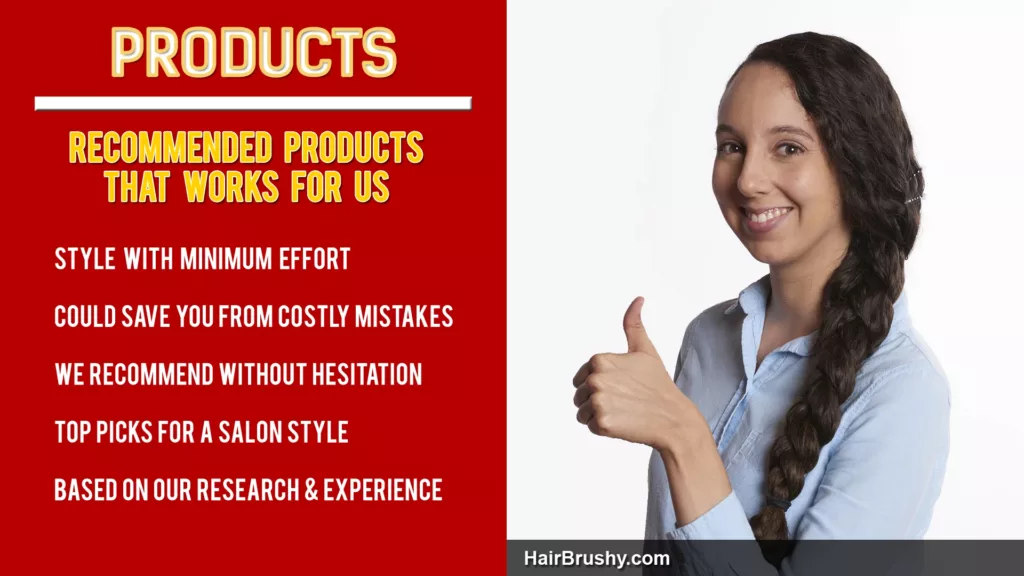 According to Stacey, Hair Research Analyst, "Another way to get even more volume and separation is to bend over and let your hair hang down towards the floor and lift with your wide toothed styling comb downward while slowly removing the wide-tooth comb." This technique gives your hair even more volume than the first technique mentioned above. When you stand up straight, you can style lightly to fix any loose ends. Your hair will be full of volume. So full you may have to beat it down a bit.
After your hair is dry, you can run a comb through for a more natural look.
Men's texture hack
Highlights gives your hair beautiful texture. I consider highlights of course as permanent because the process colors your hair and it lasts a long time. Highlights are streaks of color running through your hair. I would highly suggest you get this done professionally so that you will have the best possible separation and lines.
Hairdryer hack using a men's wide tooth styling comb or round brush
The next hack involves a hairdryer and a good round brush or mens wide comb. Start by selecting the proper size round brush. Usually, a one inch round brush works well for this technique. Or select a good high quality nice smooth-edged mens wide tooth styling comb. Also, you still need a good blow-dryer. I recommend a blow-dryer that does not have an ionic feature or one that will allow you to turn it off. Blow-dryers with ions will flatten your hair, making it straight and appear to have no or little volume. And this, of course, is exactly the opposite of what you want.
Take your round brush and pull your hair upward while applying heat from the hairdryer. Make sure you blow-dry your hair in the direction you want your hair to end up in when finished. This technique will add tons of volume to your hairstyle.
But if you want even more volume, then bend at your waist so that your head is now pointing toward the floor and use the round brush and blow dryer. All the hair on your head is now being pulled down by gravity giving you mega volume.
The last step is to lock your hair into place after you have given it tons of volume by blow-drying upside down using cool air.
Using the cold air hack
By using cold air, you end up setting your hair molecules in place. This technique locks your hair in place so that you have that voluminous look all day long. So what happens is the cold air sets your hair in place after you have applied heat to bend it to your style. This technique works much better than if you only used hot air to style your hair. If you used hot air, only your hair will bend over and fall flat. But by applying cold air locks your hair in place, giving you the volume you are looking for.
Now keep in mind temperature is important. Too much heat will burn your hair and with too little heat your hair will fall flat. Experiment a bit to find out what works best for your hair type. Men with thick hair will need more heat than men with thin to medium hair. I highly suggest you invest in a high-quality blow dryer so that you get consistent heat all the time. Yea, it cost more, but in the long run, it could save your hair from split-end damage and hot-spots on your hair.
The hot air hack using a round brush or mens wide comb
When you are blow-drying your hair using a round brush or wide tooth comb, many men make a big mistake. The mistake is to point the hairdryer at the brush. Instead, point the end of the hairdryer at your hair and follow the round brush or comb as you move it upward through your hair. This hack focuses the hot hair on your hair and not on the brush head. This is where a high-quality hair dryer comes in. You want a consistent temperature as not to burn your hair. And you want to keep the brush and hairdryer moving as not to burn your hair or cause hot spots.
Hair stacking hack
To get that mega volume that lasts all day long the next time you are at the barber let him or her know you are looking to get that pompadour hairstyle look upfront and to cut your hair so that the back part of your hair supports the front. You can't have the back be all flat and cut short and the front longer. The back needs to support the front to get that pompadour look. Now with a little longer hair in the back, you can blow-dry the back of your head upward so that it supports the front. Use the upside-down hairdryer hack in the back too. I call this the hair stacking technique and works very well to give you that all-day volume upfront. Otherwise, your hair upfront will just fall over after a while.
Conclusion
Hey, I hope this article was of value to you and you learned how to add mega volume to your hair using a few foolproof tools like a wide tooth comb, round hairbrush, texture spray, and a high-quality hairdryer. Also, let me know more in the comments if you want more articles and hacks like this.
References
Photo by Alex Suprun on Unsplash
Photo by Fábio Scaletta on Unsplash
Image by Ryan Doka from Pixabay
Photo by Christopher Campbell on Unsplash
Photo by Isaac Ramirez on Unsplash
Image by Twinkle Arora from Pixabay
Image by gnanasathees suntharam from Pixabay