Are you still using the same old brush you bought years ago? Are you thinking about an up grade to a boar brush or maybe a bamboo but not sure which is right for you? Well you came to the right place. This article will cover the advantages and disadvantages of each.
Boar bristle brush vs bamboo brush: Both have their advantages and disadvantages and depending on your purpose one is going to be much better than the other. Boar is going to excel at conditioning, polishing, creating shine and styling including blow-outs. Bamboo is going to be better at detanlging and generating much less static and fly-a-ways if any at all.
My number 1 pick for an affordable but high quality boar bristle hair brush: Denman Boar Bristle Brush. Why? This brush is known for its excellent conditioning and styling abilities, making it a great choice for anyone who is looking to upgrade their hair care routine. I owned a Denman for over 25 years!!!
Denman Boar Bristle Brush – Go to our Hair Care With Minimum Effort page – Check Price
Boar and Bamboo brush advantages
| Advantages | Boar | Bamboo |
| --- | --- | --- |
| Conditions hair | Y | |
| Helps hair grow | Y | |
| Polishes hair | Y | |
| Creates shine | Y | |
| Less static | | Y |
| Detangling | | Y |
| Head massage | | Y |
| Styling | Y | |
| Animal friendly | | Y |
| Sustainable product | | Y |
| Blow-outs | Y | |
According to Stacey, Hair Research Analyst, "There's no single brush that's right for everyone." It depends on individual hair type, style, brushing method, esthetics and, of course, budget to choose the one that's best. And you may end up purchasing both types of brushes depending on your needs.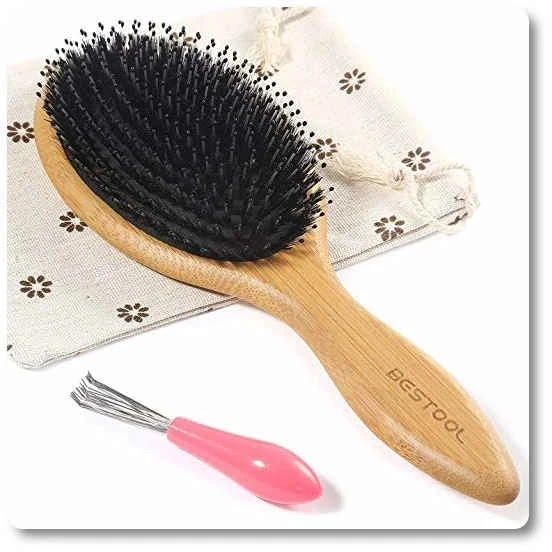 Advantages and disadvantages of boar and bamboo
Boars bristle brushes are good at collecting your natural hair oils and distribute them from your roots to the ends of your hair with regular brushing. The best natural conditioner is actually your own hair oil. This may save you from having to buy conditioning products. By distributing natural oils from roots to tip helps keep the hair shaft moisturized and conditioned.
According to Meesh, Hair Product Analyst, "The down side is that brushing may cause static and fly-a-way conditions in your hair especially if the air is dry." Also if you have fine hair, combined with dry conditions like during the colder months, this is the perfect condition for the creation of static electricity. But have no despair there are solutions for this situation. One of the easiest is to add a little moisture to your hair. Just a spritz of regular water will do. The extra moisture will cause the static to dissipate. And if the problem still persists then try using a small amount of leave in conditioner.
But here is where bamboo comes in. Wood is not a conductor of electricity so it's not going to promote the creation of static. However it's not going to do as good a job at distributing your natural oils as boar will. Bamboo will do a better job of detangling your hair. Boar brushes are not to be used to detangle due to the bristles are too closely spaced together.
However bamboo bristles are wider spaced and can more easily comb through your hair. And lastly one last advantage of bamboo is that you can also get a good head massage by the wooden bristles. As with any wooden brush make sure not to let it soak in water for long periods of time. This will ruin your nice looking brush. You can get it wet just make sure to dry it off before storing or put it in a place where it can dry naturally without it soaking in water. The bamboo brushes look very nice and some even have the natural wood grains showing. It's really a beautiful looking brush. I would buy one on looks alone.
If you are considering using your brush for blow-outs then you really have no choice but to purchase a round boar brush. They do not make a round bamboo bush and even if they did there is no way the bristles would be able to create enough tension to style your hair much less crate a curl.
Best of boar and bamboo together
Boar brushes have come a long way over the years and they keep improving, as they improve they become more and more versatile. The one that comes to mind is the Best Tool. It's a combination of boar bristles, nylon pins with ball ends and a nice bamboo handle.
Bestool Hair Brush-Boar Bristle Hair Brush With Nylon Pins, Bamboo Paddle Detangler Brush, Detangling Adding Shine Brushes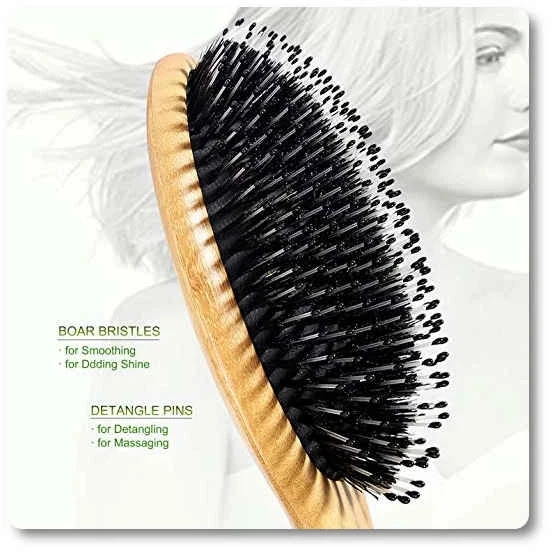 This may be one of the most popular bamboo brushes on the market today. That is the reason why I picked it to be in this article.
So if you stretch you imagination little you get one brush that has it all. You get all the benefits of the boar, with one exception. It's going to be really hard to do curls with an oval brush. But you can get the shine, polishing and some styling. But, you get the detangling with the nylon ball tipped bristles. And finally, you don't get any wooden bristles but you do get a very nice wooden handle. So this is about a close as you can get without having to buy two brushes. Actually this is a very popular brush.
Features:
Easily go through normal to thick hair and provide the smoothing power of boar bristles. Use daily to build a shinier, softer and healthier locks.
Works with all hair types, especially helps restore natural shine for those with loss, frizzy, spilt end, or scalp itching hair problems. Safe for extensions, weaves and wigs.
Every day, human scalp secrete oil or sebum which is the best and most effective natural leave-in conditioner for your hair. This dual-bristle flat brush helps to massage the scalp and evenly distribute oil from root to tail to prevent greasy scalp and frizz ends.
Use the cleaning tool to comb the embedded hair from the bristles. If there is accumulation of dust, wash it directly with shampoo and dry it.
If you're tired of other perfunctory hair care products, you won't be disappointed by this nylon sfot bristles brush. With 45-day Return, Refund, Replacement for any reason, we confidently back all Bestool brushes.
Bestool is a smart combination of natural boar hair and flexible ball-tip nylon pins that gives your hair the best of both worlds: smoothing power of boar hair and nylon's ability to massage scalp & detangle knots with ease.
The longer, stiffer but flexible ball-tip nylon pins go through your long thick wet or dry tangles hair or beard like a hot knife through butter, while giving your scalp a massage experience.
At the same time, the shorter but bushy, cruelty-free boar bristles surrounded by nylon pins will evenly distribute organic scalp oil from roots to tips to prevent greasy scalp from dry ends. This is the key to inspiring and restoring your natural hair shine and texture.
The biggest con of this product is the bristles are held in place by a rubber backing and as with many overseas rubber products it smells like rubber. So if you are offended by rubber smell then you might try one of my favorites The Wet brush, but it has a plastic handle not a nice wooden one.
The Wet Brush Shine Enhancer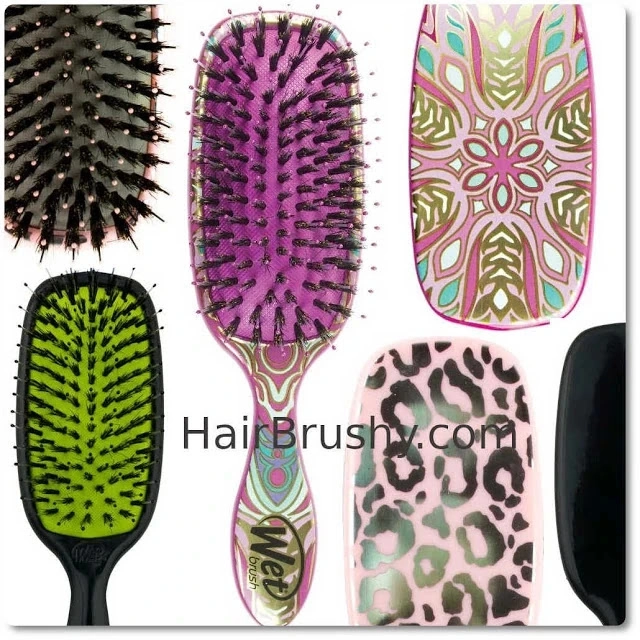 The brush is called a shine enhancer and found on major online sellers listed as "The Wet Brush Shine Boar Brush Pink 6846" or "The Wet Brush Shine Enhancer", which sells for $10.98 at the time of this writing. It comes in a variety of colors. It has high quality Mongolian boar and Intellifex bristles. The biggest advantage of this one is it is designed not only to detangle hair, but also to help lay the cuticle flat. This increases brightness. This is very good alternative when considering purchasing a boar brush. The Wet Brush operates out of Hauppauge, NY 11788.
Natural Wooden Bamboo Hair Brush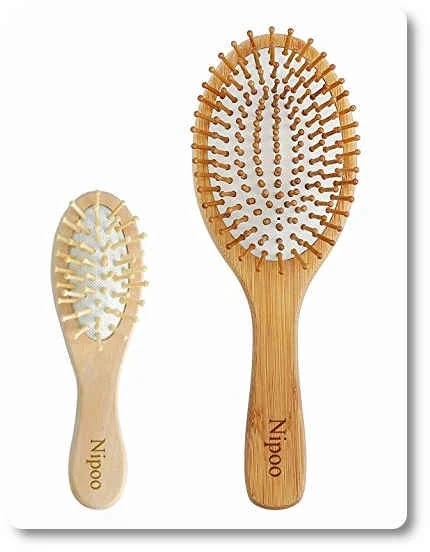 This is a very popular bamboo brush. That is why I picked it to be in this article. Some of their clams I do not totally agree with. There are many different brands and the name changes all the time. So don't get hung-up on the Nipoo brand. These are all off-brands. The main point to remember is it's a bamboo brush with a cushion. And where we part ways I'll make note below.
Features:
It produces less static. You have these hateful fly-a-ways that can not be smoothed down when your hair is electrified, frizz and constant tangling. Your hair is tamed with the bamboo brush.
Delicate detangling. Even the smallest sharp corners and edges of plastic bristles can pull and tear hair strands, while Nipoo will be much more gentle. Round end bristles are perfect and safe.
Nipoo claims, "Healthy hair. When you pass through your hair with our bamboo brush, it spreads natural oil (sebum) over the strands so that you could enjoy a healthy, shiny and sleek look. This way, you protect your hair and prevent it from drying and breaking.", but I am not sure how that's possible. For the larger bamboo wood bristles to spread any of your natural oil in my opinion you would have to have some really greasy hair. I laugh as I read this part.
Nipoo claims, "Environmental friendliness. Bamboo hair brushes have antibacterial and anti-fungal properties, which protects hair from falling and diseases.", not sure how you hair will be protected but that's what they say. Your hair is not alive, it's dead.
Although Nippo makes some striking claims the bottom line is it's really a good bamboo brush. For about $13.00 you get two wooden brushes. Nippo is made in China. It is a very well made brush. Again don't get hung-up on the brand name, it's a cushion bamboo brush and that's all that's important.
Conclusion and more about bamboo
Bamboo is considered sustainable because it can grow and regenerate quickly in nutritionally depleted soil. Harvesting does not disturb its root system, and it can yield 25 times as much lumber as regular trees. While the harvesting process is considered sustainable, making bamboo usable often times uses formaldehyde bases glues and VOC finishes all of which release fumes in the air. Unlike wood products that are just simply cut from a chunk of wood, bamboo shoots need to be glued together to create a finished product. I am not sure how the above brushes are made but just because I purchased one does not mean I am now a tree-huger.
Please comment below on your experience using bamboo or other wooden brushes.
References
Image – Nebraska Department of Education – https://pixabay.com/photos/woman-creative-idea-hint-poses-1367429/
Image – IOpenClipart-Vectors from Pixabay
Image – PublicDomainPictures – https://pixabay.com/photos/adult-brush-care-face-female-girl-19230/
Bentley, C. D., Burkhart, N. W., & Crawford, J. J. (1994). Natural Wooden Bamboo Hairbrush for Women Men, Eco-Friendly Bamboo Bristles Pin Hairbrush Scalp Massage Improve Thin, Straight, Long, Curly Hair, Square Paddle Brush. J. Am. Dent. Assoc, 125, 579-584.