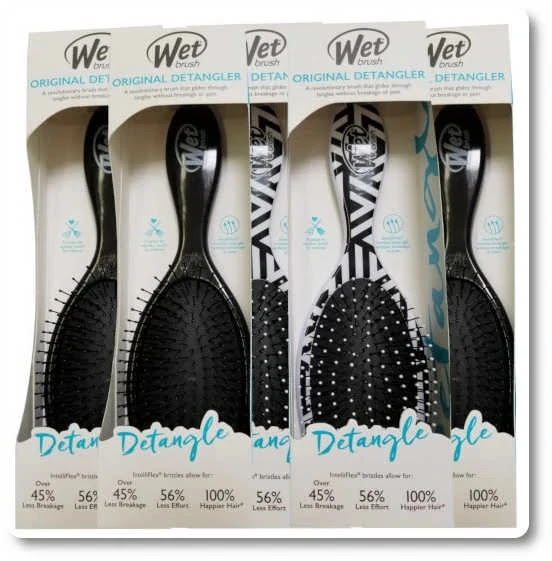 Use the best brush to avoid split ends. When your hair is dry it's strong however wet hair is not. Wet hair is much weaker than dry hair. So common since tells you you should be gentle on your wet hair and use a comb or bush that will not damage while combing wet hair. You want a comb to gently glide through your hair, you should read my other article called: Best Wide Tooth Comb For Detangling. And sometimes you just want to know what are the best combs so my other article, What is the best detangling comb, tells you. More on The WET BRUSH.
Wet Brush Classic Detangling Brush – Check Price
Why Do You Need A WET BRUSH?
The WET BRUSH delivers 45% less breakage with 55% less effort. The WET BRUSH flexible bristles avoids damage caused by pulling and ripping. The WET BRUSH detangles and combs through wet hair without causing damage. Wet hair is susceptible to being damaged when brushed. The WET BRUSH can benefit all hair types. The WET BRUSH can also be used on extensions and wigs due to it's soft, flexible bristles.
According to independent clinical trials The WET BRUSH shows that the bristles are less damaging than traditional styling brushes. Also independent trial shows The WET BUSH bristles use less force than other leading detangling brushes.
The WET BRUSH also makes it easy to work with a blow dryer through wet hair while styling. A WET BRUSH is meant to be used on both wet and dry hair, making it an excellent and very delicate brush that does not cause extra wear and tear and your hair. The smooth, elastic bristles of a WET BRUSH gently untangles your hair without pulling or breaking the strands with each brush stroke.
The brush bristles are close together, allowing it to remove hair knots and separate hair strands without tugging or damaging the delicate hair, wet or dry. A wet brush isn't just for protecting wet hair; it's also for increasing blood circulation to the scalp and hair follicles by gently massaging the scalp while you brush. The concept or hypothesis is that when blood circulation improves, nutrients may flow more easily to hair follicles, promoting hair growth and strengthening hair from the inside.
Are WET BRUSHES Good For Thick Hair?
The WET BRUSH is ideal for all hair types: long or short hair, wavy or straight hair, thick or fine hair. Brushes are made to go through any type of hair, eliminating knots and softening it.
"Brushing or combing wet hair is one of the most damaging this your can do to your hair." It can lead to broken, damaged hair and even split ends. So the best precaution you can take is to just wait. Why comb you hair immediately after a wash?

According to Stacey, Hair Research Analyst
The only downside I see of using a WET BRUSH is that it will take multiple passes of the brush to work through tangles in your hair. This would be time-consuming as opposed to using a leave-in conditioner and a Denman 9 row hairbrush. The risk is that you may end up pulling a little more using the Denman and conditioner but you finish much faster. It's a tradeoff.
"Why not wait 10 to 15 minutes for your hair to dry? This way your hair is dry and will be much stronger during brushing. But if you do not want to wait I highly recommend the WET BRUSH. Great for detangling dry hair too."

According to Stacey, Hair Research Analyst
Is The WET BRUSH Better For Your Hair?
The WET BRUSH is good for your hair because the bristles are firm enough to penetrate but flexible enough to be gentle on your hair and scalp. And unlike most other brushes the WET BRUSH can be used on dry hair too. There are many great benefits of using a WET BRUSH. I personally love using The WET BRUSH and glad I made the purchase. And you may ask why? Here are my top benefits not in any particular order for using The WET BRUSH.
The WET BRUSH is a fantastic hair brush that can be used on wet or dry hair.
The price is frequently lower when compared to other good hair brushes on the market.
Promotes healthy and shiny hair. It brushes the hair softly and eliminates entangled knots without damaging or stretching the hair out.
Soft bristles on The WET BRUSH efficiently massage the scalp while also increasing blood circulation.
The WET BRUSH is designed with an ergonomic handle that fits comfortably in the palm of your hand.
The brush is perfect for spreading hair styling products. For example, I use it to equally disperse leave-in-conditioner. This amplifies the impacts and, in my opinion, produces a superior result.
It's really simple to clean, and dirt and grime don't accumulate between the bristles.
Great for all hair types from thick curls to thin to medium waves.
The brush's body is constructed of a plant-based plastic. It comes in a recyclable container.
I use The WET BRUSH for less pain, less effort and of course less breakage.
You put your hair through a lot of wear and tear if you use the wrong hair brush or if you use the brush incorrectly. That is why, in order to keep healthy and attractive hair, it is important to use the right hairbrush that does not cause unnecessary wear and tear.
The vented design helps to speed up the drying process while also contouring to the head for comfort. Contains heat-resistant bristles that are safe to use with a blow dryer.
Are You Supposed To Brush Wet Hair?
It's not a good idea to brush wet hair. Wet hair is weaker than dry hair and is more susceptible to damage. One good way to detangle wet hair is to use your fingers. Slowly rake your finger through your hair untangling along the way. Then when your hair is dry use a high quality wide tooth brush or comb to finish the job.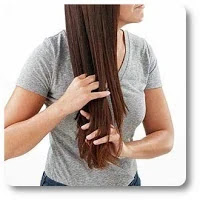 Dealing with knots after the shower? For reinforcements, you'll want to reach for a detangling spray can help give your strands the slip you need to work through those knots and tangles more easily without causing breakage. Not only does it help untie your strands, but the Garnier Pure Clean Detangler + Air Dry also helps to smooth and soften hair. It's fast and easy to use, so you can just spray and go. Plus, it smells very pleasant.
Wet hair is significantly more elastic than dry hair, which means it stretches more when brushed. This is also why wet hair is far more delicate than dry hair. Dry hair is twice as strong and resistant to damage as wet hair. If you are too rough on your hair when it is wet or if you brush your hair too strongly you risk straining or pulling and thus can cause your hair to snap.
Can You Use A WET BRUSH In The Shower?
Wet brushes are made of plastic so getting them wet will not hurt them. However wet hair is more fragile than dry hair so be sure to be very gentle while brushing. If possible it's better to wait 10 to 15 minutes to let your hair dry before combing or brushing.
"If you can't wait till your hair drys then to safe guard against damage you can apply a small amount of detangler or conditioner to your hair. Most of the time a little goes a long way to prevent damage, strengthen and rejuvenate your hair." All leave-in products should be applied to damp hair and then combed through. All products are color safe.

According to Meesh, Hair Product Analyst

WET BRUSH TIP: Most folks believe they should brush their hair after showering, and that is the only and best time to brush out knots ans detangle. But if you want to avoid knotted hair, brush it thoroughly before showering. This way you to remove the majority of knotted knots while the hair is still dry and less brittle and stronger.
Is The WET BRUSH Preferable To A Comb?
While there isn't a fully damage-free technique to brush wet hair, there are some options. When pulling through damp hair, you run the danger of breaking it. If you have to choose between a brush and a comb, go with the comb or The WET BRUSH. If you go with a comb make sure it has wide teeth. If the teeth are spaced far enough apart, the hair isn't tangled as much. And make sure the comb has no sharp edges.
What's The Difference Between A Wet Brush And A Normal Brush?
Paddle brushes, with their thick, stiff bristles quickly get trapped in knots, and therefore tend to pull hair. The WET BRUSH's narrow, precisely spaced IntelliFlex bristles, on the other hand, are exceptionally flexible and bendy so that they are able to get through the difficult areas while remaining soft enough not to tear or pull on your hair. This results is less pain, less effort and less wear and tear on your hair.
WET BRUSH Summary
Without inflicting harm, the WET BRUSH detangles and combs through wet hair. When brushing wet hair, it is more likely to be damaged. All hair types can benefit from the WET BRUSH. Because of its soft, flexible bristles, the WET BRUSH may be be used on extensions and wigs.
The WET BRUSH's bristles are less harmful than standard styling brushes, according to independent clinical testing. The WET BUSH bristles also utilize less force than other top detangling brushes, according to independent testing.
The WET BRUSH also makes working with a blow dryer while styling wet hair a breeze. A WET BRUSH is designed to be used on both wet and dry hair, making it an excellent and extremely gentle brush that will not damage your hair. With each brush stroke, the soft, elastic bristles of a WET BRUSH gently untangle your hair without tugging or breaking the strands.
The precise spacing of the brush bristles allows it to eliminate hair knots and separate hair strands without straining or harming delicate hair, whether wet or dry. By gently massaging the scalp while brushing, a wet brush not only protects wet hair, but also increases blood circulation to the scalp and hair follicles. The theory is that when blood circulation improves, nutrients will flow more freely to hair follicles, encouraging hair growth and strengthening hair from inside.
To avoid split ends, I always the the right brush for the job. Plus I do not skim on quality. Your hair is strong while it is dry, but not when it is wet. Hair that is wet is significantly weaker than hair that is dry. Since then, it's become common knowledge that you should be careful with your damp hair and use a comb or brush that won't harm it when combing it like The WET BRUSH.
Epilog by Meesh
Ever since I started paying more attention to my hair health, I've been on a quest to find the perfect brush that caters to my natural hair. After trying numerous products and talking to my hairstylist, I finally came across the WET BRUSH. I couldn't help but wonder, is the WET BRUSH good for your unconditioned hair?
I've always struggled with detangling hair, especially when it's unconditioned. Frizzy hair and hair breakage were my constant companions, and I knew I needed a gentler approach. The WET BRUSH, with its softer heads, was a game-changer for me. This brush effortlessly glides through my coarse hair without causing any damage.
One thing I noticed right away was how it seemed to distribute my hair's natural oils evenly, leaving my locks with a beautiful shine. It even works wonders on oily hair, as it helps to remove excess oil without stripping away the healthy oils your hair needs. I've also found that using this brush on wash day makes the process so much more manageable.
The WET BRUSH is versatile enough to work on various hair types, including hair extensions. I've even recommended it to friends who swear by hair masks and other styling products. They've experienced a significant improvement in their hair health since making the switch.
I used to rely on my Tangle Teezer, but I've found that the WET BRUSH is a gentler option for my sensitive scalp. I now use short strokes with this brush to detangle my hair, and it's made a world of difference.
As someone who loves things beauty, I also appreciate that the WET BRUSH can double as a blow-dry brush. This saves me time and money, as I don't need to invest in multiple brushes. My hairstylist even mentioned that the WET BRUSH is perfect for maintaining the health of my natural hair.
For added protection, I pair the WET BRUSH with a microfiber towel on wash day. This combination has significantly reduced my hair breakage and keeps my hair looking and feeling healthier than ever.
In conclusion, the WET BRUSH has been a fantastic addition to my hair care routine. Not only has it improved the overall health of my hair, but it's also made detangling and styling a breeze. I highly recommend giving this brush a try, especially if you have coarse, natural hair or sensitive scalps. Your hair will thank you!
---
References
Wagner, E. L., & Shin, J. B. (2019). Mechanisms of hair cell damage and repair. Trends in neurosciences, 42(6), 414-424. sciencedirect.com/science/article/abs/pii/S0166223619300402
Ribeiro, A., Matamá, T., Cruz, C. F., Gomes, A. C., & Cavaco‐Paulo, A. M. (2013). Potential of human γ D‐crystallin for hair damage repair: insights into the mechanical properties and biocompatibility. International journal of cosmetic science, 35(5), 458-466. onlinelibrary.wiley.com/doi/abs/10.1111/ics.12065
Draelos, Z. D. (2000). The biology of hair care. Dermatologic clinics, 18(4), 651-658. sciencedirect.com/science/article/abs/pii/S0733863505702163