Miropure Hair Straightening Brush Instructions
Use on Dry hair
Press the power on button and wait for the straightening brush to warm up
Press the + button to adjust the brush temperature
One the brush is on and temperature set the brush will led light light will flash till the temperature has been reached.
When the LED light is on and steady the brush is ready to use
Once straightening is completed press the power button and hold to power off and then unplug
Let cool down before storage
Follow These Steps To Use A Miropure Hair Straightening Brush
To begin, wash and dry your hair. To achieve the best results, start with clean, dry hair.
Make small, manageable sections in your hair. This will make straightening your hair easier and ensure even results.
Allow your Miropure hair straightening brush to heat up before using it. The temperature of the brush can usually be adjusted, so select a setting that is appropriate for your hair type.
Begin by running the brush through your hair in a smooth, downward motion, beginning at the roots. Hold the brush in place for a few seconds to let the heat straighten the hair.
Continue straightening your hair with the brush until all of it is straight. To achieve the desired level of straightness, you may need to run the brush through each section several times.
Allow your hair to cool down after straightening it before styling it as desired.
When using a hair straightening brush, use caution because the heat can be damaging to your hair if used incorrectly. Before styling, use a heat-protective spray or product, and avoid using the brush on very high heat settings or leaving it in one spot for too long.
Hot brushes are great time savers, I am sure you will agree. I analyzed the top brands and documented my findings. I'm sure you will want read before making your purchase. You can find my articles here: "Hot Brushes".
Can You Use The Miropure Brush On Wet Hair?
Using on wet hair. One word of caution is never use this product on wet hair. First of all it can damage your hair by causing split ends and could burn your hair. Many folks do not realize that when you hair is wet it's at it's weakest point. The best option is to wait until your hair is about 80% dry before straightening. Wet hair can be stretched very easily and then it can snap. If this happens you will now have split-ends. Also this product is not made for curling hair only straightening.
According to Stacey, Hair Research Analyst, "Having a temperature lock is another very nice feature. The auto temperature lock automatically locks the temperature setting so that while you are using the temperature does not change by mistake."
Let's say you are styling your hair using a lower temperature and you accidentally pressed the temperature button on the handle and increased the temperature to a much higher level. The higher temperature setting could be damaging to your hair. If you have thin hair the higher temperature could cause hot spots in your hair. But with the Miropure the temperature is locked to prevent this type of accidental disaster from happening. I am impressed Miropure put this feature into their products at this price point. I would anticipate this feature in straighteners costing much more.
Miropure Hair Straightening Brush Auto Shut Off Feature
Auto shut off: With every use you can add peace of mind due to the 60 minutes auto shutoff feature. How many times have you been rushed in the mornings? You have a thousand things to do to get ready and you are multitasking like crazy. You are out the door and on your way then you ask yourself, "did I forget to shut off the straightener"? You now have that horror stricken look on your face. But then you remember oh, wait, I have the MicoPure with the auto shut-off feature. This is why this is one of the best features I love!
Now that being said, there is room for improvement. I would have like to have a 30 minute auto shut off. But due to the manufacturing process that may have added additional cost so a good compromise is 60 minutes. I? am guessing with a 60 minute shut off all Miroprure had to do was to put in a timer. With a 30 minute auto shut off, 30 minutes may not be long enough, so additional technology would be needed to detect movement and not shut off if it's being used. Too expensive.
Using The Miropure Hair Straightening Brush To Straighten Hair
Miropure works with natural really curly hair. It does a wonderful job straightening it. Usually your hair is much smoother than using a flat iron and it takes less time to straighten it with the brush. Plus your hair will thank you due to straightening with a brush because your hair is not prone to breaking and over heating.
Enhanced Miropure Hair Straightening Brush 2-in-1
So not to wast any of your time let's get to it and answer some of the questions you may have about the Miropure hair straightening brush.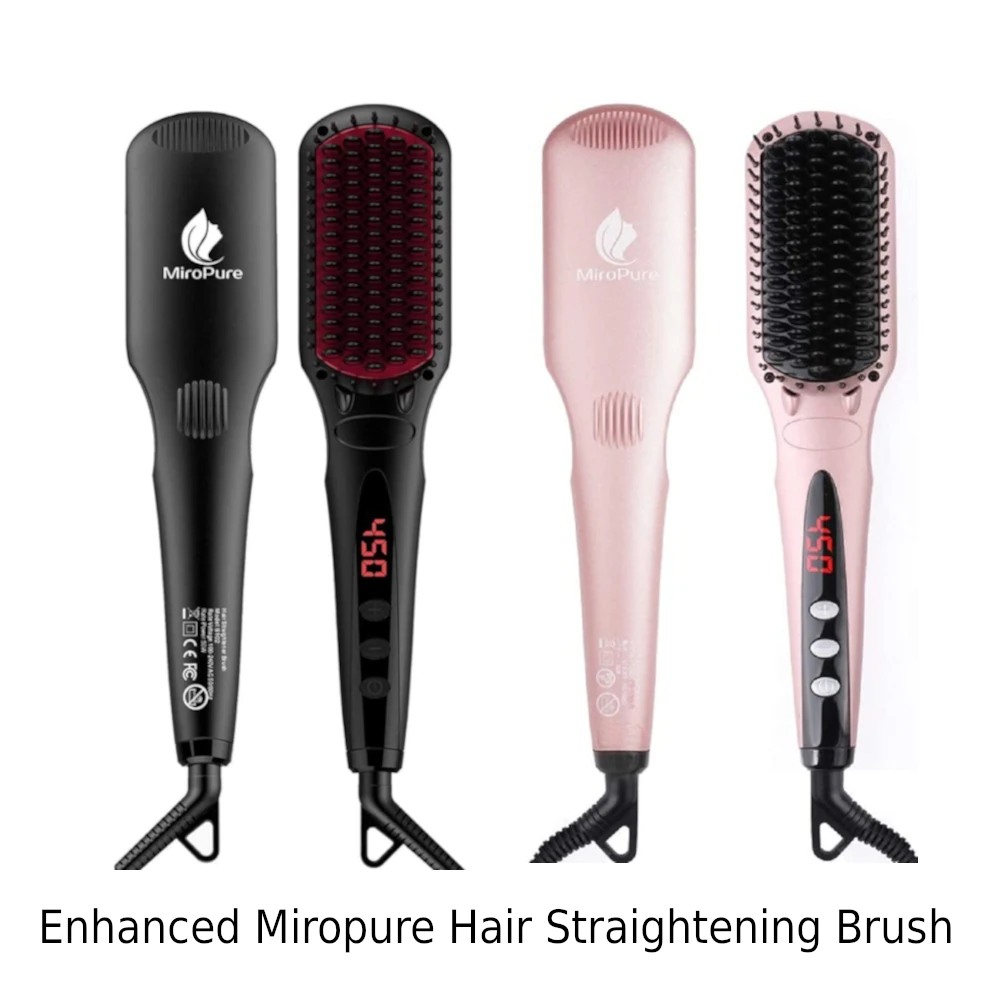 Miropure hair straightener brush, 30s fast MCH ceramic technology provides even heating for smooth and shiny hair look. Suitable for all hair types. The Miropure hair straightener brush has a 30s fast MCH ceramic heater to smooth hair (contains a built in ionic-generator to help with frizzy hair). Take a closer look at the pros and cons of the Micropure straightening brush.
One of the best things you can do for yourself is make yourself look good. And by having a good general appearance will change your mood dramatically. You will feel much better about yourself and of course have more confidence. So all this to say that having straight hair can have a big impact on your overall feeling. In this article I'll outline what I think are the advantages of the Miropure brush, plus give you the top 5 features and in-depth explanations of the technology used. You will know why these features are important and the pros and cons of this brush.
Meesh Product Analyst asks, "Are you still having problems with your hair? Do you have damaged hair? If so then you should try an enhanced hair appliance like the Miropure hair straightening brush. Whit 16 different temperature setting you can control the amount of heat you hair gets exposed to. Temperatures ranges from 300℉-450 ℉ (450 degrees). Miropure offers a wide range. Having 16 heat settings allows you much better control." You will have to experiment to find the right heat setting for your hair type. Thick hair will require a higher heat setting so your curl, wave, or straightening will last all day.
| Advantage | Miropure Hair Straightening Brush |
| --- | --- |
| 1 Double Negative Ions | Y |
| 2 Helps Hair Grow | |
| 3 Polishes Hair-shaft | Y |
| 4 Creates a Natural Shine | Y |
| 5 Less Static | Y |
| 6 Warranty | Y |
| 7 Styling | Y |
| 8 Easy To Use & Travel Friendly | Y |
| 9 Good for Blow-Outs | |
| 10 Maximum Penetration | |
| 11 Advanced technology | Y |
| 12 360 Rotating Handle | Y |
| 13 Auto Off | Y |
| 14 Temperature Lock Function | Y |
| 15 110-240V | |
| 16 Heat Settings | 16 Heat Settings – Super! |
| 17 LCD Display | Y |
| 18 Fast Start Up | 60 second |
| 19 Glove | Y |
| 20 Ceramic Heater | Y |
Be sure to read my article called Best Hair Straightening Brush after reading this one! I analyzed and reviewed the top brands and documented my findings. I'm sure you will want read before making your purchase.
MiroPure, 2-in-1 Ionic Straightening Brush Top 5 Features
Double Ionic Generator for healthy silky hair: The MiroPure brush straightens the hair by sealing the hair cuticles, thus reducing knotting effects. Get silky, healthy, natural hair instead of a flat burnt look.
Automatic temperature locking and auto locking: Ensuring maximum safety and maximum performance all the time. Will automatically shut off, if it is not used for 60 minutes, as a built – in safety feature.
Simple to work and easy to move: Straighten hair. Has a 360 ° swivel power cord for use at any angle at home. You can also take it with you anywhere in minutes, regardless of where you are, to get your hair soft and silky.
NANO comb for high density curly hair: Turn curly hair easily in just minutes! And the massaging effect helps hair follicles and stimulates the scalp.
New MCH heating: The MCH (Ceramic Metal Heater) provides even heat and a fast recovery time. The heat temperature adjustable between 150 ° C (300 ° F) and 230 ° C (450 ° F) allows you to match your specific type of hair: thick, thin, fine, wave-like or curled. It can heat to the desired temperature in just one minute and deliver excellent results. The most important thing to remember here regarding MCH heating is that you get even heat. The brush produces a consistent temperature throughout the brush head. One part of the brush is not going to deliver a higher temperature than other parts of the brush head. Miropure went out of their way to specifically engineer this feature into their brush head design. So as you use the brush and your hair is being combed through the brush head heat is applied evenly and at the right temperature as not to damage your hair and cause hot spots. Very nice feature!
Miropure Hair Straightening Brush Features At A Glance
1 x Heat Resistant Glove (comes with the hairbrush as a bonus)
Anti-Scald Feature, anti-scald design
1 x Carrying bag,
1 x User Manual
30s Fast MCH Ceramic Heater
100-240V AC 50/60Hz power
Salon High Heat with 450 degrees and digital controls
accidentally pressing buttons,
Technology delivers the MCH (Metal Ceramic Heater) provides optimum temperature
The temperature lock and auto shut-off saves trouble of accidentally pressing the wrong buttons while styling your hair
Get professional results using digital controls
Get natural lustrous hair and stop the time wasting. Then Miropure brush comes with a double ionic genterator
Nano comb brush, high density fitting all types of hair, such as fine hair or wavy hair. MiroPure gives you greater control over your style while reducing static flyaway.
Get professional results from digitally controlled 450 ° F heat quickly. For various hair types, 16 different temperatures (300F-450F).In my opinion having lots of heat setting is very important. First, it allows you to dial-in the precise heat without overheating your hair. Too little heat and your style will not hold. but too much heat and you can damage your hair.
Miropure Hair Straightening Brush Power Cord
360 degree swivel power cord. This feature alone can make a big difference. Such a simple feature but it eliminates the twisting and tangling of the power cord. As you move the brush from one section of your hair to another the power cord eventually get tangles and you have to unplug the straightening brush to untangle the cord.
Miropure Brush Pros and Cons Summary
What are the Pros and Cons that really matter when using the Miropure straightening brush:
Pros:
Ionic generator
Lightweight
Auto temperature locking
Auto shut off
Anti-scalding
16 different temperatures
Cons:
Only works with 120v – does not work in Europe
Instructional manual could be better
Most people are going to be skeptical at first but this brush does its job well. Even with tight curls and or coils this brush is better at straightening than an expensive flat iron. You can brush your hair in sections with a wire brush and then make a pass through using the straightener brush. This technique works well. We can say with confidence this works well with naturally kinky and coily curls. We would definitely recommend this product for anyone with curly hair!
If you have straight hair you can still use this product to get a fantastic super sleek and silky look. This product can make your hair look pin straight.
When purchasing, make sure to get an original MicroPure product. There are many off-brands out there for sale on popular online sites. I also recommend purchasing a new one, not a refurbished or used one. Make sure to test it out thoroughly and review the return policy before making your purchase.
The glove is for your other hand. The handle does not get hot. Most of the time your hair will be hot, so while does strands you can touch your hair while its still hot. This allows you to work faster and not have to wait till the hair cools down.
The size of this brush is about the size of a big comb, a little over 10 inches in length. If you can wield a big brush or comb you should have no problems using.
Only works with 120v – does not work in Europe. They may have a European version but as of this writing I am are not aware of one.
Favorite Straightening Brushes
| Hair Straightening Brushes | Hair Straightening Brush Recommendations |
| --- | --- |
| 1. Ricank Professional STRAIGHTENING BRUSH | Although this is a budget model, it does not handle black 4c hair very well, the price is really reasonable. |
| 2. MiroPure 2-in-1 Ionic Hair STRAIGHTENING BRUSH | Straightener brush that is excellent for all-around use. There are no negatives from my perspective on this one. Excellent for people with dark hair! Another hair straightener that comes close to being a superb budget model. There are numerous benefits for the price. |
| 3. Rifny Hair STRAIGHTENING COMB | For the price, this is an excellent brush; nevertheless, it is not suggested for short black hair. It has three heat settings and is not excessively expensive. |
| 4. Glamfields STRAIGHTENING BRUSH 2.0 | Straightening brush that is most likely the best value for money. The back of the brush head does become hot, as it does with the majority of cheap models. This is without a doubt a fantastic top pick. It includes all of the main functions, as well as a few extras, and it is offered at an affordable price. |
| 5. Revlon One-Step Hair Dryer & Styler Brush | Budgeting model that works well. The price is reasonable. I'm not a fan of the huge handle or the fact that there is no temperature display, but for the price, I can't really complain. |
| 6. Infinitipro By Conair Wet/Dry Hot Air Brush Styler | The tourmaline ceramic (ceramic coating) technology is appealing to me, however it is not ideal for people with thick black hair. |
| 7. InStyler Straight Up Ceramic STRAIGHTENING BRUSH | Very well done. What I enjoy about it is how quickly it heats up (30 seconds). There are seven heat settings, which is satisfactory. The Straight Up brush is a new addition to the line-up for this year. InStyler is a well-known brand in the area of hair straightening, and this particular model has many of the features you would expect from a brush of this kind. Excellent bargain from a well-known and respected premier brush company. |
| 8. Tymo iONIC Hair STRAIGHTENING BRUSH | Extremely well-designed, with numerous controllable parameters and functions for a hot brush in this price range. Will leave you with silky, natural-looking lustrous locks. |
| 9. Drybar The Baby Brush Crush | Straightening black hair with this product is a breeze. It is equipped with ion and titanium technology. This is a good deal. When traveling, I prefer the small but powerful size. |
| 10. CHI Tourmaline Ceramic Heated Paddle Brush | When straightening hair, tourmaline ceramic bristles provide a firmer grip, which is critical for straightening hair. My favorite features are the LED digital temperature control and automatic locking temperature setting, which prevents you from mistakenly increasing the temperature while straightening black hair and burning yourself or your hair. This is a great deal! |
| 11. Lena Hair Dryer Brush And Volumizer | Because of the powerful negative ion care and far infrared technology, I really like it. Straightening, volumizing, smoothing, and flipping are all possible with this product. |
| 12. Sultra The Bombshell VoluStyle Heated Brush | I appreciate the use of infrared and ionic technology, as well as the high level of quality. It also features an auto-shutdown feature, which is really convenient. It has a temperature setting with an LED display that has three settings: 300 degrees Fahrenheit for fine hair, 360 degrees Fahrenheit for average hair, and 430 degrees Fahrenheit for thick hair. Things become really straightforward as a result of this configuration. |
| 13. Drybar The Brush Crush | This brush is one of my favorites since the rear of the head does not get too heated like the backs of other, less expensive brushes. Excellent quality with a plethora of useful functions. Because of the great quality and precision temperature control provided by the digital display, this is my top choice. Also my top pick for frizzy hair. |
| 14. ghd Glide Hot Brush, Professional Hot Brush | I like it since it is the most straightforward hot hush to use ever! This product is excellent for taming and smoothing dry hair for quick and uncomplicated styling. |
| 15. Remington Pro 2-in-1 Heated Straightening Brush | I love the very affordable price and it actually works very well to eliminate frizz. However, I hate the Purple color. Lucky it also comes in other colors like black. My biggest complaint is due to the brush head design it's not going to work very well for folks who have short hair. Other than that it's actually a great buy. |
| 16. Dyson Airwrap | Excellence. I love everything but the price. However, I highly recommend. Very high quality, with excellence fit and finish. Great performance. Like all excellent hot hair brushes it need no gloves. Read my article on how to use the Dyson Airwrap. |
Hair straightening brush recommendations table. This table shows the most significant characteristics of each hair straightening bush.
Conclusion
In summary to use a hair straightening brush, start by combing through your hair to remove any tangles or knots. Following that, section your hair into smaller sections that are easier to work with. The hair straightening brush will then be turned on and heated to the desired temperature. After heating the brush, run it through your hair, beginning at the roots and working your way down to the ends. Cool-tip bristles, short and long bristles, and ceramic bristles can all be used to smooth out your hair and create the desired style. For best results, use the hot tool with caution and according to the manufacturer's instructions.
So as you can see there are a few minor cons but overall I feel this is a very good brush with many features built-in to protect your hair. And this is very important in my opinion. The last thing you want to do is to spend money on a product that can damage your hair, right? The MCH heating technology and the auto temperature lock protects your hair. The 360 degrees swivel power cord and auto-shut off makes using the straightener brush easy, safe and convenient.
These features allows you to quickly style your hair and not wast your time untangling cords and wondering if you turned off the brush. The bottom line is you most likely spend a lot of money on hair products so it makes since not to skimp on a straighter brush. In the long run if you use the product several times a week you will be glad you spent more and got one with features built-in to protect your hair.
Definitions And Other Helpful Related Information
amika Polished Perfection Thermal Straightening Brush – The amika Polished Perfection Thermal Straightening Brush is a hair straightening brush for straightening and smoothing hair. To use this brush, you must first have clean, dry hair. Wet hair should not be straightened with a hair straightening brush because the heat can be damaging.
Apply a heat protectant product to your hair before using the brush to help reduce the risk of damage. You can also use a dry shampoo to absorb excess oil and add volume and body to your hair.
Simply plug in the brush and wait for it to heat up before using it. The temperature of the brush can usually be adjusted, so select a setting that is appropriate for your hair type. Then, beginning at the roots, smooth the brush through your hair in a downward motion. Hold the brush in place for a few seconds to let the heat straighten the hair.
Drybar Brush Crush – A similar product that can be used to straighten and smooth hair is the Drybar Brush Crush. It has ceramic bristles that smooth the hair shaft and reduce frizz, leaving you with shiny, frizz-free hair.
To begin using the Brush Crush, prep your hair with a heat protectant product. After that, divide your hair into small, manageable sections. Allow the brush to heat up before running it through your hair in a smooth, downward motion. To achieve the desired level of straightness, you may need to run the brush through each section several times.
Another type of hair straightening brush that can be used to straighten and smooth hair is the Fast Heating Comb. It has ceramic bristles that help to distribute heat evenly and straighten the hair.
Begin by prepping your hair with a heat protectant product before using the Fast Heating Comb. Then, plug in the comb and let it warm up. Divide your hair into small, manageable sections and comb it through in a smooth, downward motion. Hold the comb down for a few seconds to allow the heat to straighten the hair.
If you have dull hair, you should use a blow dryer to add volume and body before styling with a hair straightening brush. To reduce the risk of damage, use a low heat setting and avoid applying heat to any one spot for too long.
Cool-tip bristles are designed to remain cool to the touch even when the hair straightening brush is heated. When using the brush, this can help prevent burns and other injuries.
Bristle lengths: Different brushes may have different bristle lengths, which can affect how the brush performs. Longer bristles, for example, may be more effective at detangling and smoothing out larger sections of hair, whereas shorter bristles may be more effective at styling smaller sections or adding definition.
Ceramic bristles: Ceramic-coated bristles on some hair straightening brushes can help evenly distribute heat and reduce the risk of damaging the hair.
A hot tool is a hair straightening brush because it uses heat to straighten or style the hair. Hot tools should be used with caution because they can cause burns or damage to the hair if not used correctly.
Curling irons: A hair straightening brush, like a curling iron, can be used to create curls. However, the technique for curling hair with a straightening brush may differ from that of a traditional curling iron.
Smooth strands: A hair straightening brush can help smooth out frizz and flyaways, resulting in sleek, straight hair strands.
Some hair straightening brushes are designed to be compact and portable, making them easy to transport.
The Dyson Airwrap Complete Styler is a multi-functional hair styling tool that uses air and heat to style the hair. It comes with a variety of attachments, including a paddle brush for straightening and styling hair.
Some hair straightening brushes have a unique reverse button design that allows the user to easily switch between forward and backward strokes while brushing the brush through the hair.
LED display: Some hair straightening brushes may include an LED display that shows the brush's current temperature, allowing the user to easily adjust the heat as needed.
References
Glamfields Hot Hair Straightening Brush
InStyler Hot Air Heat Settings
Negative Ion Straightener Hot Air Brush
Asavea Hot Air Hair Straightening Brush