The gold standard for styling bangs is a small boar-bristle brush with tightly packaged bristles. The tightly packed bristles grabs each hair stand and allows you to apply the right amount of tension to your hair while applying heat from your blow dryer. Once you have the right tools all that is needed is practice to master bang techniques.
What size round brush for bangs: The best round brush size is 17mm to 23mm or 1/2 to 1 inch. The smaller the brush the shorter the hair it's going to be able to work with effectively. A 17mm to 23mm is not only great for bangs but also for creating tighter curls. The smaller the brush the tighter the curls.
My #1 Choice for a round brush for bangs is the Olivia Garden Ceramic + Ion Round Thermal Hair Brush. Comes in all the right sizes you need at a very affordable price. You can afford to buy several different sizes so you will always have the right size when needed. This brush is very durable and does an amazing job at styling your hair.
Ever wake up in the morning and have your bangs shaped all funny looking. You look like a cow licked you right in the face. One side sticking up and the other going sideways?
Have no worries because this is where a bang brush comes to the rescue. Bangs and short hair in general dry faster than longer hair. So the best time to straighten out your bangs is right after you get out of the shower. The sooner you start the better your results will be. 
Round Brush For Bangs Techniques
According to Meesh, Hair Product Analyst, "Hold your hair dryer over your head and make sure your face is down and away from the blow dryer. Then brush your bangs from side to side until dry. Now your hair will be straight and should have no cowlicks. The last step is to roll the ends under. Now your hair falls straight and has s slight roll under at the ends."
If you hair has a lot of frizz you can go one step further and smooth your bangs with a flat iron. Use a slim flat iron and start at the root and slide down in vertical sections. This helps tame the frizz.
If you have too much frizz you may need a frizz tamer. Something like "Living Proof No Frizz Styling Cream". This is a styling cream that smooths and conditions your hair and helps to eliminate fizz by blocking out the humidity. Make sure your hair is clean and a little damp before applying. Remember less is more when it comes to your bangs. You will not need a lot to get the effect. Then apply heat and style as you normally do.
Another product that can help is John Frieda's "Frizz Ease Extra Strength". John Freida's products are well known for its iconic frizz-fighting abilities. In addition to eliminating frizz, a dime-sized amount of serum applied to soaking wet hair can prevent damage from heat styling, repel humidity, and smooth out your bangs.
And one of my favorites is "Moroccan Argan Oil". Be sure to get the certified by USDA, pure, natural, unrefined, and hexane free.
Small Round Bang Brushes
Small Round Brushes
Recommendations

Denman Thermo Ceramic Hot Curling Radial Brush, X-Small

Perfect for quick blow-drying, curling, straightening, blow-styling, adding volume, and shaping short hair to create tension and control. Because the handle has no seams, it never gets tangled in my hair, which is something I like.

Spornette Mini Styler Boar Bristle 3/4 inch Round Brush #HB-2

Bristles are very firm and may be too rough for some. It has a nice wooden handle but it's not made to get wet in my opinion. As with many boar brushes you may loose some bristels but you should not loose an entire plug.
Perfehair

Hair Brush with Ergonomic Natural Wood Handle, 1.5 inch

This brush is perfect for shaping a pixie cut or bangs. When used properly, it is thick enough to effortlessly style hair while being easy to hold in the hand. For those with short hair.

Olivia Garden Ceramic + Ion Thermal Collection 1/2

My f

avorite!!!

Heats up fast, does not need tons of heat from your hair dryer to style your hair.
Small Diameter Hot Brushes For Bangs
| Hot Brush | Recommendations |
| --- | --- |
| Infinitipro By Conair | For what you get, it's not too pricey. It is equipped with innovative ionic technology to aid in the management of frizz, as well as a titanium ceramic barrel that heats up quickly and evenly distributes the temperature. |
| Revlon Heated Silicone 1 Styling Brush | It is a heated brush with soft flexible silicone bristles that is really reasonably priced. The main advantage of this brush is that the bristles are cool to the touch, which means that they will be gentler on your hair. |
| Jinri Hair Dryer Brush & Volumizer Hot Air Brush | The bristles are not quite like the Revlon or Infinitipro and it's a little louder but it does have many features and a small diameter barre for styling bangs. Has a nice 9 feet,360 degree salon power swivel cord. |
Another option is to use a hot brush. You should look for a hot brush with 1 inch or less barrel for bangs. You can use a larger hot brush like a 1.5 inch on your bangs but this depends on your hair type and it's a little award due to use.
According to Stacey, Hair Research Analyst, "Hot brushes tend to be larger and heavier than a regular boar brush with a bamboo handle for example. The big advantage is that with a hot brush you can also style the rest of your hair. There is no need to switch to another tool."
Infinitipro By Conair Or John Frieda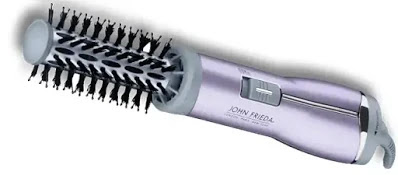 "Infinitipro By Conair and the John Frieda Hot Air Brush" is available in a 1 inch and a 1.5 inch barrel. Infinitipro By Conair and John Frieda both gets good reviews and is a quality project. Both are identical. You may want to try them out. They are not that expensive for what you get. It has the advanced ionic technology for to help control frizz and a titanium ceramic barrel which heats up fast and distributes the heat evenly. This of course is important because you want to take every precaution against burning your hair. The nylon ball tipped bristles make it more comfortable on your scalp and the 2 heat settings are nice. For bangs get the 1 inch!
Revlon
Revlon also makes a very economically prices hot brush called "Revlon Heated Silicone 1 Styling Brush". This brush has soft flexible silicone bristles. The big advantage here is that the bristles are cool to the touch therefore are to be kinder to your hair.
The brush has 2 heat settings with a high heat setting of 430 F. Having two heat settings should cover most type of hair. The brush would be good at not pulling and breaking your hair due to the soft silicone bristles. You would normally use the brush on dry hair similar like a flat iron. Two great features for the Revlon brush is the auto-shut off and fast heating time. The brush is ready to use in 30 seconds.
Finding The Right Size Round Brush For Bangs
To bring to a conclusion when styling bangs you want a small diameter styling brush. You can get away with using a larger diameter brush depending on your hair type but in general the smaller the better because you will have more control over your hair. You will be able to create the tension needed for you particular style easier and faster than if using a larger brush.
Hot brushes are a great tool but they fall into the large category. Due to their larger size which is of course needed to house all the electronics to create heat. And because of this larger size you are giving up control and finesse in styling. Now that being said there are many hair types that can be easily styled with out the need for a lot of control and finesse. So these products would work just fine.
It's going to be really hard to beat using a plain old small diameter boar bush and a high quality blow dryer. It's beyond the scope of this article to get into blow dryer specifics but with a high quality blow dryer you can apply the perfect amount of heat needed for styling without damaging your hair. Plus the small diameter round brush gives you the ultimate in control and finesse. This combination gives you the control for any hair style provided you have mastered the techniques.
References:
PublicDomainPictures from Pixabay
John Frieda
Revlon