DIY Dry Shampoo How To Make Your Own
Dry shampoo work by removing excess oil from your hair. Many dry shampoos can do this because of the ingredients they contain. Some of the popular ingredients are: Dimethylimidazolidinone Rice Starch, aerosol spray, AMP-Isostearoyl Hydrolyzed Wheat Protein, Aluminum Starch Octenylsuccinate, Acrylates Copolymer, Cetrimonium Chloride, Magnesium Carbonate, Pentylene Glycol, Alcohol Denat, Oat Milk, Oryza Sativa, tapioca starch, just to name a few.
Have you thought about making your own Dry Shampoo?
The DIY process on how to make your own shampoo is not that hard to do. There are store-bought options out there that work just fine, but finding one that works for dark hair and with only natural ingredients with a reasonable price tag is not easy. So hey, why not make your own dry shampoo? According to Meesh, our in-house Product Analyst, "This recipe works can be tweaked for either dark or light hair and can be made using just one ingredient. One ingredient! Thank you, Internet".

Dry shampoos use starch-based or alcohols that can build up or leave a residue in your hair. This is according to Dermatologist Wilma Bergfeld, MD. "Dry shampoo has a variety of ingredients in their formulas, but the primary purpose is to soak up the natural oils in your hair. These ingredients can leave your hair dry and brittle." By making your own you control all the ingredients. Ans That is a big advantage.
How To Make Dry Shampoo For Dark Hair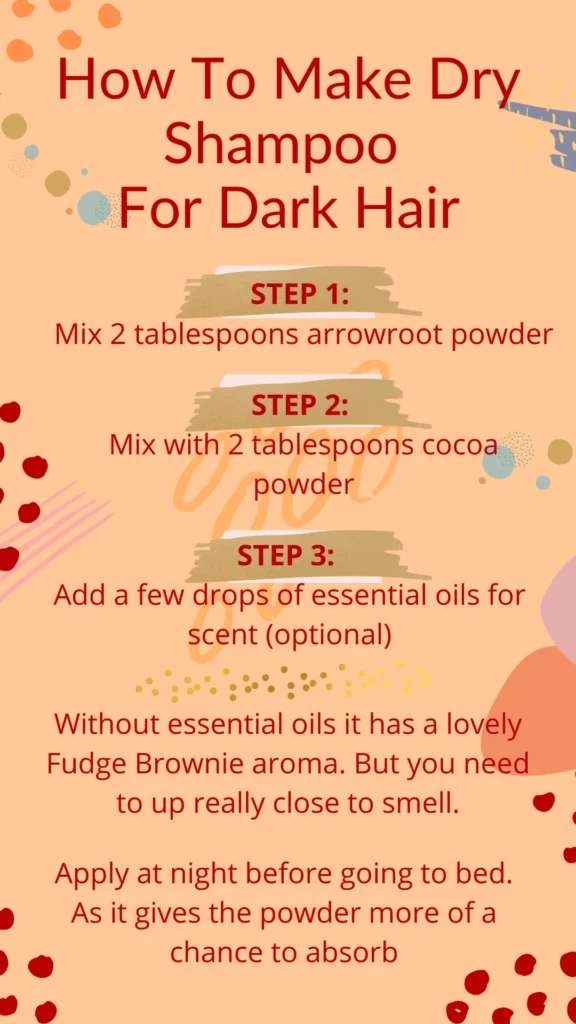 To make Dry Shampoo for dark hair just mix 2 tablespoons arrowroot powder/cornstarch with 2 tablespoons cocoa powder. Add a few drops of essential oils for scent (optional). "Without essential oils (and probably still a little with, I haven't tried) this has a lovely, faint, I Am A Fudge Brownie aroma. You really need to be up in someone's business to smell it. It's subtle and delicious, but prob worth noting in case you hate the smell of chocolate. (Weirdo.)
How To Make Dry Shampoo For Light Hair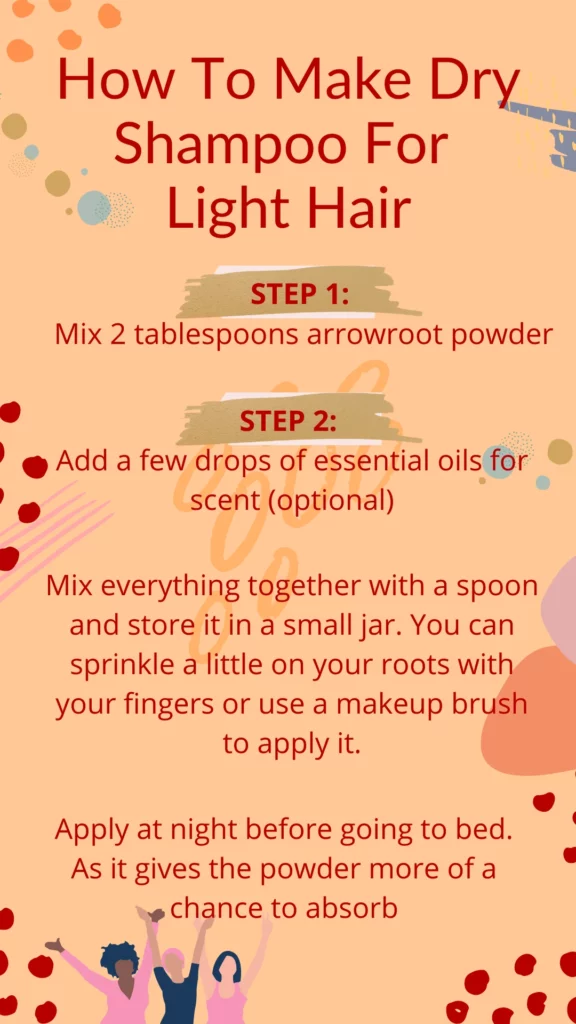 To make Dry shampoo for light hair just use the arrowroot powder/cornstarch, mixed with 5 drops of essential oils if you want to scent. Mix everything together with a spoon and store it in a small jar. You can sprinkle a little on your roots with your fingers or use a makeup brush to apply it. The makeup brush means less of a mess on your counters and more even application. You will need to comb it through to spread it out a bit, especially if you have really dark hair (like me). Honestly, I just sprinkle some on and use my fingers to rub it all over my roots – as if I am washing my hair. I flip my hair over, make sure to get it everywhere close to the roots, and give it a really vigorous shake with my fingers. Bonus: this stuff also gives your hair some really nice volume. Seriously, I have fine hair, and when I do the crazy shake and flip my hair back over, I have a fantastic pouf of magnificence.
I find it also helps to apply this at night before going to bed. As it gives the powder more of a chance to absorb. If you have dark hair and want to try this with no cocoa powder, this would be the way to do it.
DIY Dry Shampoo Ingredients List
• Arrowroot powder
• Cornstarch
• Essential oils for skin use
• Small jars with lids
Can you straighten your hair after using dry shampoo? Read my article to find out my recommendations.
My Chart Of Most Popular Dry Shampoos
Features/Brand
Living Proof
Moroccanoil
amika
Dove
Batiste
OGX
Suitable for
all hair colors?
Yes
No
Yes
Yes
No
Yes
Smell
Strong
Citrus
Flowers
Slightly
Floral
Baby
Powder
Fruity
Light
Coconut
Vegan
Yes
Yes
Yes
Yes
Yes
Yes
Sulfate Free?
Yes
Yes
Yes
?
Yes
Yes
Cruelty Free?
Yes
Yes
Yes
Yes
No
No
Contains Talc?
No
No
No
No
No
No
Safe On Color
Treated Hair?
Yes
Yes
Yes
Yes
?
?
Made In USA?
?
?
Yes
?
No
Yes
Price per Oz
$5.34
$4.81
$4.72
$1.59
$0.73
$1.40
All prices for the dry shampoos mentioned were gathered at the time of this writing and are subject to change. In the future prices will vary somewhat but you can plainly see which brands are the most expensive and then decide on if the differences are enough to justify the price differences.
Dry Shampoo What You Should Know Before Using
| Dry Shampoo | What You Should Know |
| --- | --- |
| Living Proof | "Living Proof" appeals to me because it is vegan, sulfate-free, and claims to be safe for color-treated hair. It's a very good dry shampoo, but the only thing I'm not too fond of is the citrus smell. It may be too strong for some folks. |
| Moroccanoil | Moroccanoil smells like flowers and is cruelty-free, which I love. Moroccanoil (has argan oil) is also safe for color-treated hair, which is very important. It's a great product but it may not be suitable for all hair colors. |
| amika | amika has a light, pleasant, slightly floral smell. It is also sulfate-free and is safe for color-treated hair. But the best thing about amika is it's made in the USA. See my list of hairbrushes made in the USA. Sadly there are not many. |
| Dove | Dove dry shampoo has a baby power smell. It is safe for everyone, meaning safe for color treated hair and all hair colors. Does leave a powdery residue. Leaves your hair in it's natural state. |
| Batiste | Batiste is not suitable for all hair colors. It's not safe to use on color-treated hair. But the price is a huge advantage. the last time I check the price it was the lowest of all the dry shampoos. |
| OGX | It is suitable for all hair colors, sulfate-free and safe for color-treated hair. And made in the United States. Great product to absorb oil from your hair leaving it fresh looking. A good rule is to use a small amount and add more as needed for best results. This way I avoid using excess product. |
No one will know you are using dry shampoo, right? And while I don't usually encourage people to pretend to be something they are not, I am perfectly comfortable helping sleep-deprived parents look like they've showered when tiny tyrants are holding them hostage.
I'd love to say that I am part of the brilliant generation that came up with this ground-breaking, grease-defying, time-saving concept, but evidence suggests that crafty humans in Asia were using clay powder in their hair as early as the late 15th-century. The first reference of dry shampoo in the US is from the late 1700s when starches were used to make fabulous wigs a more desirable color and less smelly (i.e., more fabulous).
What Do People Expect From A Dry Shampoo?

The funny thing about dry shampoo is that people are expecting more and more out of shampoos. Today shampoos are expected to do more than just clean your hair. I believe general expectations are for shampoos not only to clean but to restore your hair, giving it shine and making it easier to style and manage. According to C Bouillon – Clinics in dermatology, 1988 – Elsevier shampoosa and Hair Conditioners, "It may seem rather obvious to say that shampoos are products aiming at cleansing the hair and the scalp. This is, however, too narrow a definition if one considers the diversity of qualities demanded of a "good" shampoo. If the prime function of a shampoo is indeed to fulfill an elementary hygienic need, the expectations of the consumer go far beyond."
Dry Shampoo Secrets
1. Living Proof Perfect Hair Day Dry Shampoo Secrets

Description: A dry shampoo that purifies hair, removes dirt, sweat and smell. It is free of silicone, paraben, phthalate and cruelty free.

| What I like | What I don't |
| --- | --- |
| Suitable for all hair colors | Price |
| Safe for chemically treated hair | I found it to have a strong scent |
| Vegan | No idea where it's made |
| Gluten free | |
| No Silicones | |
| No Phthalates | |
| No Phthalates | |
2. Moroccanoil Dry Shampoo, Light Tones Secrets

Description: A dry cleansing spray created specifically for light hair. Formulated with ultra-fine rice starches to absorb oil and buildup and subtle violet undertones to neutralize brassiness. Features the signature Moroccanoil scent.

| What I like | What I don't |
| --- | --- |
| I love the Argan oil-infused formula | Price |
| Helps protect against UV damage | For light colored hair only |
3. amika Perk Up Dry Shampoo Secrets
Description:The closest thing to washing your hair without water – a talc-free, true dry cleanser that absorbs oil and refreshes hair with natural rice starch. Leaves no white residue, ever.

| What I like | What I don't |
| --- | --- |
| Mineral Oil Free | Price |
| Sulfate Free | |
| Phthalate Free | |
| Gluten Free | |
| Paraben Free | |
4. Dove Dry Shampoo for Oily Hair Volume & Fullness for Refreshed Hair Secrets
Description: Take yourself back to the feeling of freshly washed hair with Dove Volume & Fullness Dry Shampoo. Perfect for days when you're short of time, this weightless formula instantly absorbs oil, conveniently cleaning, reviving and volumizing hair in one. Created especially for those with flat hair that can be oily, a little limp or weighed down between washes. Massaging a few sprays of this Dove dry shampoo into the roots is all it takes to take your hair from lifeless to bouncy in moments.
| What I like | What I don't |
| --- | --- |
| Price | I found it to have a strong scent |
| Cruelty free | No idea where it's made |
5. Batiste Dry Shampoo, Original Fragrance Secrets
Description: Shake it up, baby. Before using and between sprays. The more you shake, the better. This step is key to preventing white residue. Separate your hair into sections, hold the bottle 12″ away, and spray into your roots. Use a little or a lot – it just depends on what you need. P.S. Don't forget the back of your head.
| What I like | What I don't |
| --- | --- |
| Price | I found you really have to shake the can otherwise you will get white spots |
6. OGX Extra Strength Refresh Restore + Dry Shampoo, Coconut Miracle Oil
Description: Refresh your strands with the scent of the tropics with our OGX Extra Strength Refresh & Restore + Coconut Miracle Oil Dry Shampoo. Infused with coconut oil, essence of tiare and vanilla bean extract. Helps extend your style and revive your locks. Bring life to those locks with an oil absorbing secret for the ultimate island-girl hair.

| What I like | What I don't |
| --- | --- |
| I love the scent | Does not say if safe for color treated hair on the can, I am guessing it is by looking at the ingredients. |
| I found the price to be good | |
| I like the made in USA | |
| Suitable for all hair colors | |
How to Use Dry Shampoo
Step 1: Shake It
The key to getting the most out of day shampoo is shaking the can. To get the best results from all the above dry shampoos, you must shake the can vigorously immediately before use. It seems dry shampoo has contents that settle to the bottom of the can. If you do not shake the can you could end up with a white dust-like product on your hair. Every time right before you spray you must shake the can.
Step 2: Hold At Least 6 Inches
The next big factor in making sure you hold the can at least 6 inches away from your hair while applying. Holding the can too close, again could cause white spots on your hair.
Step 3: Wait 30 Seconds
Most of the dry shampoos I waited for at least 30 seconds after spraying on to see if I needed to work in the product with my fingers. If I saw any white residue, then I would work in the dry shampoo using my fingers. This technique usually resulted in excellent results.
Step 4: Work It In & Style
The last step was to style my hair as usual and re-spray as needed. If you get the right product and you have little to no white residue, then the job goes much quicker. I found stopping to rub in the dry shampoo to remove the white residue was taking longer.