Toddler Hair Brush For Curly Hair
Are you looking for the best hair brushes for toddlers and children that have curly hair? As you well know children are known for having very fine, curly and silky hair. Therefore their hair lends itself to tangles and frizzy hair very easily. You want a brush that will slide through their curly hair and detangle with ease. Here is my best pick for a toddler's curly hair brush.
Toddler's Curly Hair Options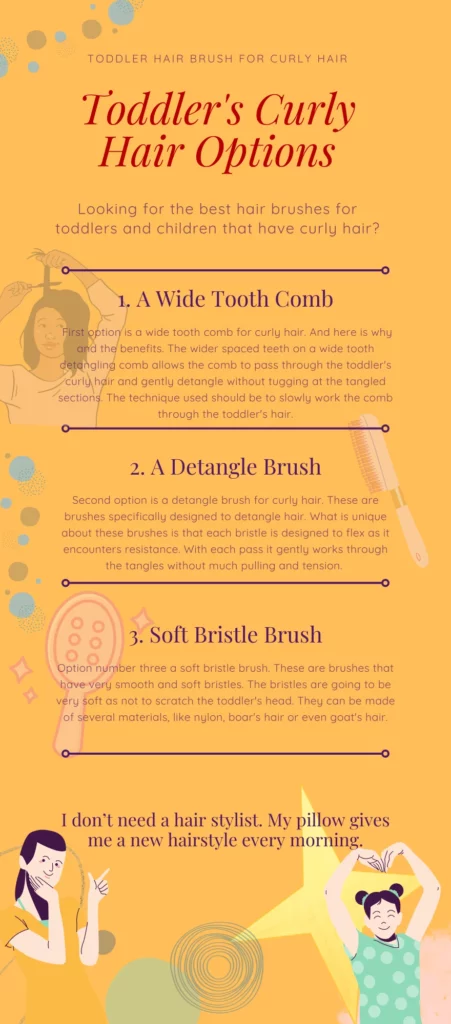 1. A Wide Tooth Comb
My first option is a wide tooth comb for curly hair. And here is why and the benefits. The wider spaced teeth on a wide tooth detangling comb allows the comb to pass through the toddler's curly hair and gently detangle without tugging at the tangled sections. The technique used should be to slowly work the comb through the toddler's hair. The teeth are wider spaced than a regular combs so there is less friction and tension as the comb passes through the curly hair. Since there is less and wider spaced teeth to achieve a combed detangled look, you will need to make more passes through the hair.
My #1 Choice For A Wide Tooth Detangling Comb
Wetbrush Detangling Comb – Check Price
Stop losing hair and get the Wetbrush. I love the comb because of the nice big comfortable handle and the wide teeth. Teeth are spaced so that they go through your hair without all the tugging and pulling. The only thing I do not like is the plastic handle due to it may break if you pull too much. If you read my other articles on this site you will know I am not a big fan of plastic handles because of breakage. But for the price and the design this comb works great.
According to Stacey, our Hair Research Analyst, "The main feature you should look for in a wide tooth comb is smooth teeth. You do not want any seams that can cut or snag hair. You will have to look very closely at each tooth due to many manufactures choose to use molds for pouring in plastic. By using this method there is always a seam. The seams need to be polished away otherwise they pose a risk for catching hair." But many manufactures don't always do this because it's an extra step in the process costing more in production.
If the seam catches the toddler's hair then it can either pull it out by the root or cut the hair. Either way it's an unpleasant experience for the toddler. Even wooden combs can have a seam so look at each tooth before you buy. Also wood can crack, so look for cracks in each tooth.
According to Meesh, our Product Analyst, "One last thing to look for when purchasing a plastic wide tooth comb. If you purchase a comb and you take it out of the bag or box and it smells like heavy chemicals then throw it away. You don't want to use it on a toddler's hair due to it most likely giving off chemicals used in the manufacturing process."
Plastic combs can have chemicals like plasticizers added during the manufacturing process. And sometimes too much is used and thus the comb is still going through a chemical change therefore giving off fumes. Plasticizers are used to promote flexibility and to reduce brittleness in plastic. In many cases plastic is recycled and during the processing a plasticizer is added. Many countries without regulations use this process and the results may vary. So my rule of thumb is not to use the comb if it has a heavy chemical smell.
The biggest con of a wide tooth comb is that the teeth have no give. They are very firm and once it meets resistance the teeth just start to pull on the hair. So you have very good penetration but a higher risk of pulling on the toddler's hair.
2. A Detangle Brush
My #1 Choice For A Detangle Brush
Wet Brush Classic – Check Price
You just can't beat the Wetbrush. It takes several passed but with each pass it loosens and detangles hair without pulling our your hair. Everyone should own a Wetbrush, it's really that good.
My second option is a detangle brush for curly hair. These are brushes specifically designed to detangle hair. What is unique about these brushes is that each bristle is designed to flex as it encounters resistance. With each pass it gently works through the tangles without much pulling and tension. Many passes are needed to work trough really tough tangles.
My favorite detangle brush is the Wet Brush. Read more by clicking here: The Wet brush is great for detangling hair. This may very well be the solution to your tangled mess.
Top picks Todler's Detangling Brushes
My picks for popular detangling combs and brushes that are also great hair brushes for toddlers and babies with curly hair. To read more click on my article here: detangling combs and brushes, you will be glad you did.
Top Picks Todler's Detangling Brushes Pros and Cons
Curly Hair Brushes
Analysis Pros and Cons
Rating
Revlon Detangle & Smooth Black Cushion Hair Brush

Good budget brush.
I like the Wet brush better but I like the price of the Revlon.

Good
Conair Velvet Touch Paddle Brush

Very good paddle style brush, works on thicker hair a little better than the Wet brush.
A great choice for a little thicker hair.

Good
Conair Pro Hair Brush with Nylon Bristle

I like this brush but would not consider it as good as a detangler as the Wet brush.
But I would purchase, and actually did purchase because it's a great brush.

Good
Conair Anti-static Detangling Brush

I really like this brush but I would not really consider this brush as a detangler on par with the Wet brush.
I would purchase this brush just because its a good brush.

Good
Crave Naturals Glide Thru Detangling Brush

A great brush with flexible bristles that separates hair without pulling and ripping.
Can be used on wet hair too.
I like the Wet brush better because it has a handle.

Good
Wet Brush Classic

This is the original Wet brush and comes if a variety of cool colors.
Great brush for thin to medium thick hair.

Great
Wet Brush Pro Paddle Hair Brush Detanlger Comb

Paddle style brushes through lots of hair faster.
Do not focus hot air from a hair dryer on the bristles, focus on your hair to make your brush last longer.

Great
Bsisme Hair Brush Natural Boar Bristle

Nice wooden hair brush with flexible ball-tip nylon and shorter natural boar bristles.
Bristles are mounted in a flexible cushion.

Good
Tangle Teezer The Original

Great detangles brush that comes in a variety of cool colors.

Good
Wet Brush 2 Piece Original Detangler

Great brush with flexible bristles to quickly get out tangles.
I personally found its works well on thin to medium thick hair.

Good
Wet Brush Pro Flex Dry, Ombre

Same bristles as the original Wet brush but the brush head is designed so that it also flexes to contour to your scalp.

Good
Wet Pro Epic Quick Dry Brush

Uses the Wet brush Intelliflex bristles that can be used on wet or dry hair.
Very good paddle style brush to get trough lots of hair.

Good
Boar Bristle Curved and Vented Detangling Hair Brush

A combination of nylon bristles with ball tips and natural boar bristles.
The boar bristles are shorter so the flexible nylon bristles detangles while the shorter boar Bristles adds shine.

Good
Recommended: Did you know Curly hair is best moisturized from within? Read my article called Best Hair Products For Curly Hair Read how to encourage definition and a uniform curl now.
The goal in choosing a toddler's hair brush for curly hair
The goal is to avoid all the crying and fussing that comes with removing tangles. Toddlers are known to cry when trying to remove tangles and if you can make the job easier you will be rewarded by not having to listen to all the fussing, right? It's worth it to spend some money on the right brush. Plus you do not want to cause any damage by pulling excessively on their hair. So choosing the right tool for the job is critical and makes for a much better detangling experience.
My top solutions for detangling a toddler's curly hair
There are several options that comes to mind when choosing a hair brush for curly hair toddlers. The first is a wide tooth detangle comb. The second is a detangle brush. This brush is specifically made for detangling curly hair. And finally the last option is a soft brush. All these options have their pros and cons and can work well depending on the level of tangles.
Top picks for Toddler's wide tooth combs for detangling
Click to read more details on my picks by clicking here: Best wide tooth detangling combs. You will learn even more.
Top Picks For Toddler's Wide Tooth Combs For Detangling

Product Description

Price

Conair Anti-static Detangling Comb

$9.99

OneDor Natural Handmade Green Sandalwood Wide Tooth & Fine Tooth Hair Combs

$9.99

PureGLO Detangling Fine Tooth Wooden Hair Comb

$12.99

WOW COMB the Original

$20.00

Swissco Tortoise Wet Comb Wide Tooth

$9.49

Cricket Ultra Smooth Hair Conditioning Rake Comb infused with Argan Oil

$6.39

Wetbrush Detangling Comb – FAVORITE


$9.22

Diane shampoo comb

$3.86

Kent Handmade Large Handle Rake Wide Tooth Comb


$10.00

Ultra Smooth Detangler Comb

$6.39
My top 7 favorite detanglers for Toddler's hair
To be even more informed read my article on: Is the wet brush good for your hair. You will know even more about choosing the right detangle tool. I love these products because they really work. Using these products in combination with the hair brushes I recommend will get you off to a get start on untangling your toddler's hair.
Favorite Detanglers For Toddler's Hair

Product Description

Ounces

Price per oz

Price

Its a 10 Miracle Leave in Product

4 Oz

($3.2 per oz)

$12.94

Paul Mitchell The Conditioner – FAVORITE


10.14 Oz

($1.13 per oz)

$11.50

Amika The Wizard Detangling Primer

1 Oz

($10.00 per oz)

$10.00

TotLogic Kids Detangler Spray and Leave In Conditioner

8 Oz

($1.6 per oz)

$12.99

Garnier Fructis Style Pure Clean Detangler + Air Dry

5 fl. Oz

($.99 per oz)

$4.94

Johnson's Baby No More Tangles Detangling Spray

10 Oz

($.79 per oz)

$7.87

Mane N Tail Detangler

32 Oz

($.50 per oz)

$15.87
Prices are at the time of this article and may have changed. This kind of gives you an idea of the price for comparative purposes.
The biggest problem with these types of brushes it that the bristle may be too flexible therefore you will not be able to penetrate really curly hair. It's a balancing act. You need to fine the right amount of flex for your toddler's hair type. A really thick curly hair type will needs a stiffer bristle for more penetration. On the flip side a toddle with thin curly hair will need a flexible bristle and less penetration. You may have to try out several for different manufactures to find the perfect one.
The biggest con of this type of brush is the bristles may not have enough stiffness to get the penetration you need to work through really thick curly hair. The bristles will just bend too much to be effective.
Toddler's curly hair option number three a soft bristle brush
And lastly I'll talk about toddler brushes. These are brushes that have very smooth and soft bristles. The bristles are going to be very soft as not to scratch the toddler's head. They can be made of several materials, like nylon, boar's hair or even goat's hair. Most if not all these brushes are going to be good for a toddler's hair that is not thick and curly. If your toddler's hair is thick and curly you are going to have to look for a brush with stiff bristles. By using a brush with stiff bristles you will get better penetration but run the risk of scratching your toddler's head.
The biggest con with brushes is that many are not quality and as a result they loose their bristles. With low quality brushes the wooden handles have rough edges where the bristle holes in the wood are cut. Some may even have small wood splinters at the spot where the bristle plug hole was cut into the handle. And as you may very well know brushes can also cause a lot of frizzy hair.
The bottom line with brushes is if you want a quality brush you are going to have to pay for it. Now, you could get lucky and a quality brush at a cheap price. But I say you most likely just got lucky.
When purchasing from many top quality manufactures you can get a high quality brush today and in 5 years or so purchase another brush and receive the same high quality. What you are paying for is consistent high quality built in the manufacturing process. With lower prices brushes you generally do not get this kind of consistency in quality. For more on boar brushes I have written en entire section I'm sure you will gain knowledge by reading: Boar Brushes.
Toddler curly hair brush conclusion
So as you can see it's a trade off between the stiffness of the bristles and hair type. You will have to find the right balance of stiffness for your toddler's hair type. If you choose too stiff a bristle then you run a higher risk of pulling the hair and will hear crying and screams. If you choose a brush with too much flex in the bristles then you run the risk of not being able to detangle your toddler's hair. To get it right you may have to choose several brushes trying them out. In the long run you may have to pay more to get a high quality tool but when you find the right comb or brush you will be rewarded by a more enjoyable detangling experience.
---
---
Photo by Thgusstavo Santana from Pexels
Photo by Min An from Pexels
Photo by Bess Hamiti from Pexels